Looking for exterior colour combinations that aren't boring? It could be as easy as putting an outfit together. Here's some inspiration to get you started.
Decorating Den Conference Speaker
Last week I was flown down to New Orleans to lead a breakout room for the annual Decorating Den Conference.
My sister Anita came with me to take some videos and then we spent the rest of the week shopping and eating the fabulous food.
And, I snapped many photos of the colourful exteriors in New Orleans!
There were so many charming colour combinations that were unexpected and inspiring.
And it clarified an insight that's been landing for me lately, especially as I've been experimenting with dressing in more colour – putting together an outfit is not all that different from coming up with a pretty colour scheme for your exterior.
The brand new module I added to my Exterior Masterclass is all about ideas for bypassing neutrals and adding happy colour to your exterior. Not only does it show many of my favourite non-neutral colours for exteriors, but it also helps you determine whether colour is an option for your house and how to get it right.
Outfit-Inspired Exterior Colour Combinations
Great colour for most exteriors is as simple as a good outfit combination.
So if you're thinking about adding colour to your exterior to get away from the sea of black and white in your neighbourhood, consider looking in your closet for a good colour combination.
Muted pink and greys are so pretty together in fashion and also look amazing here on this building. Better than pink and black which would be harsh with such a soft colour.
Yellow and turquoise are a good colour combination for the beach!
And look at it here looking so much happier than black, grey or beige.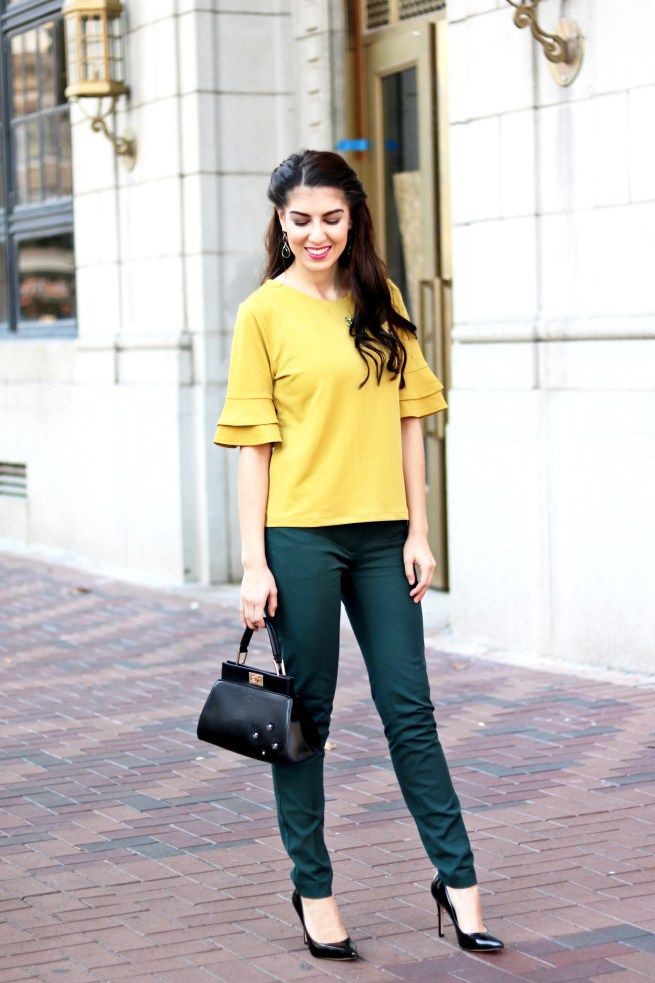 Anita and I took a walking tour of the garden district and the tour guide said she called this exterior the butter house. Yellow and green together definitely have a garden feeling.
Burgundy and sage greens or purples and sage greens are a more sophisticated complimentary colour scheme that works well for exteriors.
Violet and coral are such a lovely unexpected colour scheme!
And of course, the southern Haint blue ceilings were everywhere! Notice the columns were different on the upper and lower balconies here.
My sister Anita and I had some fabulous bonding time together on our trip!
Check out the brand new Module in my Exterior Masterclass available here.
"Helped me a lot with my new "modern prairie" build. I got rid of the stone, even though almost everyone in my mountain town uses it. I tested a lot of colors (online renderings and then actual samples because way up north our colors are more yellow). I ended up with BM HC126 Avon Green on the first level, BM 940 Ancient Oak on the second level and center "tower", and all the trim.

The windows, foundation cover, and flat roof fascia and soffits are dark bronze, and the pitched roof fascia and soffits match the Ancient Oak. Asphalt roof is the weathered wood you recommended. I live in a very mixed style neighborhood from 1960 but with more recent very modern homes. Everyone is painting their homes black, gray or white now (behind the trend), and newer homes are wood and stone. But I get many many compliments on mine."
And it's my birthday tomorrow, Wednesday, June 7.
This year, I want to ask for the same favour as last year:
Will you leave a comment telling me one thing that my work has helped you do? That would be the best birthday present!
It could be building your dream house, or your dreamy timeless kitchen or bathroom. Or your business experienced a transformation after you completed one of my colour workshops.
This is what makes writing Colour Me Happy worth it!
All I ask is that you be specific, and include actual numbers if that's appropriate. Share your story.
Thanks in advance — and here's to the best year yet. Cheers!
PS. My exterior painting is in full swing, see my Instagram stories for updates on how it looks every day.
And there's still time to register into my last Specify Colour with Confidence Workshop this season, June 21 & 22, 2023.
Related posts:
The One Thing you Must Do Before Choosing Exterior Colours
10 Tips to Transform Your Exterior