This reader needs help choosing a sconce light for above the window in a new kitchen. Find out what Maria would do as well as her advice on how to choose the best lights for your kitchen.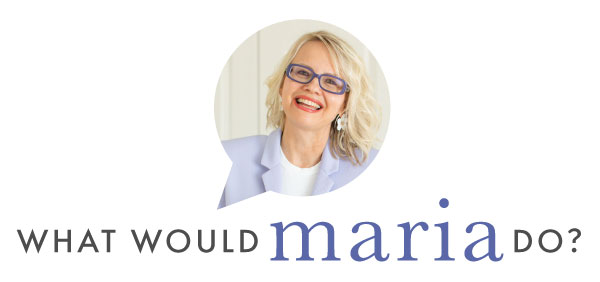 "I'm writing with the hope you can take one look at this photo and tell me what type of light would work above the window. This is my sister's new kitchen and her husband wants to install a bathroom vanity bar light here and I am about to DIE at the very thought of that!

The island is in the Espresso Maple finish, contrasting with the cream perimeter cabinets. The light for the island (not shown in kitchen pic) is this Kichler Barrington one. My sister's home is on 3 wooded acres and her style is rustic/industrial, sort of. The previous homeowner already had that one electrical box above the window area. I've been in this kitchen at night and with the island light, you can see just fine without a wall light."
Help me choose a stylish light for above the kitchen window.
First of all, I love the oversize window and what a luxury to have no uppers on this feature wall. It feels very spacious. I love that kitchen design is moving towards this room feeling more like a living space and less like a functional 'get in, get out' kind of space.
What would Maria do?
The answer to this question seemed so obvious to me, I thought it would be good to post it here. This way if you have a design question you're not quite sure how to handle, this might be helpful.
Here's what I mean by obvious.
Twenty years ago, when I was a new designer, if I had a question like this, I couldn't just go into Pinterest or google and start searching 'kitchens with no uppers', 'vaulted ceilings', or 'kitchen sconces above windows'.
By the way, if you're not following my Pinterest board, you can do that here.
Because if you do that, images that look very similar to your kitchen will appear and then you can easily see that not a single one has a bathroom bar light.
I would also paint the black trim around the window back to white. Random accents like this rarely look good.
I feel the same way about hood fans that are an accent colour. My reader said there are espresso wood beams in this kitchen that relate to the espresso island. That's enough. Accenting the trim is unnecessary and in this case looks a little like, "We really wanted the window to be black but this is the next best thing".
Stylish Lighting Ideas for the Kitchen
This kitchen has a black window (which is the same effect as the above kitchen) but notice the black has been repeated in the art and hardware. That's enough.
Black is dramatic and dark and very quickly gets harsh, flat and predictable if you make every choice black. The lighting in this kitchen is brass which visually repeats the warm, stained wood cabinets and counter stools. Very well done.
Read more: The Perils of Decorating with (TOO MUCH) Black
I'm showing this kitchen so you can see the three sconce lights above the window (which is what my reader needs), NOT to suggest you should paint your ceiling black. Here I personally think it's too much, but it is only paint. Easy to change if you decide it feels too much like a stormy day.
This light is called an articulating sconce light. It also adds light exactly where you need it in a kitchen.
The great thing about this kitchen lighting trend is that it adds task lighting to a kitchen in a much more attractive way than the traditional recessed light in the ceiling.
Here's a slightly different light (below) that repeats the black in the accent tile perfectly.
Devol Kitchens via House Beautiful
Here this designer (above) installed three surface mount lights (again, avoiding the cheese light look) which perfectly repeats the white and gold in this pretty kitchen. Love the lamp on the island too.
Which brings me back to my readers kitchen, here's what I added to style it.
This kitchen can EASILY manage two lamps on either side of this window. Of course I would add lamps. No one EVER and I mean NEVER has enough of them.
And of course a bowl with fruit or fake fruit, or fake artichokes, and a vase of flowers in a kitchen this large is an absolute must!
Get This Look
Here are links to some of the stylish kitchen lights shown in the designer kitchens above.
You'll notice I tend to selected frosted glass because bare bulbs (even though they are sexier) tend to cast unattractive shadows, not to mention they hit you directly in the eyeballs.
Shop these lights:
(L to R) One | Two | Three | Four | Five
Shop these lights:
(L to R) One | Two | Three | Four | Five
If you need help choosing colours and finishes for your classic kitchen this season, buy my virtual eDesign kitchen package here.
If you need help choosing white, download my White is Complicated eBook here.
If you have a question for my WWMD column, email me here. Remember photos taken in good natural light with the room cleaned up will have a MUCH HIGHER chance of being considered.
Related posts:
One More Reason to Skip Recessed Lighting Altogether
Do this Before you Choose a Cabinet Colour
Magazine Worthy Kitchen Designs Cannot be Easily Copied
Disclosure: Some affiliate links used