I decided, this year, to turn this post into an overview of all the other paint companies 'colours of the year' along with a discussion about Pantone's colour of the year.
Frankly, I have been a little disillusioned by their predictions of late, especially last years 'circus purple' shade which I talked about here.
I think Michelle Ogundehin said it best in this article in de zeen:
"I'm always amused to read the inevitable crop of articles that immediately appear after such a pronouncement, championing its validity with an array of random products plucked from assorted image banks and quoting breathlessly from the press release, phrases such as "sociable and spirited, the engaging nature of Living Coral welcomes and encourages lighthearted activity".
Anyway, I'll get to what I think about their 2019 colour of the year, but let's just begin with earlier announcements starting with Benjamin Moore's colour of the year shall we?
Benjamin Moore Metropolitan AF 690
This is a trendy mid tone greyed blue that leans towards green. This is a good thing because the most popular blue greys are usually warmer than just a straight blue grey.
While most of the population is still excited about installing a new grey kitchen or grey hardwood floors, anyone in the know about colour, knows that grey is at the end of it's 10 year trend cycle. Which is why I was surprised to see this announced as a 'colour of the year for 2019'.
A colour of the year should have anyone in the business of colour nodding their heads in agreement.
Because, if colour is your industry, that means you're on the pulse of what is current and especially what's coming down the pike.
The definition of news is NEW.
Just like a soft shade of pink was on everyone's radar when it first came on the scene a few years ago, announcing it now would have people in the colour industry thinking, "What? That's not news, it's already here".
Well, that's basically my opinion about this trendy grey shade.
It's yesterday, not today.
In my last two Specify Colour with Confidence workshops this Spring, the hottest colour boards that my students kept reaching for were the palest of creamy greiges bordering on beige.
Which is exactly what we have been specifying for the last few years in our eDesign department as well.
Next up:
This is what Behr said about their colour of the year:
Behr Blueprint
"An honest, approachable color that conjures up the blueprints builders rely on to bring architectural designs to life, Blueprint creates a space where you can build your own reimagined life—where awareness of what we want to build for ourselves can transform into action."
Hmmm. . . not sure what that means, but it sounds like a good goal for 2019.
Strong and dramatic shades of blue are definitely still trending. If forced to choose a blue that I would take to the bank, I'm not sure I would have chosen this one, but, while I think punchier shades such as rich cobalt are more exciting, dustier "safer" blues like this one, are certainly cropping up everywhere.
Valspar Seattle Haze
Valspar puts out a trend palette, not just one colour. For 2019, they have a blush, a clean blue lavender, an pale orange squash colour and a more coral orange among others.
This dusty light blue like their Seattle Haze (above) is a colour I've been seeing a lot of, especially on millwork and cabinets. Like in this pretty room (below) by Paloma Contreras.
An easy going blue like this is a nice alternative to white or neutrals for cabinetry. And it pairs so well with trending brass fixture and pale creamy greiges that verge on beige. This colour is really more of a trending classic.
BM Water's Edge by Paloma Contreras
Dulux Night Watch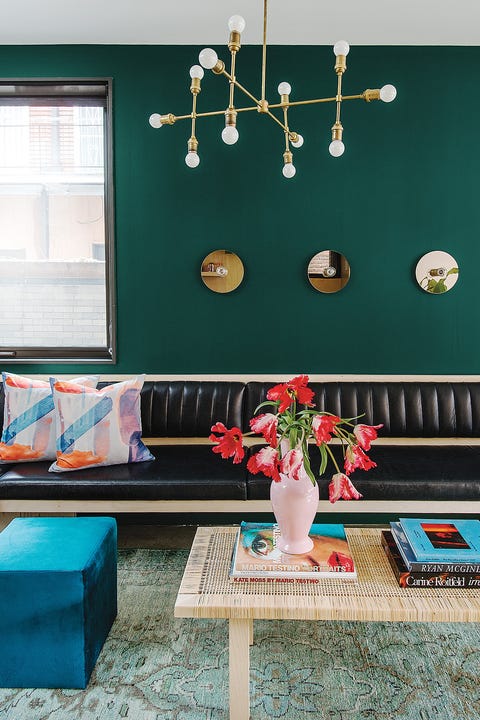 This one I was expecting, even if it's not totally "new". A deep forest green. It's a jewel toned hue that looks luxurious but grounded.
It takes us back to the 80s and 90s. All things from both those decades seem to be popping up everywhere in fashion and interiors lately.
I'm happy to say though, that while everything then aimed for a conspicuous dumpiness, (in rebellion to campy 80s glamour I guess,) the current versions are showing up a bit more polished and refined.
This room from Dulux's marketing campaign (above) shows forest green elevated with brass and clean blush pink and teal. Rather than the frumpy burgundy plaids and yellow knotty pine it was typically paired with circa 1993.
Here's a glam hutch in high gloss forest green by Eddie Ross (below).
I think it's much prettier this time around, don't you?
And speaking of the 90s, remember how there was a big "world traveller" look back then? Well it's back. Elephant prints and exotic items are everywhere in the high end mags, and this is part of what's driving the spicier colours we're seeing in the trend forcasts.
Check out this amazing elephant wallpaper in this Palm Beach home by Ellen Kavanaugh that appeared in House Beautiful this fall (below).
Whimsical wold traveler look by Ellen Kavanaugh in House Beautiful
Dulux Spiced Honey
It's interesting to note that Dulux UK's colour of the year is different than what they put out for this side of the Atlantic. I've been saying for awhile now that beige is back, but this looks like a deep pink beige (I'd like to get my hands on a chip to verify this for sure) verging on gold.
Yikes! The walls of the world have just barely caught their breath from being smothered in this type of earthy colour (below).
Europe still tends to be ahead of our trend curve, so I'm watching with interest. I really can't see that we are ready for this again so soon?
I do think camel and cognac are pretty and classic, and sometimes camel can be a bit on the pink side. But as you can see from their campaign image below, the wood brings that element already. Painting the walls a similar colour than the floors is the first mistake I made as a colour consultant many years ago.
"A versatile shade filled with warm and inviting tones of amber and rich caramel signalling positivity, purpose and transformation."
In any case, it does fit nicely into the trend narrative that colour is getting warmer and earthier again although I still think it's a little too close to the gold beige walls we are still dealing with from the Tuscan brown trend.
Next up, Sherwin Williams Cavern Clay, which I've already talked about here, plays into the warmer and earthier thing too (below).
Pantone Living Coral
Now if you scroll through this page, you'll notice that one of these things is not like the others. Pantone Living Coral is a curious choice for 2019.
When colour is generally getting richer and moving towards jewel and earth tones overall, Pantone bucks the trend and picks yet another super bright colour that is a bit too clean to be quite spot on.
Just like last year's purple was right out of the crayola box, I'm not sure where this is going to be useful except maybe in Spring fashion and decor when colour inevitably gets fresher for a couple of short months each year.
Don't get me wrong, I love fresh colour and always will. And going bold with colour in interiors will always make them more beautiful and interesting. I just don't see how this particular hue captures the colour trend zeitgeist in any way.
Pantone
It's fairly cliched colour pop psychology that orange is a social colour. I just don't see how this is THE relevant colour of the coming year. It's about the softer side of Social Media? Or real in person social contact? Really?
Thibault, home of the most gorgeous and colourful fabrics, put out some images on Instagram of the corals in their collection in response to Pantone's announcement. Coral is a perennial colourway in their line which is always fresh and playful.
You can see that the coral is significantly more muted than Pantone's colour. But I guess it is meant to be very loosely interpreted? Surely Pantone is not as concerned with distinguishing clean versus dirty colours as I am, haha. Maybe this trend colour is meant to be anything from neon orange to terracotta.
I love the way this dramatic cobalt room is accented in rusty and coral oranges by Jared Hughes design (below).
It's a bit more muted and paired with current jewel tones here.  So while I remain unconvinced that it is THE colour for 2019, coral and its variants really are pretty. And I guess I'm happy they didn't pick dark pink beige, haha.
The colour I would have picked would be peach or apricot. This is the colour that looks "new" to me and I first noticed it appearing in fashion last Fall.
Here's a deep peach in a classic foyer by Gil Schafer (below).
Gil Schafer via Elements of Style
By the way, peach, just like blush pinks, is a great colour to use to warm up interiors with lots of trendy gray and taupe finishes and make them look warmer and more current. Peach also works very well with the trending forest and leafy greens.
I guess you could consider it a variation of coral, but maybe that's a stretch.
Well over to you my lovelies. I'd love to hear your take on any of these colour predictions as we head into the New Year.
Related posts:
My Take on Pantone's Colour of the Year: Ultra Violet
Danger: How You Know You've Fallen for a Trend