See how decorating with my new botanical artwork made such a difference. And, I'm sharing a video tutorial on creating vignettes. 
Similar botanicals here and here.
This year, in between Christmas and New Years, I completely refreshed every single vignette in my home.
After all the Christmas decor comes down, you're probably looking at your empty tables and mantels and thinking the very same thing.
My New Dining Room Botanical Artwork
A few months ago, I randomly found these four botanicals that you now see on the back of my dining room wall. They were stored in my garage until I had the time to see if they would work here.
This is what the back of the dining room used to look like.
And truly, because my sideboard is white, and the mirror is silver, the wall kinda disappeared like it was floating (below).
I moved the mirror to the wall above the fireplace in this room.
I picked up the white peonies from Chintz & Co in Victoria the last time we were there.
Gorgeous! And they look so real (below):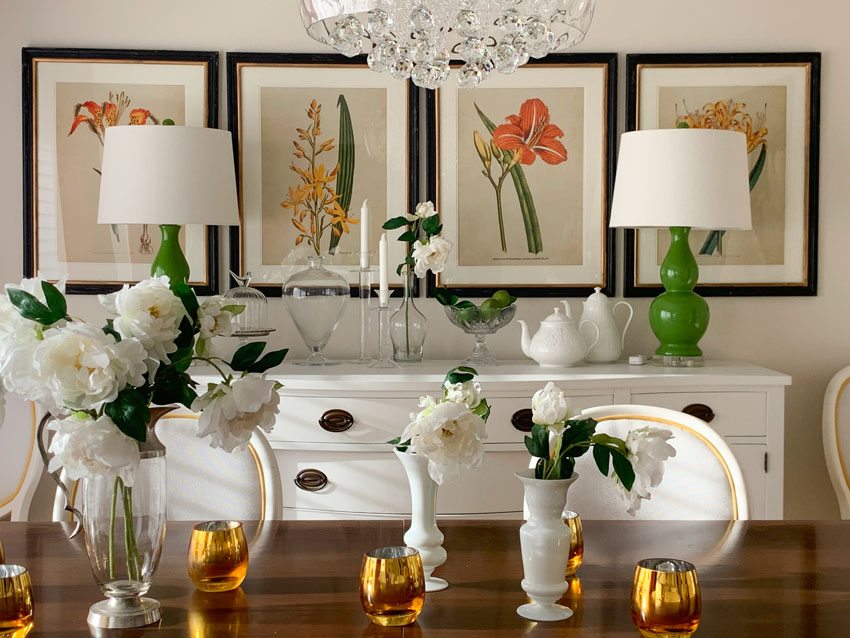 Here's the simple vignette above my fireplace:
Remember the essentials of a tablescape or vignette are coffee table books in colours to match your decor, candles, they can be glass or crystal votives, candlesticks or a hurricane lantern, and a vase with flowers. You can never have too many different shapes, sizes and colours of vases!
And here's a little video on how I created the above vignette!
One last thing, bet you didn't notice my blue ceiling? That's because blue feels like the sky, it's rare that ANYONE notices when they are even in my house in person! With all the white walls everyone is doing, a blue ceiling is a great idea! If you need help choosing paint colours, I can help, here.
If you'd like your living room to fill you with joy when you walk in the door, check out our Get me Started eDesign package.
Related posts:
My Living Room Inside Style at Home (Including the Before's)
The Barbara Barry Guide to Instagram (Through my Living Room)
How to Get the Perfect Piece of Artwork for Your Home (Before & After)