Last Fall, my sister Elizabeth and I walked into the Harvest Cafe in Chilliwack to have breakfast. The art that was displayed in the restaurant took my breath away!
James Wiens (price on the site)
If you've followed my blog for a long time, you'll know I really love large scale flower art!
I immediately called the phone number on the business card beside the artwork and James answered the phone.
I told him I absolutely loved his flowers but they weren't the right colour for my living room. He said he could paint whatever I wanted.
James got his start 30 years ago in the world of commercial art. His ability to paint really anything, is extraordinary.
If you have a picture you love, or even a print, something that you would love to see come to life in a bigger piece (or it can be small) in an original oil painting, this is the perfect way to create a custom piece of art for your home.
Because I loved his peonies, he sent me a bunch of peonies he had photographed from his garden. I wanted something 7 feet wide and 5 feet tall to replace the $180 placeholder that had almost completely faded to turquoise (below). See those yellow splotches in the turquoise painting? I photoshopped them in two years ago when I photographed this room for the blog because it had faded so badly.
One reason it faded so bad was because it took about 18 months of living here before we had window coverings in this room. And obviously it was just a print and not an oil painting.
Before with my old art
I chose three peonies that I loved and just arranged them together like this (below):
Before they came to life in a painting
I sent him a picture of my living room and dropped by his studio with some colour chips from the paint store and told him I wanted lots of kelly green leaves.
And this is the stunning result! I especially love how James paints the light.
Custom art by James Wiens
And here it is installed in my living room:
After with my new art!
Along with my sunflower yellow sofa and colour blocking raspberry drapes!
Photography by Barry Calhoun 
It was installed just before my bathroom renovations started this summer and the living room was taped off with plastic and had drapes and accessories from the master bedroom all over it, so this post had to wait a few months.
Here is James Wiens at work on my custom art (below).
James Wiens
Here is another huge piece (it's 8 feet wide) of stunning peonies you too could have in your house!
See the rest of his flower art here.
James original work on his website also extends to an underwater aquatic series, here.
He is also an avid outdoorsman and has some gorgeous wildlife paintings here.
Contact James if you are interested in his existing art or if you'd like to commission a custom piece.
PS. I'm in Chicago at the Bold Summit and here's a pic of myself and True Colour Expert and Interior Design Business Strategist, Claire Jefford! Claire attended my Specify Colour with Confidence workshop back in 2010 at the beginning of her design business and she said it was one of the best investments for her business.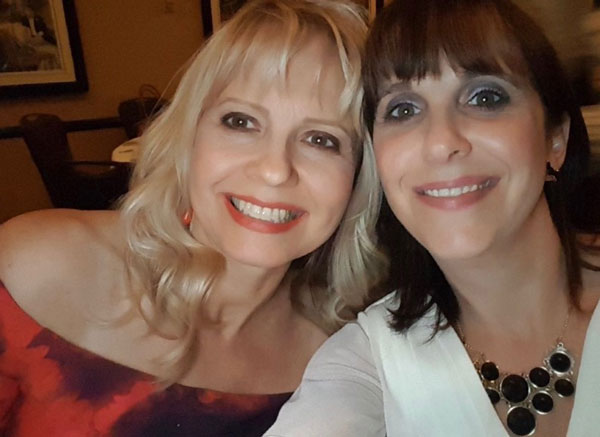 Maria Killam and Claire Jefford
We were at the Bold Masters dinner on the 94th floor of the Hancock Building last night! It's been really fun to get a chance to bond with a fellow Canadian. She lives in Burlington, Ontario.
I've just checked into the W on Lakeshore Drive for my next conference which starts Friday night! Follow me on Instagram and my insta stories to see what's happening.
Related posts:
What do Symmetry and Nudity have in Common?
SaveSave
SaveSave
SaveSave