Another stay in an airbnb reminded me that the world is still in the dark when it comes to lamps vs. overhead lighting. Which camp are you? My vote is for lamps and here's why.
On our vacation at a lake house this summer, I naturally brought along two lamps to give us atmosphere at night. When I arrived and realized there were zero lamps, I messaged my Mom (who was arriving two days later) and asked her to bring yet another lamp so we'd have three at night.
If you follow me on Instagram, you know that I do this every time we book a rental property.
How many lamps does a room need?
Three just on this side of the room (source)
First, think about the last time you were in a hotel room. Hotels get the world of lamps. You'll find the average hotel room usually has four lamps but often even five.
Two lamps beside the bed
A standing lamp in the corner
Another two lamps in the dresser/desk area
However, the world of Airbnbs rely primarily (and almost exclusively) on overhead lighting. Track or recessed.
Read more: 5 Lamps Everyone Should Have in Their Home
Lamps are a decorative item. And since they are purchased along with accessories and other home decor items, they seem to be a best-kept secret that only decorators know.
HOT TIP: You should basically have a lamp placed every 4 feet around the room.
Since opting for lamps instead of cheese lights seems to take convincing, I thought I would show you a before and after from the sitting room where we enjoyed the view of the lake for a week.
Read more: One More Reason to Skip Recessed Lighting Altogether
Lamps vs. Overhead Lighting: Before and After
Here's a photo of the main sofa we sat on, which all week long was covered with cotton bedspreads by the homeowner – obviously to protect them from wet bathing suits and beach attire.
I mean with that view, you really didn't need to move from this spot.
Oh, and that's the lamp my Mom brought from her house (below):
The exterior of this lake home was colourful, unlike many lakefront homes we saw that were drab charcoal.
This is what the room looked like when we arrived (below).
I also brought two throw pillows because I prefer down inserts over synthetic which, once used for a very short time, simply flatten out and are out of shape very quickly.
Read more: 5 Simple Ways to Make Your Airbnb Look Better
I noticed lots of red in the decorating in this home in the listing photos. Therefore, in addition to the two lamps I brought, my emergency decorating stash also included two turquoise beach towels, a turquoise tray, and Lucy's dog bed, which also happens to be turquoise. These pops of colour helped liven up the room – because lakefront homes should be colourful!
Now, take a look at the room with a little styling magic. ⬇️ The coffee table was brought in from another room.
Note the flat, bright overhead lighting does NOT create any atmosphere whatsoever. Everything looks so harsh when it's bathed in overhead lighting. Even the shadows are darker. Not to mention, if you looked up, you'd be immediately blinded by the track lighting. It's stark and uninviting.
And now take a look at the room when it's lit by three lamps and no overhead lighting. ⬇️ So much better. It automatically feels like a cozier, softer space. Would you agree?
Read more: The Enchanting World of Atmosphere
More Lake Views
We had a stunning view of the lake from our location:
Here I am with Lucy, she did not jump in the water yet on her own but kept jumping onto the peacock floats we bought:
Lucy is our happy 4-month-old mini golden-doodle: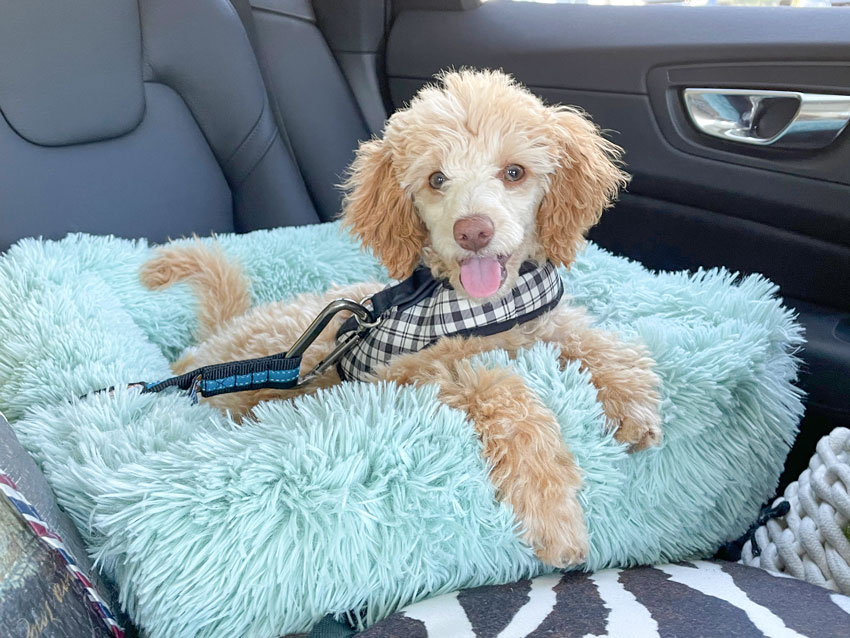 So, which camp are you in? Lamps or overhead lighting?
I'm sure some of you are drawn by the appeal of a simple flip of the switch when you walk into a room. But honestly, there are some lamps in my home that I keep on all day, so when the outside light dims, I still can walk into the room with some atmosphere.
And if you are building a NEW home right now, do not waste a lot of money on recessed lights! Lamps are really all you need!
Over to you my lovelies, if you were not convinced that lamps are better before, are you convinced now?
Related posts:
What's the Right Scale for Bedroom Lamps?
Can You Layer Lamps in Front of Artwork?