More often than not, I see lamps in master bedrooms that are way too small. But, how do you know what the right size is for bedroom lamps? There's a decorating trick to make sure your lamps are the right scale that involves your bedside table and some styling.
Take a look at this reader's bedroom.
I have been haunting 2 different HomeSense stores these last few months, and it seems like all the lamps are humongous—like 26" high or more. These seem like living room lamps to me, not bedside table lamps….???? I have always had trouble choosing the proper scale (I end up with things that are too "bitty" and small). I am consciously trying to "buy larger"…..
It's that time of year when it's dark so early in the evenings, it makes pulling out Christmas lights an emergency.
I have been in many homes late into January (in my 20 years of being in design), where my clients still have the Christmas tree up and I always know the reason why:
Because most people don't have enough lamps (the torch light in the corner does not count) to create the same atmosphere that holiday lights create in your home.
Recently, I posted the living room makeover I helped my childhood friend create in her new home.
When I asked her what she learned from shopping and decorating with me for the week I was in town, here's what was at the top of her list:
"I learned that $59.99 (the average price for a designer lamp at HomeSense in Canada) is a good price for a lamp (since everywhere else they were $100 – up) and I learned that a good lamp is worth. Every. Penny.
What's the Right Scale for Bedroom Lamps?
When Nancy and I were at Walmart (I wish I had taken a photo), we stood there looking at the wall of lamps and almost every single one on rows and rows of shelves, was around 12-15″ tall and looked like this:
Do you know how many times I have seen this very lamp in master bedrooms over the years?
Standing there in the big box store where people pick up a lamp along with their groceries and laundry supplies.
It's no wonder people assume that is what they should use.
But my lovelies, beauty is in the details. And lamps are SUCH an important detail. Good lamps are a splurge sure, but as Nancy said, worth every penny!
It also might seem intuitive that bedside lamps should not be taller than the headboard. It's true that they can look oversized IF there is no interest above the headboard to give them context.
Here is Tracey's bedroom below with the new lamps she is trying. It's clear she's not committed to them, because if she was sure, the plastic would be off the shades 😉
The lamps still look too small, but as we can see, part of the problem is the size of the end tables. They are much too small to hold your stack of bedtime reading, some styling objects AND full sized lamps.
A good end table should be at least 28 inches wide, and that's the minimum. The one she has is only 18 inches. It would feel like a wobbly pedestal with a proper lamp on it. Here is a well-scaled end table with a beautiful full scale lamp below.
Notice in the next example below that in addition to this beautifully styled end table holding a full scale lamp, there is art and a well dressed window creating interest above the headboard. These decorating details create context so that the lamps shade is not just floating up in front of a blank wall.
Let's look at Tracey's lamp dilemma again. Option 1 shows her existing lamps, option 2 shows the ones she's considering that aren't perfect yet. And, the last option shows what I would do.
Here is a better end table for Tracey's room shown below. It is a practical and generous 32 inches wide.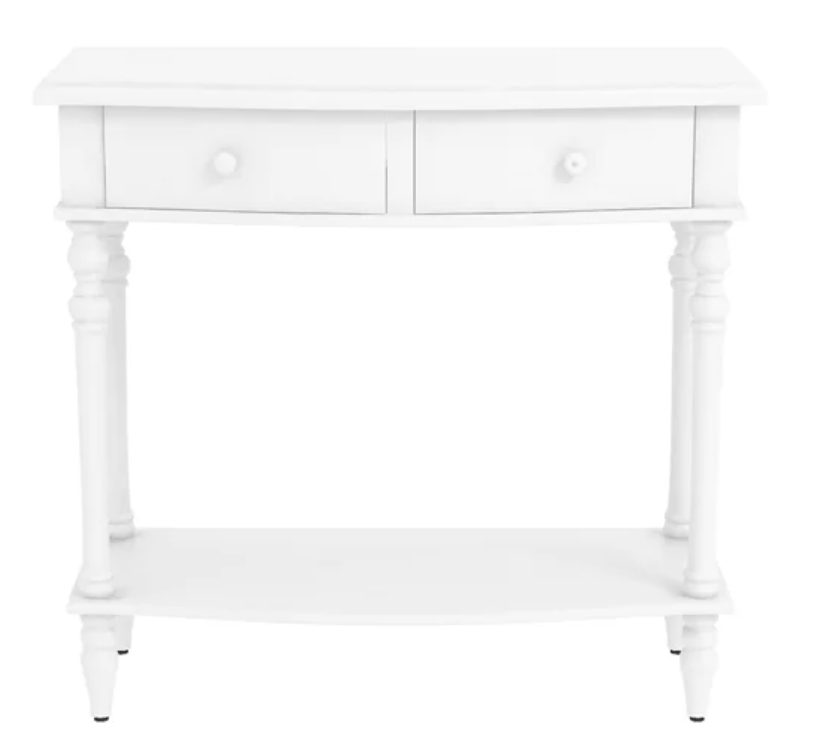 And this end table is large enough to accommodate a pretty full-sized lamp that picks up the blue accents in her bedding.
Adding even a simple round mirror over the headboard gives the taller lamps context by creating interest above the bed.
I would also layer in a crisp white quilt and shams to add freshness and balance.
And speaking of drawing the eye up, adding some pattern to the walls would take Tracey's room to the next level.
How fun is that lovely wallpaper?
Don't ignore your walls when decorating
Aside from the bold reason that good decor takes some hunting to find, and costs a bit more, the main reason many of us struggle with scale is because we haven't pushed the context far enough. We haven't considered how to decorate the walls above the furniture. And this is how we end up with expanses of blank walls and lamps, art and accessories that are floating and bitty.
When it comes to bedroom lamps, go big! And make sure your end tables are substantial enough to hold them along with everything else you need. The extra effort and expense are more than worth it, I promise!
Over to you. How tall are your bedside lamps? And I want to know if my assumption is correct. Do you have a small bedside lamp because your end table is small? Or perhaps your bed does not have a headboard yet (since the master bedroom is THE most neglected room in the house).
Why do so many people assume that a 28″ lamp is way too tall for a bedroom?
If you'd like your home to fill you with happiness when you walk in the door, check out my eDesign packages here.
If you have a question for my Ask Maria column, take some photos in good natural light and email them here. Please note, if the room is tidy, it will have a higher chance of being featured.
Related posts:
5 Lamps Everyone Should Have in Their Home
Holiday Mood Lighting Lessons from Twilight