When trying to choose the best permanent colour for your deck or patio, there are a few things you should consider. Here's how I helped my design client choose the best colour for her composite decking.
My lovely client Crystal whose interior you saw here, was about to have her exterior painted. She was also choosing a new colour for a wood alternative composite decking which would make it basically maintenance free except for a power wash when necessary.
Here's a look at her exterior house colour. It's a shade of brown with a green undertone.
I talked about the existing colour of my patio here a few years ago. And how it was the one colour on my exterior that I didn't feel compelled to change when we moved in. Although the patio certainly can't go one more season without being repainted. That will happen in the Spring. (UPDATE: See my freshly painted composite deck here.)
How to coordinate deck colour with your exterior siding.
Okay so we laid out all the samples that Crystal had brought home underneath her existing vinyl colour on her exterior:
After all, a stained cedar would look very similar. Kind of like a pair of jeans (unless you actually had a colour on your house that totally clashed with it), then you would tweak it to one of the other 'stained wood' look samples.
After we narrowed it down to our final choice, I brought it inside to see what it looked like with her floors. She is also adding french doors so we thought it would be nice to see what the flow looked like from the inside.
See the photo below. Perfect.
Let's see some more real-life examples of deck and patio colours, shall we?
Coastal Living Hamptons Showhouse
Did you know that if your trim is white, your railings can also be white?
And your railings can be stained. However, keep in mind that stained wood, and cedar shingles for that matter are extremely high maintenance. Every two years they have to be re-stained if they are under the elements.
Cedar soffits are different because they don't get rained or snowed on.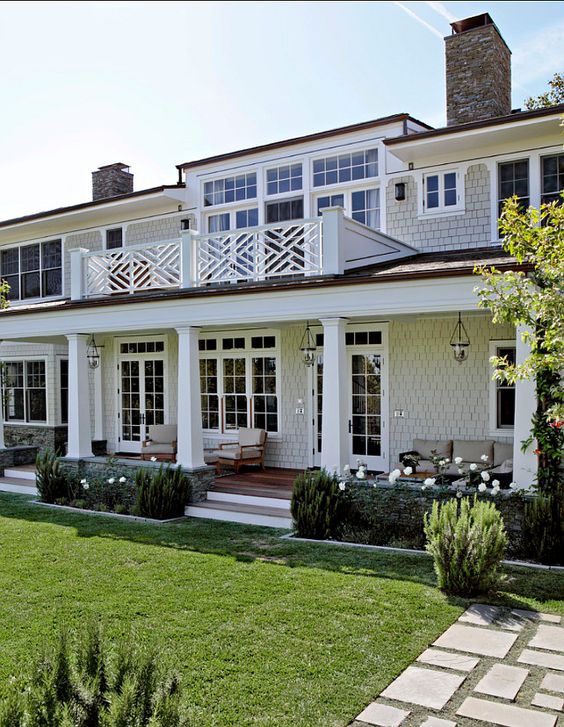 So here's the thing. I'm not saying you shouldn't PAINT OR STAIN your deck any colour you want, including the trendy neutral of the moment? But if you are about to choose a PERMANENT colour that cannot be changed until you actually take out your $25,000 – $50,000 deck?
Choose deck paint and stain wisely.
If you would like help with the right colour for your exterior, you can find an eDesign consultation for that here.
PS.
My first Specify Colour with Confidence event of the season was in Vancouver this past week and here's the fabulous group which included Nicola Warner who came all the way from New Zealand! I am honoured and thrilled that my work is bringing people from all over the world!
She posted this comment on my Instagram account today:
"It was my absolute pleasure to spend time with you. I'm still not sure how you packed so much information into three days – it was an incredible course and I'd recommend it to anyone. Sitting in my hotel room now and seeing all the undertones!"
PPS. I'm here in Chicago this week for two conferences back to back! First, I'm on the panel with other esteemed colleagues tomorrow at THE BOLD SUMMIT, talking about building your brand!
Then I'll be at Forefront with Ramit Sethi on the weekend! Such a miracle that two conferences, booked at totally different times, are happening in the same week! Since my travel schedule is so busy this Fall, I'm thrilled that I only needed to book one flight to Chicago!
Will you be there? Come talk to me if you are!
Related posts:
The Right Colour to Paint Your Deck
10 Classic Outdoor Wall Sconces