This post is written by Tricia Firmaniuk, my Director of eDesign:
In this post I'm picking up where Maria left off in her last post about what's coming up in the trends and get a conversation going about black.
After several years now of "airy and beachy" many of us are looking for a bit of grounded sophistication.
The pendulum is swinging back to dark.
We've been seeing quite a lot of seductive deep and moody decor as a refreshing counterpoint to all those really bright white rooms (not that those are going anywhere anytime soon). And in particular a whole lot of black. It's clear that nothing says classic sophistication more than a judicious hit of black.
But we've all seen really boring black too right? And just plain bad black like ill fitting polyester office slacks and lumpy, dumpy shoes and bags. Black easily begins to feel cheap, generic and uninspired.
And black in interiors can be even harder to get right. So where is the sweet spot? When is black sophisticated and when is it not?
A lot like white, which can also feel bland if it's done badly, black needs to convey a sense of luxury to look good.
Similar to the way white can look unfinished and stark in a room that is not decorated and styled, black gets heavy and masculine really fast if it isn't well thought out.
For many of us, the idea of a black sofa still brings back the 80s (below).
Although much sexier black sofas do exist, this is still not the best place to introduce a trendy hit of black into your room. Sofas are big and heavy looking to begin with, a black one can really drag a room down.
Another thing I've noticed is that many of us will tend to act like the black in our rooms is not even there. Like white again, black gets treated as a "non" colour and outright ignored. But as the brightest and darkest colours, respectively, in a room, neither white nor black should ever be ignored. They are colours, and they need to be addressed and repeated or they will stick out as wrong and out of place.
Most of us have at least one large bit of black in our main room, the flat screen. Screens command attention anyway, but if you have no other black in the room, it can look extra distracting.
And if your room consists of the generic black sofa above and an oversized flat screen and that's it… well then I just don't know what to say to you 😉 No, actually I do, call us, an intervention is required 😉 😉
If you have a prominent screen in your room, or even if you don't, try introducing more black.
Black striped pillows and nice skinny black picture frames are a good place to start. And a black lamp in a sleek shape is a good idea too. Since black is heavy and graphic, tread lightly and think in terms of lighter, more linear black elements instead of a big, heavy swath (like a sofa or arm chair).
This is another beautiful example above. It looks like they've gone with a bold black or charcoal drape as well. Notice how the gallery frames don't all look like they were bought from the same collection at Ikea? Luxury remember. Luxury often means going for a collected look. Matching black frames would create the opposite lumpy-generic-sofa effect 🙁
And some pillows in black and white can never hurt. I need a pair of these in Nate Berkus' Tolo fabric stat.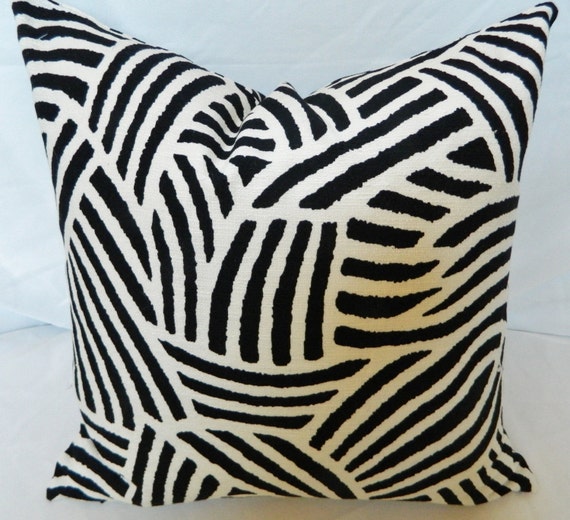 It's the same in the kitchen, there are lots of hidden in plain sight black bits on appliances. I'm not saying you can't ignore them, I'm only saying they exist, and I find my eye tripping on appliances all the time because of all that black. So why not embrace it? It's on trend after all.
While I think this kitchen below could use a bit more colour in general, it's a good example of sprinkling around a bit of black to make the appliances feel at home.
I LOVE the styling in the image above. Just the right amount of black in an otherwise white kitchen with some warm woods and metals.
Black lighting, hardware and/or countertops are really good ways to introduce black, particularly if your appliances have black details. Just don't go overboard, black looks better in the company of metals and wood.
I really think this is a better way to introduce black than to paint an entire bank of cabinets black, or to go all in with a completely black kitchen.
All those sexy, glamorous black kitchens we've been seeing lately look great for sipping cocktails and entertaining dinner guests, but they might be kind of a depressing setting for drinking your morning coffee don't you think?
Also black just like the espresso kitchen of the 2000s needs LOTS of light in order to have it not feel like a dark hole in your house (Below).
However, if you do want to get your black cocoon fix, contained rooms like a bedroom, office, or bathroom are really good places to go all out and wrap the room in some dark drama. Take a look at this gorgeously moody and masculine study by designer Sean Anderson via Elle Decor (below).
Or this fabulous small bathroom below.
Turns out, black is a fantastic backdrop for art. If you look closely, many of the pieces above are inexpensive prints in cute frames but the black walls make them look so decadent.
And speaking of decadent, check out this powder room wrapped in black crocodile wallpaper. Pure luxury.
But an all black kitchen? Not for me thanks, not unless my entire lifestyle happened in the evening and wee hours, but I'm done with that kind of excitement these days 😉 And the cost of repainting a kitchen is much, much more than repainting a bathroom or office.
I do like this antique looking black island though with lots of brass and white below.
I really love the use of black in this room below. The black fireplace insert is acknowledged simply with a striking black lamp, sconces and some graphic chairs, but the overall look is still classic and balanced. I'm really into black lamp shades right now, they look so sophisticated.
This room (below) gets a lot of mileage out of a pair of lamps with black lamp shades and a few toss pillows with black patterns to tie in with the black front door and fireplace.
So that's what I think, black done well is about luxury. And it's easier to pull off in small doses to avoid things getting all heavy and depressing. But I also love the drama of really-well-done-all-black rooms, I guess if you have a large enough house to have some nice bright rooms as well.
What do you think? Are you drawn to the black trend? Have you tried to introduce it into your rooms? Is it hiding there already?
Thanks Tricia for this great post!
_____________________________________________________
Here's what I want to add.
I have been on an extended long weekend in Victoria with my sister and her family and our first stop was The Empress Hotel.
A hotel that's famous for serving British Tea.
A hotel that is over 100 years old.
It had recently undergone a 60 million dollar renovation and it had been re-decorated from top to bottom in CHARCOAL.
These photos are of the guest room floor but the tea room and restaurants and guest rooms were also grey.
Ever noticed when you decorate with colour how much more timeless it is?
I say it over and over again in this blog, however, it seems to me that big hotel chains should have a designer in charge who understands colour.
This is a lot of money to spend on neutral that is already on its way out.
Conversely, the Ritz in Paris that recently went through a renovation that cost 440 million.
Let's look at a few images shall we?
The lobby
A hotel as expensive as The Ritz should be replacing upholstery and fabric when it gets worn, not because the trends have changed.
You would not know in which era they did their restoration. You'll find black, brown and grey in this hotel but none of these neutrals are overused.
When you have to change something because it's obviously dated but it's not dirty, old or worn out, that seems so wasteful to me.
And that's what I'm trying to do in this blog every day. Save you from buying the wrong colour.
Then we left that hotel and came out to the Westin Bear Mountain, what did we find here?
Brown on brown.
When was this hotel decorated? 2011. Two years after the grey trend had already arrived in the west coast.
There are so many designers who are completely unaware of where we are in any given trend cycle.
A lot of money is spent on the WRONG colour. Or because most people INCLUDING designers are just afraid of colour.
The lobby was entirely brown with some gold. It was like walking into a cave. This was the suite that connected our two brown rooms (above).
Terreeia and I travel a lot and I think it's sad that I immediately know when a hotel has been built or redecorated by the OVERUSE of a trendy neutral.
A lot of designers say "My house is neutral because I am surrounded by colour all day, I need something calm and restful at home".
But we've just seen the evidence in two expensive hotels that clearly, the designers choosing colour are afraid of colour, they don't understand how to decorate with colour and they don't realize where we are inside the trend cycle or that colour is a way more classic and timeless choice than the current trendy neutral.
So here are the guidelines to follow:
For hard finishes, choose white/cream over brown/grey or black.
For soft finishes, choose colour.
And you will be happy with your house (or hotel) for much longer than everyone else.
If you would like to learn how to choose the right neutral and discover how to decorate with colour, find a Specify Colour with Confidence Workshop near you this Fall here.
Elizabeth & Maria at the Beacon Hill Park in Victoria
Related posts:
Do's and Dont's for Decorating with Black Outside
SaveSave