The colour for 2018 is yellow. The last time yellow was popular was in the 90s so it's coming back.  I have not been able to sell yellow for years even though it's obviously my favourite colour.
Yellow
I was really happy to include it in a project I completed last year (below):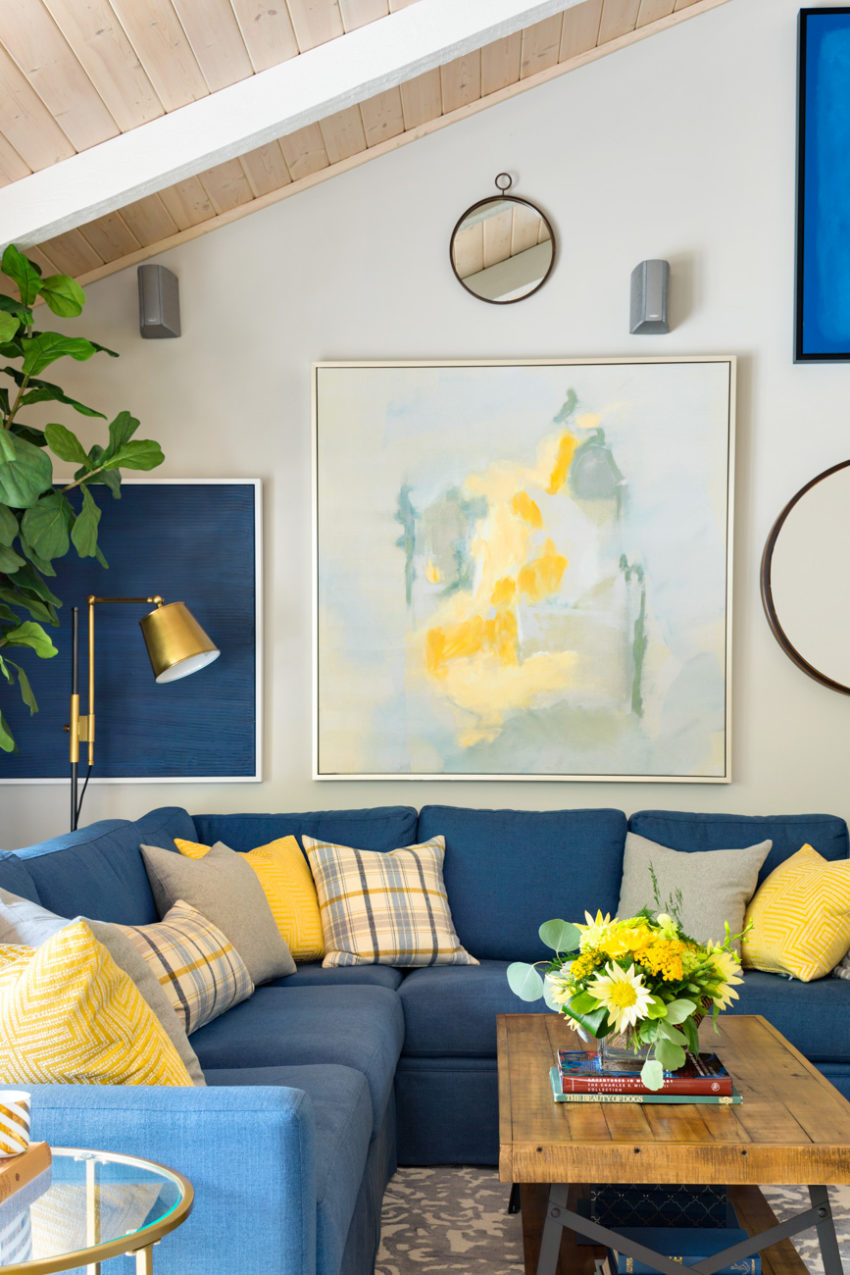 Pantone was really premature back in 2009 when they announced Mimosa as being their colour of the year, that colour was not available anywhere, I know because I looked and looked given I had just ordered a sofa in that exact shade of yellow.
However, if Pantone is choosing colours based on the cultural or economic mood of the masses, rather than what is actually trending in design and products, then it makes more sense as I said in my post about Ultra Violet.
 Strong colour is here to stay, especially with black appearing on the horizon as the new grey (or trendy neutral of the moment). I chose lots of yellow for my clients in the late 90s when black was big. It's taken time for it to come back around but I think it's coming.
Millwork Hood Fans
Last summer I replaced my stainless hood fan with a custom millwork fan. It looks so much better on that wall because there's nothing else on it (photo to come soon).
The stainless hood fan trend has become so popular, it's almost become standard in every kitchen, and it's definitely less expensive than millwork, but if you are looking for a timeless, traditional, elegant alternative, millwork is definitely the way to go. I would keep the stainless hood fan in contemporary/modern kitchens.
Here's the fan my client Deborah installed in her kitchen last year (see the entire kitchen/project here):
Photography by Barry Calhoun
Pearls
When you start to see pearls sewn onto hats and imbedded into sweaters and shoes, thats how you know it's a hot, hot trend. I predict it'll show up in tile more than ever.
I posted this kitchen designed by my good friend Jan Romanuk last winter and I didn't call this pearlized tile but that's what it is. She's ahead of the trend here. Mother of pearl is a really fun spin on classic white tile. It is still crisp and fresh with a bit of extra glamour.
Black plumbing fixtures
This is where you should definitely mix metals. If you do a search for black hardware and plumbing fixtures on-line you will see that all-black fixtures demand too much attention. The eye bounces around from one fixture to the next and makes it look too busy.
I like the idea of a black faucet, as long as there are other black elements so that it relates. My friend Jan Romanuk installed black faucets in her daughters condo in 2013 before they were even on trend. She had this one powder coated (below).
Notice that the faucet and the lights are enough here, and the natural wood mirror obviously works well with the forest wallpaper and balances the black perfectly.
Black Millwork 
Yes the pendulum is swinging back to darker colours from white kitchens, but this trend should be considered carefully, in the right house.
I recently received an email from a reader who asked if I would have recommendations for a historical-minded, not-concerned-with-fads client? She lives in a 100-yr-old Arts & Crafts American Foursquare and nothing I say would have her part with her shellac-orange pine trim or oak kitchen cabinets.
In case you think I specify white paint for everything, that is not true. It's just that the average house without any character usually looks better with a classic white kitchen.
So before you install a black kitchen just because it's trending, make sure you have enough light to pull it off, keep it to lowers (so it looks more like furniture) and keep it light and fresh on the top with upper shelves and a white millwork hood fan.
There are lots of people trying to pronounce white kitchens and subway tile passe in this, the season of trend prediction, but we know better right? A fresh white kitchen or bathroom is not trendy, it's timeless. It's just that sometimes something timeless takes off as a major trend. And even if design junkies get tired of seeing it, it's here to stay people.
More Wood Kitchens
That said, we will see more wood finishes incorporated into pretty kitchens balanced by lots of white. There are some really pretty wood kitchens popping up lately like this one below.
However, a really pretty wood kitchen tends to be a high end affair. For now anyway, the typical available wood stained cabinetry still just mostly looks dated unless you can afford a custom design.
Warmer Colours
And yes, warmer palettes are coming back too. But what makes warmer colours look fresh and current? Lots of white (0r cream) of course.
Warm ochre yellow and gold look so glamorous and current with black and lots of white in this room below.
In recent years, cool accent colours in the green and blue range have really dominated, and it's not surprising because blue and cool colours are statistically favored, and aren't going anywhere, but I think we will see warm oranges, strong yellows and clear reds come back as accent colours this year.
It's unusual that I like a room with red and black, but this black and white wallpaper and lacquered red door are is just beautiful.
Brass and Blush
And naturally, year to year, there are some continuous trends. A trend cycle doesn't flip with the calendar year. In 2018, deep blues, jewel tone greens, brass/gold and blush pink will all continue to go strong.
Some designers are declaring 'Millennial Pink' or Brass to be OUT, OUT, OUT, however interior design trends don't just come in one season and go out the next. Pink and brass is not NEWS anymore, however that doesn't mean they're out like last seasons ruffles.
Peach
I was in Nordstrom in Torrance with my Colour workshop in November and couldn't help snapping this photo of a peach scarf in the accessory department. It's coming back and it starts with fashion first.
Related post: Trend Alert: How Blue is Your Green?
This classic room above by Suzanne Kasler has some warm peachy hues, brass, and tapered lamp shades that give a nod to 80's glam in a subtle way. I think the Empire shade is set to overtake the contemporary drum shade this year too.
This gorgeous project (above) by Denise McGaha really captures the 80's glam feel with a rich jewel toned green and warm peachy accents. Peach and salmon are such luxurious colours that really warm up an otherwise cool room and add a luxurious feminine feel without being too flouncy, and I think we will be seeing a lot of them.
Feminine Glam
Looking ahead, it's always fun to look to the runways for what might be coming to interiors since fashion trends tend to move more quickly. The spring 2018 runways have a lot of really feminine soft and silky textures, and layering of colourful bold patterns. And all that visual excitement is grounded with classic trousers and trench coats for a soft yet tailored look. I think these ideas will translate well into interiors as we create rooms that are more layered and luxurious with pretty details and lots of personality.
I think we can see this in the way that rooms are moving towards a more 70's and 80's glam and away from more stark and minimal looks like the Mid Century modern trend.
So the guiding theme of the trends I'm looking forward to seeing in 2018 is one of polish and refinement. From warm mixed metals, pretty millwork and pearlized tile, to dramatic black and tailored feminine details, 2018 is all about indulging in a bit of luxury.
But here's the thing about trends. If you focus too much on incorporating all the new trends in your next renovation or new build, you'll notice a phenomenon will occur.
And that is, as soon as the next trend comes along, you will want to replace what you have and insert the next newest, latest, greatest thing. And your heart will sink because you likely won't be able to do it that fast.
If you focus on classic and timeless design, you can watch the trends come and go, secure in the fact that you know you can switch up your decor at anytime, to incorporate something trendy. Using accessories, window coverings or wallpaper. Items much easier to replace than the busy, trendy tile floor that is much more permanent.
Over to you my lovelies, what trends are you loving right now?
Next week, I'm headed to the Kitchen & Bath Industry Show in Orlando with the Modenus DesignHounds. Follow me on Instagram to see all the latest trends.
I will also be on a panel hosted by Claire Jefford at the show, if you're there don't miss it!
Related posts:
Maria Killam's Trend Report for 2017   (for 2016)   (for 2015)
Trendy or Classic? Ask Yourself These Three Questions
SaveSave
SaveSave
SaveSave
SaveSaveSaveSaveSaveSave
SaveSave
SaveSave
SaveSave
SaveSave
SaveSave
SaveSave