Yellow is Back! How to Avoid the Mistake Almost Everyone Makes When Choosing a Yellow
So I'm declaring yellow to be finally coming back, hooray! Tricia, my Senior Colour Designer and I are at High Point Market this weekend, and we're seeing a lot more yellow than we have seen in previous years.
My High Point trends report will be coming soon!
Rich golds are the perfect compliment to the black trend, and I think we will start to see some softer yellows in interiors too.
You all know that I love yellow, but it's among the trickiest of colours to choose, especially for walls.
Why? Because all colours get twice as bright when they cover all that square footage. And it is well known in colour theory that yellow is the first colour the eye sees, it's simply the brightest.
This is why it has to be toned down (or muddied) even more than the other colours, before it becomes a 'designer' yellow on the walls.
This pretty traditional bedroom looks like BM Waterbury Cream HC 31
BM Waterbury Cream HC 31
A pretty paint chip does not necessarily make a pretty wall colour and it's also why one client said to me "I am ALWAYS surprised when I see the little 2″ x 2″ chip all over the walls, it's never what I thought I would be".
Even now that colours for interiors are cleaner and brighter, if you're picking a colour for your walls, it shouldn't be the one that first jumps out at you.
Years ago, when I first did my colour training in San Francisco with the Daystudio, I came home and bought all the colourants so that I could shift the colour on site like I had been trained to do.
In the end though, the only colour I was able to change reliably [on-site] was YELLOW. For example, the way you actually get to a neutral is by adding the 'compliment' to the colour you are working with.
So if you want a pink beige you start adding 'green to red' (with white of course) and if you want a muted yellow beige, add 'purple to yellow'. But really, it was not the most convenient way to work with colour.
Learning how colour is mixed and created is a useful way to begin to understand colour, but it's a bit tedious and not necessary once you learn my System for Specifying Colour.
In my colour workshops, when we're learning about neutrals, it's all about the undertones, but with other colours, that's not the conversation. In my system, I teach the important distinction between 'clean' and 'dirty' colours which is the most useful way to look at colours other than neutrals.
"The distinction between 'clean' and 'dirty' is the most useful way to look at colours other than neutrals"
The cleaner the colour, the less of its graying complement is present. But the only way you can see how relatively clean or dirty a colour is, is by comparing it to other colours
Ideally, the colours you combine for your decorating palette are similar on the clean to dirty scale. This way they will be harmonious, and one colour won't leap forward while another looks comparatively muted and muddy.
I think we will be seeing a lot of strong yellows as accents. Which works well, as long as the other colours are also clean and vibrant and there is a lot of white to balance it.  
My living room is a great example of how to do this (below).
See more pics of the art featured in this room here.
The yellow my hallways are painted in looks really clean but is still muddier on the chip.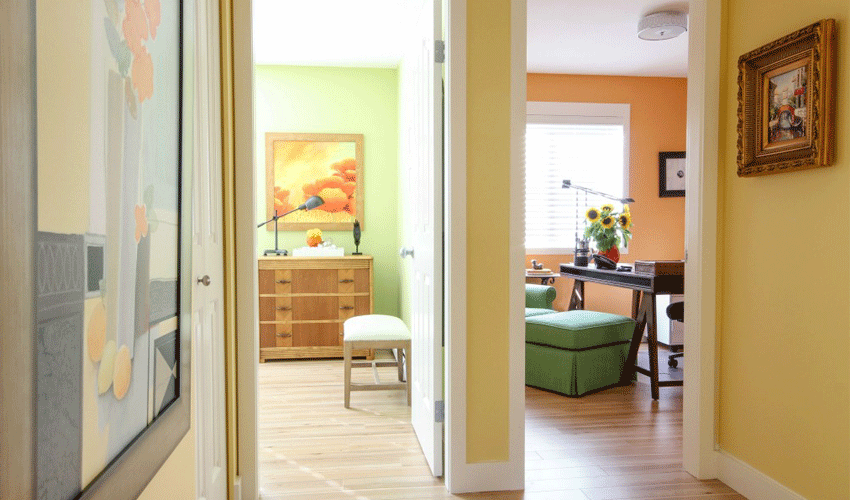 Yellow paint colour, Cloverdale 7928
But for most wall colours, when it comes to bright hues like yellow, the super happy clean one on the chip is going to be amplified into an obnoxious neon once it occupies all that real estate.
You need to consider the drabber, shyer yellows in the deck. The ones that verge on beige. They will be grayed out with enough of their complement, purple, to be pretty on your walls.
The soft yellow in this charming office above looks like SW 7681 Tea Light
Bad wall colours, especially yellows, often look clean and happy on a two inch chip, but dreadful on the walls.
It takes some experience to figure out the sweet spot between clean and dirty, but you can get an idea by plunking the chip down on some of your fabrics and finishes. If it really jumps out at you, it's probably too saturated and clean. If it sits happily back with the other colours, it's worth a test.
A current way to use yellow is to go bold, which works well if you have lots of white and some black like this gorgeous kitchen below.
Kitchen by Mick de Guilio via House Beautiful
But even a bold yellow needs to be toned down quite a bit to look good. This kitchen is painted Stuart Gold HC 10 by Benjamin Moore.
BM Stuart Gold HC 10
If you do make a mistake, and want to tone down a bright screaming 'laundry room' yellow, add some purple to it. Or better yet, take your gallon back to the paint store and ask that they 'tone it down' for you.
So don't worry, if you've picked a yellow that's too clean, you can always muddy it or add some orange if it's too green. It's going backwards (making it cleaner) that you cannot do without adding a lot of white paint to an existing colour–which I don't recommend, because who knows what you'll end up with, at that point, it's better to start with a fresh gallon of paint.
By the way, a common mistake is to choose a paler version of a too clean colour in an effort to tone it down. Often this ends up looking not only too clean, but also too light and bright, when dirtier would have worked perfectly. You might not to even recognize the right yellow in the deck as being "yellow" at all.
If you are looking for a sunny yellow for your walls, you might be tempted by the clean colour on the left, but what would likely work better is the drabber one on the right. Here it is in a room below.
SW 7684 Concord Buff  Room by Pottery Barn
Remember the post I did on colour consulting in a house with a 'screaming yellow' bedroom? Well, this is what it looked like (below), sort of like a graphic construction road sign.
Yayoi Kusama for Louis Vuitton
You certainly don't need the lights on with this kind of yellow. If the yellow above got toned down, then it could work on an exterior like the one below:
It was working with my big samples that saved me from having to learn how to mix paint colour at the job site. An 11″ x 14″ paint sample is a perfect size for you and your client to see that the perfect, toned down yellow you have just specified is exactly right. I have a few current yellows in my VIP collection of large samples boards available here.
Picking a good yellow is like a right of passage for a designer or colour consultant. But you can sail over years of trial and error if you learn my system.
Have you ever regretted picking a screaming yellow?
I'm so excited for all the inspiration to be had at High Point this weekend! What do you think, will we be seeing more yellow in the coming year?
I wore my signature yellow yesterday during my talk at the Alden Parks Showroom "The 5 Mistakes You're  Making Right Now with Your Clients", to a standing room only crowd! Thanks to all of you who came to hear me speak!
Follow me on Instagram and my Stories to see all the latest trends here this weekend!
Get a head start on learning how to specify colour with my eBooks here.
The only way to choose the right colour every time is to combine my system of understanding undertones with the most indispensable colour tool available. You can purchase your own set of my curated large colour board collections here.
If you would like to transform the way you see colour, become a True Colour Expert.
Here's my fabulous group of True Colour Experts from Boca Raton last week!
There's still time to jump into Nashville which starts Wednesday here. See the rest of my Spring dates here.