Renovating your kitchen or bathroom this year? There's a new kitchen cabinet trend and it isn't paint – it's a new wood stain colour. See my take on this new stained cabinet trend and how to make it work with a white kitchen.
Okay here's one more post from my participation as part of the Modenus Blog Tour at the 2018 Kitchen and Bath Show.
If you missed the first post, read it here.
The biggest news in kitchens besides BLACK, is the new and trendy wood stain.
It looks something like this:
Kitchen source | Cote de Texas 2018 trends report (The best one I've read)
Read more: The New Look of Natural Wood Kitchens: Timeless or Trendy?
And this kitchen style fit right in to one of the first kitchens I saw at LG when we had our cupcakes and champagne gathering on the first morning of KBIS!
LG has a new line of matte or flat black (AND fingerprint-free) appliances that they were showcasing (see below).
How to design a white kitchen with wood-stained cabinets
Did you notice the white countertop? That's all you need to work with a wood-stained kitchen. Solid white or some type of marble looking laminate or stone — whatever works for your budget and the neighbourhood you live in.
And when I say white, I mean off-white or cream too. Choose whichever white works for your hard finishes and coordinates with your trim, etc. If you are stuck on which white works for your kitchen, download my White is Complicated, A Decorators Guide to Choosing the Right White here.
And then, some kind of white backsplash. There are many patterns available today if subway tile is not your thing (this was a display kitchen at the show which is why it's not completely finished with a backsplash). Whatever you do, DO NOT install a 4″ backsplash like the one here.
Looking for an alternative backsplash to subway tile? Here are some beautiful kitchen designs with no backsplash.
If you do choose black appliances, I like it when the black colour is repeated in the countertop, like this kitchen: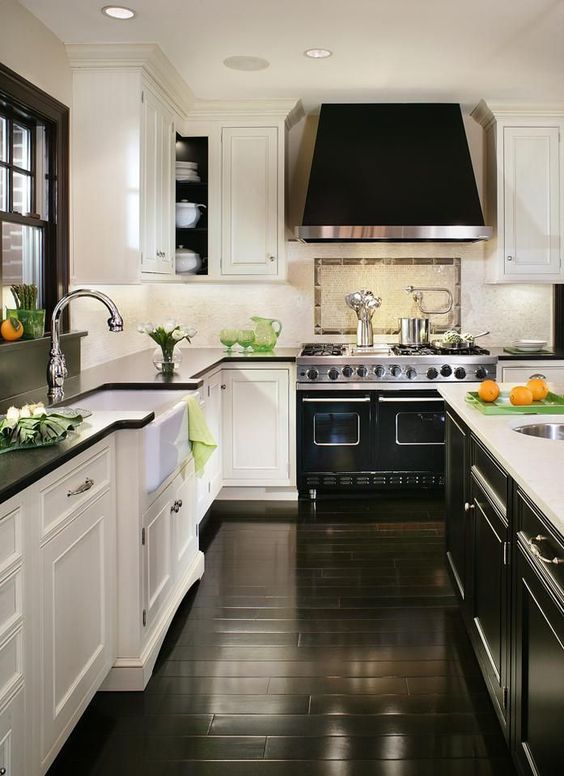 Or if you are considering the drama of black cabinets, get rid of the uppers, as I mentioned in my 2018 Trends report here.
And then you might introduce black appliances to keep the look seamless as Nate Berkus did here:
See all of LG's products here.
New Kitchen & Bath Appliance Technology
At this market, Thermador introduced a new line of appliances with a glass detail on the front.
Immediately, I noticed that it had a green beige undertone. Not a detail you might observe if they were installed in a wood stained kitchen as they were displayed at the show. However if the kitchen was white, you would definitely notice it.
Greige is a big trend in painted kitchens, which would be perfect with this particular line of appliances. I took the liberty of placing a kitchen with greige painted cabinets beside one of the photos I took at the show.
Now it looks even more intentional and coordinated.
Thermador | Kitchen pic
I was blown away by this entertainer's dishwasher. It holds 24 wine glasses. No more leaving this chore to the end of clean up after a dinner party! See more about this here.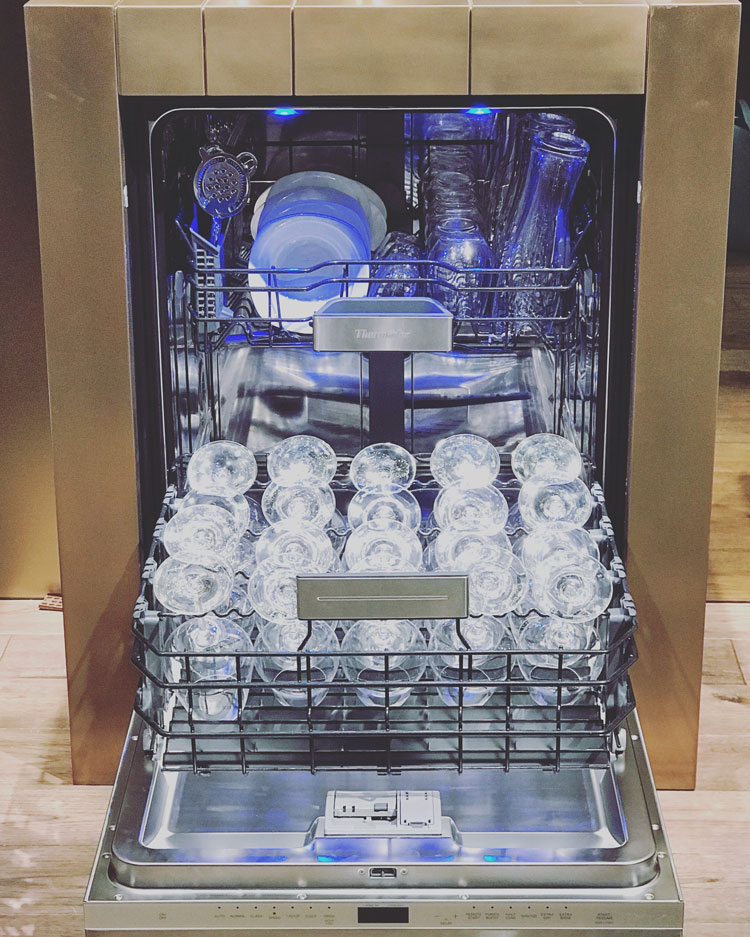 The flexibility of their integrated refrigerator (below) is so beautiful you can hide your dishwasher behind an entire wall of art.
I can't wait to see this installed in a real kitchen!
Art wall – Can you even tell there's a refrigerator behind this?
They have new technology where you can just push in with your hip and the door opens. So amazing! Read all about how you can customize this system here.
Mr. Steam hosted a beautiful lunch for us on the last day where I learned all about the amazing benefits of having a steam shower in your home!
I wish I had been in this presentation before I renovated my bathrooms last year! I would definitely have installed one in my main bathroom! Especially because I'm a Finn, so I grew up with a wood-heated sauna, which is also very steamy.
Who knew there were so many amazing benefits of steam:
MrSteam created SteamTherapy® to help educate and promote the deeply therapeutic benefits of steam. A daily steam shower is one of the most refreshing rewards you can give yourself.
SteamTherapy keeps you glowing as warm moisture opens your pores, leaving your skin softer and more supple. Steam cleanses and nourishes the skin, leaving it with a healthy glow. It hydrates dry skin.
And, hallelujah, it can also aid in the fight against cellulite while boosting your metabolism. That daily steam indulgence is a natural detox that removes harmful impurities from your body.
It can also enhance your breathing, leaving you with an improved sense of tranquility, promoting restful sleep and wellness.
As if that weren't enough, steam is also recommended for the relief of symptoms of colds, flu, sinusitis, bronchitis, allergies, asthma, throat irritation, arthritis and more. Sore, tired muscles? Rigid joints? Steam eases the pain. And don't forget the wellness benefits of aromatherapy and chromotherapy, along with the calming swirl of music that turns that dreadful day into a distant memory.
Seriously, who doesn't need this in their life?
Mr. Steam
Mr. Steam showers are affordable and the generator is the size of an average briefcase! Read all about how to choose one here.
Design features with wood mouldings
Did you know that Metrie is the largest supplier and manufacturer of solid wood and composite moulding in North America?
By milling their own products, Metrie has the internal capability to create custom profiles and streamline production and shipping. Metrie operates seven solid wood and MDF manufacturing facilities, plus 26 distribution centers in the U.S. and Canada.
To show you all the many ways their moulding can be incorporated into your designs, here are three vignettes in their booth.
The photos above are from Metrie's Very Square, French Curves, and Fashion Forward collections. Each of their Then & Now Finishing Collections™ is inspired by a different architectural style. They're interpretations, carefully designed to work with the most up-to-date decorating styles and trends. They truly are beautiful!
Here are a few more rooms incorporating Metrie Mouldings:
I will have trouble looking at my walls that are currently devoid of moulding now that I've written this post!
(Turquoise doors are Metrie) by my good friend Lisa Mende Design. See her entire portfolio here.
Here's that DXV Tub that I have in my bathroom too! You can see it here.
It was really fun to catch up with Kristie Barnett from the Decorologist! She attended one of my first Specify Colour with Confidence workshops years ago and is rocking it out with her own staging course and books and videos about decorating and choosing colour!
Kristie wrote a fabulous post on Metrie Mouldings here.
Kristie Barnett and Maria Killam
Thanks again to Modenus for including me on this blog tour!
Related posts:
Classic and Timeless Wood Stained Kitchens
When to Break the Rules Around Choosing White (or Cream)
Help! My New Kitchen Makes the Rest of my House look Old
SaveSave
SaveSave
SaveSave
SaveSave
SaveSave
SaveSave
SaveSave
SaveSave
SaveSave
SaveSave
SaveSave
SaveSaveSaveSave
SaveSaveSaveSave
SaveSave
SaveSave
SaveSave
SaveSave