Adding bright and classic blue to this brown and dated living room feels fresh and new. You don't want to miss this design makeover before and after, from brown to indigo blue.
My client Barbara and her husband had built seven homes together. Every time they would start a new build, she would say, "Can we please save enough money to decorate at the end?"
That day never seemed to arrive.
Last year, her husband passed away, and Barbara decided it was now or never. She'd been following my blog for years, so she felt she could trust me to give her the look and feel she wanted. In January, we started the decorating project: the living, dining, kitchen, and master bedroom.
When I arrived for the first consultation, Barbara spent some time pointing out the mistakes she had made when choosing finishes for her house.
I quickly reassured her, "You won't even notice them when we're done! You'll be too busy admiring your new furniture and drapery."
Here's the before:
Look at those windows and high ceilings! I was excited to get started on creating a beautiful space for her.
The recliner on the left (above) was the most comfortable one she could find for her husband before he passed away at the end of last year.
From brown to indigo blue.
When I asked Barbara which colours she loved, she said blue! I said, "How about indigo blue and white?"
She said, "I love blue and white, but didn't think I could have that in this house with all the brown. I thought it had to be a more muted shade like turquoise." (Her adjoining kitchen, not shown, is also brown. It was her husband's choice in this house; Barbara has always installed white kitchens).
My theory on why she thought she was stuck with turquoise is that turquoise was really big during the brown trend. In fact, that was the first colour combination that was introduced with brown! Here's a living room I decorated for a client using turquoise five years ago.
All these brighter blue colours that are now trendy were introduced inside of the colour trend (aka grey trend), so perhaps that's why it's common to think you can't use them with browns if that's what's still happening in your house.
Here's the after:
Photos by Tracey Ayton
I choose a caramel-coloured sofa to relate to the stone fireplace and the granite in the kitchen nearby.
Notice there is no grey in this colour scheme, but it's still on trend. The existing wall colour was very close to SW Wool Skein, so I said it could stay because it would work with the new decor. It was just the right colour with the stone fireplace.
This was good news for Barbara because that saved her the expense of repainting the entire main floor.
You can see that the coffee table is the same one from the before photo. Barbara painted it with chalk paint. The dog lounging underneath the ottoman (from Wisteria) was a wedding present from her husband's best friend 44 years ago.
What do you do with such high walls? An arrangement of sunburst mirrors, of course!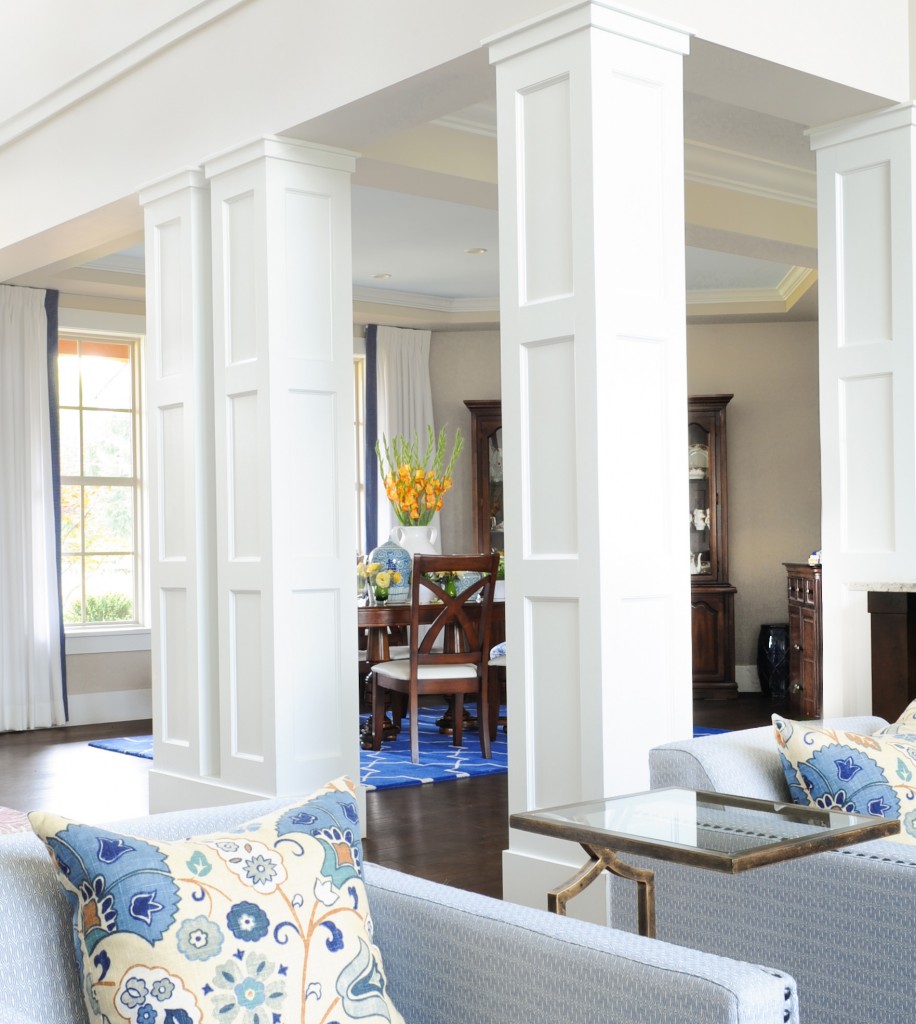 The floors are wide plank oiled, so they take the abuse of dogs running around. They are easy to touch up, Barbara says.
I used the same area rug in both the living and dining room. Notice you can do this with geometric rugs, but NOT with more traditional rugs like an Oushak rug for example, that's when you need to coordinate them.
Photo by Maria Killam
Barbara and I both loved this whimsical table lamp we picked up from Bombay & Co.
She often watches a crane land in her backyard.
Look how the mirrored top of the end table feels like water; you can see the reflection of the tortoise in it (above).
Photo by Maria Killam (Happiness Pot from Wisteria)
This figurine of a golden retriever is in memory of two they had years ago, Blue and Buddy.
We also updated her kitchen by switching out lighting and adding drapery, see that transformation here.
I am loving these bright blues these days. I think it's because it feels new — we haven't seen this colour since the 80s!
Have a wonderful week, everyone!
xoxo Maria
Related posts:
Vancouver Colour Queen on the Cover of BC Home
Indigo & Turquoise Summer House in the Fraser Valley
If you would like to transform the way you see colour, become a True Colour Expert.
SaveSave