Thank you for all your amazing and thoughtful emails and comments on my powder room dilemma these past two days! I've decided I don't want to make any major decisions  without YOUR expert opinion added to mine!
I love what so many of you said about my powder room not really being a powder room since it was adjoining the laundry at the back of the house (exactly what annoyed me when we bought this house) but after we renovated and my laundry room became just as pretty as everything else in the house, well the powder room location didn't bother me anymore.
But as you said, it's not really a powder room because it adjoins the laundry room, it actually is a garden sink with a toilet, so why don't I make it the functional sink that it should be! Thank you!! I have vision now and I really appreciate all of your creative opinions and contribution!
Okay so onto today's post. . .
I was on the phone this afternoon being interviewed by a reporter about the grey trend. She had all the usual questions including when did the grey trend begin?
One year into starting my blog, the Winter of 2009 was when I started talking about grey.
However, one question she asked me, was what I thought I'd talk about today.
"I notice grey incorporated mostly in contemporary and modern interiors, but can it be used in a more traditional interior?"
OH YES. I said.
Here's the thing, when people think about the grey trend, here are the interiors they notice:
Click on image for source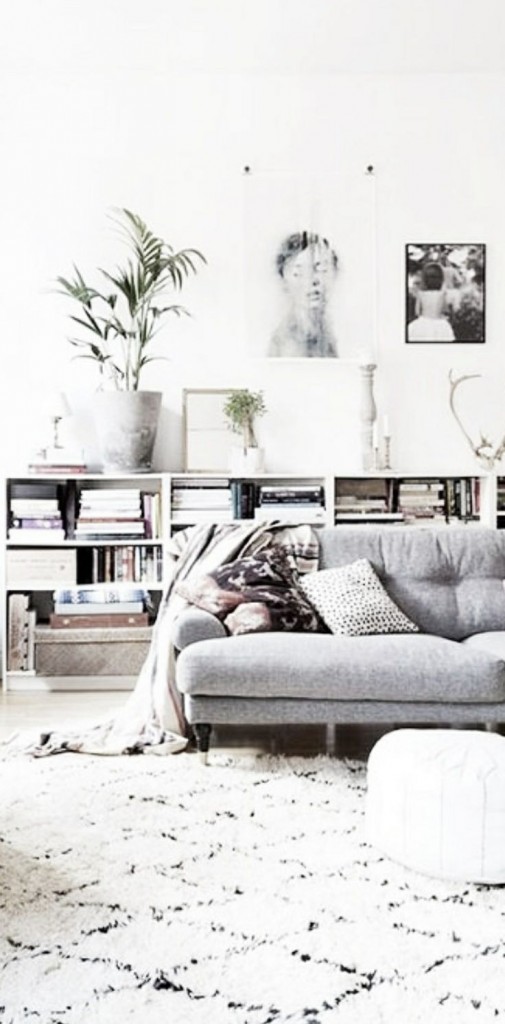 Click on image for source
Click on image for source
Here's the other side of the grey trend. COLOUR. COLOUR. COLOUR. The ONLY reason grey is here is to provide the backdrop for all this fresh, bright COLOUR.
Click on images for source
But Maria, I hear you thinking, there's no grey in these interiors. Or barely.
That's right. Because the correct way to decorate in this trend is using fresh colour. Grey is the crisp backdrop that lets colour take the stage. Oops, didn't I already mention that? Just want to make sure you get it, hee, hee.
I walked into HomeSense last week and there were four long shelves full of grey/charcoal throw pillows.
Who will buy these pillows? I asked myself.
If everyone has a charcoal sofa, how is another grey pillow going to bring the place to life?
It's a colourful pillow, flowers, throws, bright accent pieces that you'll need. If you already have grey furniture.
So look, if you've decided you hate grey and you're not going to follow the trends, think again. It's happy. And that's how we all want to feel when we walk into our house!
Which look do you prefer?
Related posts:
I Don't Follow the Trends. Is This You?
Maria Killam's Trend Forecast for 2014
Is Gray Only for Happy People? Yay or Nay
If you would like your home to fill you with happiness every time you walk in the door, become a client. On-line or In-person.
Download my eBook, How to Choose Paint Colours – It's All in the Undertones to get my complete step-by-step system on how to get colour to do what you want and to make sure the undertones in your home are right, get some large samples!
If you would like to learn how to choose colour with confidence, become a True Colour Expert.