We've made some renovation progress upstairs. Today I'm sharing some blue decorating inspiration from my upstairs dining area.
My upstairs entertainment room will be decorated with primarily blue and white. I love the restraint of this colour palette and I've fallen in love with blue since decorating my sister's kitchen in shades of blue.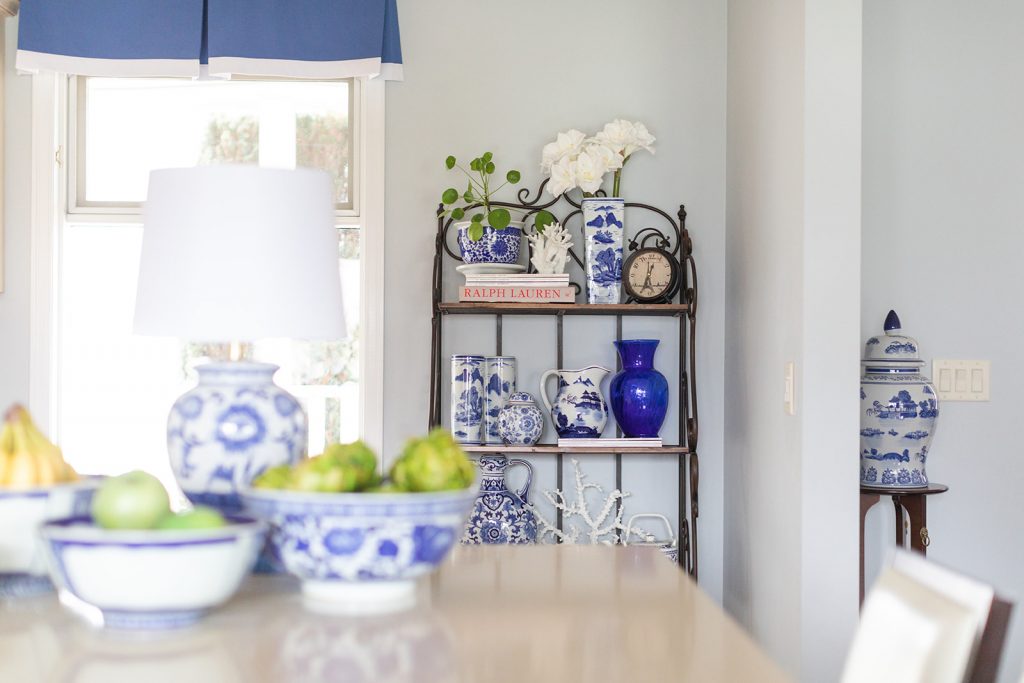 See the rest of this kitchen makeover here
Another reason I love blue… I randomly bought blue sunglasses that I turned into prescription glasses and I started adding a lot more blue to my wardrobe as a result (below).
Decorating with blue and white
I've already painted the kitchen and ceilings in this room a lovely pale blue. Then I found this lovely patterned print by Schumacher for the window seat but later I realized it wouldn't work because it would fade instantly:
I had some other fabrics but nothing I thought was fabulous. So I decided I had to take another trip to the city to source something else.
The window seat in this room is really long so it needed a dining area to break it up. Before we added a window to the right of the kitchen area, it wasn't a good spot for a dining area anyway.
View this post on Instagram
Here's another look at the floors before we had them restained a medium brown.
It really is amazing how much light these two new windows added to this upstairs space. Read more about that process here.
Dining room furniture
I knew I wanted a white table. I even considered a Saarinen tulip table but then I found this one from Facebook Marketplace. Sure, it was quite stained on the top but I bought it for the bargain price of $100!!
Since my painter was already here painting the room, I asked him to paint the table white as well.
I loved how the table looked now that it was painted but I still needed to find the right chairs:
Then I discovered these chairs by Mark D. Sikes from Anthropologie:
Yes, they are in danger of fading too because they're a cotton/linen blend. But in the meantime, I will enjoy them (and they are easy to re-cover) and try to keep the windows covered when we're not in the room.
Obviously the art will not stay there because it blocks the view, but right now I like it because it turns this area into a vignette that is pretty to look at while I wait for the rest of the furniture to arrive.
When you are living through a renovation project at your home, it's important to create these little spaces as you go. Looking at unfinished spaces for months at a time is hard, but creating these little decorated vignettes sure makes it a bit more tolerable.
I also purchased two blue and white throw pillows from the same Mark Sikes collection.
Love how the white painted table turned out too!
Let's see the after again shall we?
There is still so much decorating that needs to happen in this room. Of course, I need to find my window seat fabric ASAP, which I'm thinking will be a blue and white striped performance fabric!
Our Lucy turned two last month – not sure if I mentioned that. She's such a darling girl!
Blue and white is such a good combination to decorate with, since it's the worlds favourite colour. That is, it was until black came along. 😉
Related posts:
What Everyone Should Know About Blue
Two Timeless Blue Exteriors: Before & After
Help! My Light Grey Walls look Baby Blue