Update to this post: Hey ya'll, the reason why Courtney's walls are blue is because she chose a blue. That's the reason why choosing paint colours is not as easy as you think. I'm getting emails and comments saying 'Hey, I had this problem too, my walls turned blue as well'. Your walls are blue because you choose a blue paint colour. The end. Keep reading. . .
How are you during these unusual times? It feels strange to pretend that everything is normal when it's not! I hope to teach and entertain you for a moment anyway! Here's an email I recently received from my lovely reader Courtney:
Help! My Light Grey Walls Look Baby Blue!
"I just moved into my home in NC and desperately wanted to start painting as every room in the house is beige with off white molding. The living room has a beautiful stone fireplace and I really wanted to make it stand out as it's the first thing you see when you walk in the front door through the foyer. I love white in general and soft grey, the room can be a little dimly lit so I wanted something brighter to keep it light and airy. I went to my local Sherwin Williams paint store and started picking a bunch of swatches I liked to bring home and tape on the wall to see what they looked like throughout the day and night.

Ultimately I decided on Olympus White, which now looks baby blue on my walls. The room only has light coming in through the two doors on either side of the fireplace which are north facing and some from the glass front door in the foyer which is south facing. I still have A LOT of decorating to do and I'm not sure if I should hold off trying another paint color until I add my decor or change it now before I get started?"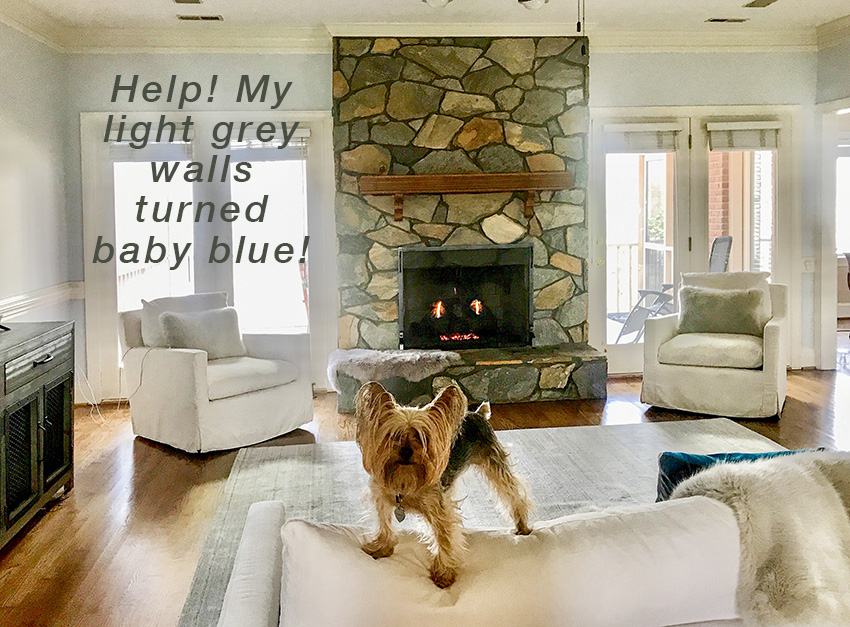 I always teach the first thing to do when you want to choose the perfect paint colour is to identify the "boss" of the room. In Courtney's room, it is clearly the fireplace stone. (Wait, maybe it's her sweet Yorkie? Good thing he appears to coordinate with the stone, no conflict here ;))
Light Blue Greys Often Look Blue
In my system, I've identified 3 main neutral undertones of greys: Blue Grey, Green Grey, and Violet Grey. Of these three, blue grey is the coolest and will most often simply look "blue" on the walls. This is what makes blues and blue greys especially tricky. If you want a more neutral, putty grey, you need to consider a green grey (the undertone of concrete and natural limestone), or sometimes a violet grey.
On the other hand, if you are looking for a pretty blue for your walls that doesn't scream nursery, the blues you want to look at are the ones that will give you that perfect sophisticated and grown up blue. These blues will look grey on the chip. SW 6253 Olympus White is just such a colour. It is a lovely fresh blue that, on the strip in the Sherwin Williams deck, looks like battleship grey.
The reason it is looking "baby blue" on the walls in Courtney's room is because it is technically a bit too clean with the fireplace stone. It is more blue than the blue greys in my system. And it sounds like Courtney was looking for a more neutral light grey.
Proper Testing is Key
I'm guessing that if she stuck the paint chips directly on her pink beige walls, the one that bounced out and caught her eye was the cleanest and coolest of the options. This is the reason I recommend painting up a larger test board instead and moving it around to compare to the furnishings and fixed elements (the fireplace stone), and to isolate it from the old paint colour that's going with a larger white board behind.
Colour testing should look like this:
This way you can be sure you are not comparing the colour to the old paint colour instead of the elements you need it to relate to.
A More Neutral Blue Grey
Back to blues, a slightly more "neutral" blue grey in my system (available in my large painted boards) is SW 7064 Passive. You can see them in a side by side comparison below.


SW Passive would have given her a more neutral blue grey look rather than a blue.
However, first we need to consider whether a blue grey is even the right undertone of grey for this room?
More Options to Relate to the Stone
Stone will most often have a number of different neutral undertones and the wall colour should relate to one of the most dominant ones for the room to look pulled together.
Aside from the warmer gold and cognac tones in the fireplace stone, the grey undertones are mostly green grey with some blue grey, and I see blue green grey as well (blue green grey is a secondary undertone of grey, most French greys are blue green greys).
So yes, a more neutral blue grey like SW Passive, or BM Horizon OC-53 could be tested with the stone. I would also suggest trying a pale green grey like SW 6070 Heron Plume, or BM Grey Mist 962 , or a blue green grey like BM OC-49 Titanium.
A pretty greige and some pale greys found in my BM Core Collection of large painted boards
And her area rug looks like a blue grey, so she can certainly use a blue undertone on the walls.
The trim looks a bit creamy, so she may need to go a bit deeper on the walls than these pale shades if she's not planning to paint the trim.
Clean vs. Dirty
If you combine a pale green grey greige with trim that is too creamy, it can make the trim look "dirty". I would paint the trim and crown a cleaner off white colour like SW 7004 Snowbound.
How to Work with the Light Blue Walls
On the other hand, Olympus White is a pretty blue and could work with a bit of clever decorating. While it is technically a bit too clean with the stone fireplace, if she repeats the earthier colours of the stone, as well as the clean light blue deliberately in her decor, it could come together beautifully.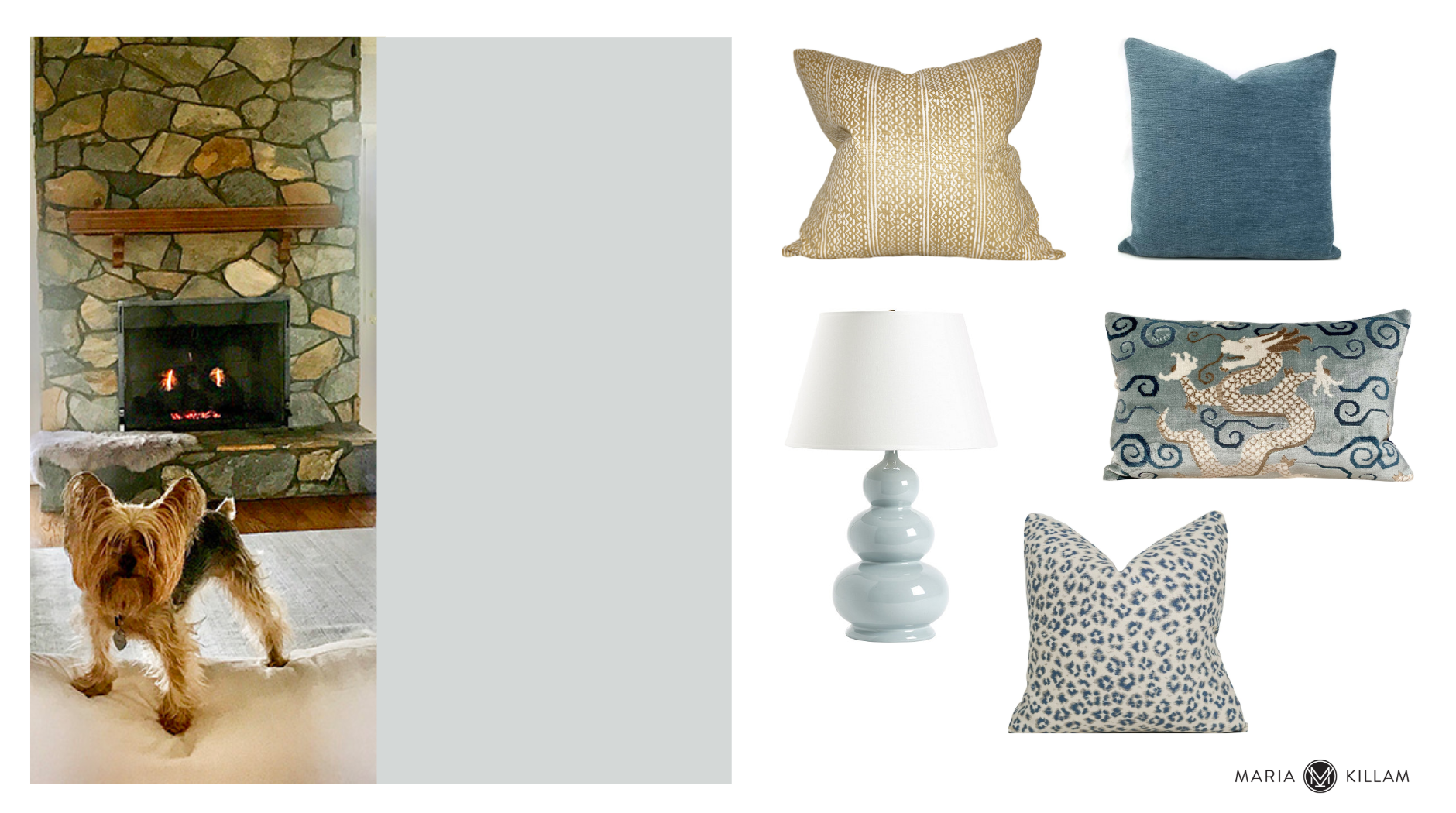 Cognac Pillow | Solid Blue Pillow | Dragon Pillow | Leopard Print Pillow | Blue Gourd Lamp
The earthy tones of the fireplace and the blues create enough of a varied palette for this room. I would move the painting with the strong yellows and reds to another room. And repeat the blue in paler and richer tones, along with the cognac brown from the stone and lots of white.
I love Courtney's fresh, natural "white" furnishings, they balance the earthy stone nicely and help the fresher wall colour relate. I would also introduce some warmer wood tones to repeat the browns in the stone.
Here is a pretty warm wood coffee table that would look lovely (below).
Trebby Coffee Table | Ballard Designs
Or she could add a couple of stylish cognac leather sling chairs (below).
Vera Chair | Burke Decor
I hope that gives you some ideas for moving forward with your light grey walls that look blue Courtney, thanks for sharing your colour conundrum.
Do you have an Ask Maria question?
If you have a room that's bothering you, send me a photo here. Clean it up to be considered for a blog post and take your photo in natural light with no flash (flash kills the ability to see the colour accurately).
If you would like help bringing your room to life with a new paint colour, pillows and a new area rug, select any of our Paint Colour consultations and then select the Combination Add On for my recommendations for a new area rug and coordinating toss pillows to enhance your new paint colour.
Or get help with all the furnishings, area rug, toss pillows, lamps and tables  in your room as well as paint colours with a Get Me Started package here.
PS. Like everyone else, I have moved my DC and Toronto course from April to September, check out the new dates here.
Related Posts:
What Top Gun can Teach you about Battleship Grey
5 Reasons Your Paint Colour Looks Wrong (It's NOT the Lighting)
Your Clean and Dirty Images are IN and Here's my Take