Shari and her husband couldn't agree on a 'colour' when they went shopping for a new sofa, so they chose charcoal.
The reason why they couldn't agree on a colour, is because choosing a sofa BEFORE the carpet, artwork or throw pillows is like picking all the paint colours for your house BEFORE you buy a stick of furniture.
If you don't have an inspiration starting point, then it's much harder to make decisions on paint or furniture.
And the reason why most people ignore this advice and just pick colours or a sofa ANYWAY is mostly because if decorating is not your gift, choosing an area rug or a throw pillow, might be even harder than just buying a new sofa.
Tell me if I'm right? This is just MY theory.
Shari had been following my blog for a while and she sent me a note asking if I could help.  Since she lives almost across the street from me, I popped over to take a look.
Her husband made their coffee table out of a slab of wood. It adds a nice touch of warmth to the space.
Also the other thing they did right was they didn't just buy a set of matching coffee tables. A collected look is always better than three matching coffee tables (same goes for your bedroom).
The medium brown floors are also just right. Timeless and classic.
Shari has a daycare business in her home in Yarrow. She has two of her own children, 7 and 11, and during the week she'll have up to 7 children in her home ranging from 11 months to 9 years old.
She needed a carpet that could get dirty and not immediately show everything. I suggested yellow or white curtains to replace the grey ones, but Shari said the charcoal colour worked better for room darkening if the TV was on during the day.
I said if all she needed was a carpet, pillows and some accessories, we could do that kind of transformation in just one day, with a single trip to HomeSense.
I snapped a picture of the existing artwork, grabbed a sofa cushion and three and a half hours later, this was the result: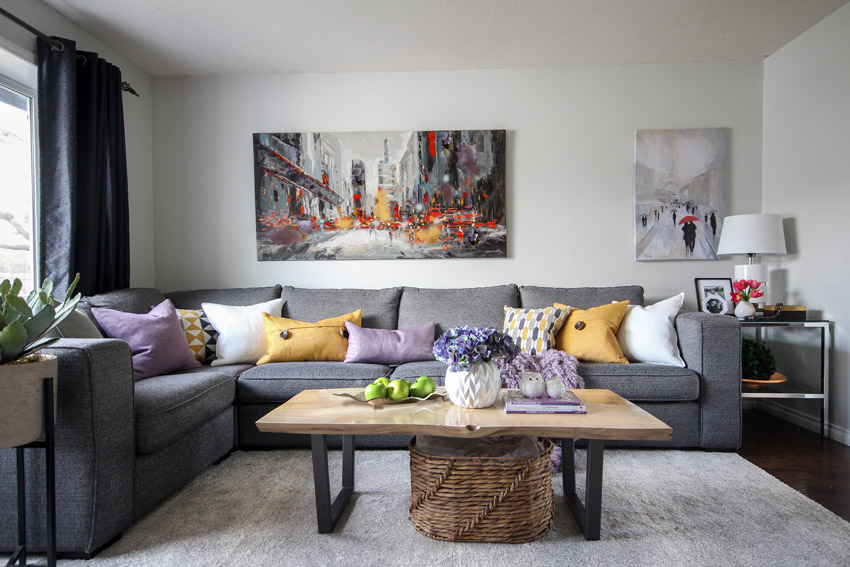 We choose the art with the red umbrella to coordinate with the existing art work, this made the wall look more finished. The area rug, eight new pillows, a basket for throws, some vases, purple books for the coffee table, and some smaller, more interesting shaped frames, all this for a little under $1000.
When you buy an area rug to coordinate with YOUR charcoal sofa, DO NOT buy the matching charcoal shag from Costco. You need to ALTERNATE the contrast. A dark grey rug would have died in here with the sofa.
The drapes should also be a colour or white (off-white or cream) but as already mentioned, Shari says the charcoal drapes block out the sun more effectively.
Anytime you see a tear-shaped vase, pick it up. You need so few flowers to add a splash of colour to any vignette. Make sure all your frames are NOT the same size, you need a variety of sizes to turn them into an accessory.
These frames hold photos of her 9 year old son Tyson, the football star!
Also, notice that I added some coffee table books underneath the lamp to give it a little more height. A trick anyone can use.
Shari's end table was already just right for the space. But the first thing I did with the sectional was move it 4″ away from the wall. Give your furniture some space to breathe! It also allowed the curtains to hang freely.
Before
We repeated the marigold colour on the other side of the room in the vase.
The organic coffee table adds texture and warmth.
I photoshopped the charcoal drapes so you could see how the room looks with white.
And here they are in the marigold shade
Here's the before again:
And here's the after again: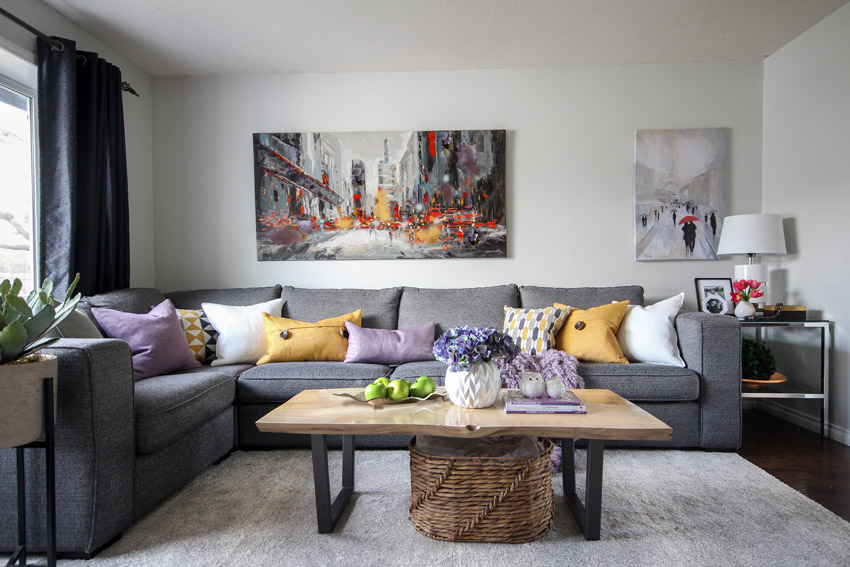 Which drapes do you prefer? The charcoal, white or gold?  Let me know in the comments!
I like the purple in this colour scheme because it feels trendy and current. Pinks and purples are coming on trend big time, because they feel newer than some of the blues and greens and oranges we've been decorating with for a long time.
Maria & Shari
When I arrived on Sunday to take photos Shari said, "I wish I had video taped my daughters reaction for you when she walked in the door, she shrieked with joy and started rolling around on the rug".
That's what happens when you suddenly have a look and a feel.
Later, Shari sent me this note:
Being a huge fan of your blog and your work, I was still so amazed at how quickly you chose different colours for everything we bought that day and how they all just worked. I am so very grateful. You made my cold living room into a cozy and beautiful room for my family. Thank you!
If you live in the lower mainland, and would like a one day transformation, contact me here.
If you need an eDesign transformation, you can purchase our 'Get me Started' package here.
My very first business before I fell in love with colour was called One Day Design. Transforming an interior in just one day with a little styling is still my absolute favourite thing to do!
Don't forget to let me know which colour drapes are your favourite!
I leave for my Austin Specify Colour with Confidence event in exactly one week, I'm excited! It's much warmer there than it is here right now!
Related posts:
How NOT to Choose Paint Colours; But Everybody Does It
How to Coordinate Coffee & Accent Tables like a Designer