This reader painted her room yellow, but the pretty paint colour she tested didn't look so pretty on the walls. What went wrong? Is she overthinking it? Here's my advice about how to choose a yellow paint colour.
Here's a note I received recently from a reader:

What's wrong with this yellow paint colour?

"We just bought our first house about a year ago and I was excited to paint my office. It was a grayish white color and it just looked TOO dreary for me, especially since we live in Seattle.

I wanted to paint my office a bright and cheery color, so I decided on a beautiful pale, buttery yellow color, Benjamin Moore's Provence Crème after testing out several yellows on small parts of the wall. I painted the trim chantilly lace.

Now I feel like the yellow looks kinda green in most lights. And perhaps a bit cold. I thought it could be the plants I have in here, but I'm not so sure. I'm also thinking that perhaps I approached picking a color the wrong way— I should have designed the room holistically at once so that I could get a whole cohesive look.

What do you think? I could just be overthinking it, but this didn't happen when I painted our living room "Simply White" by Ben Moore. That looks fantastic."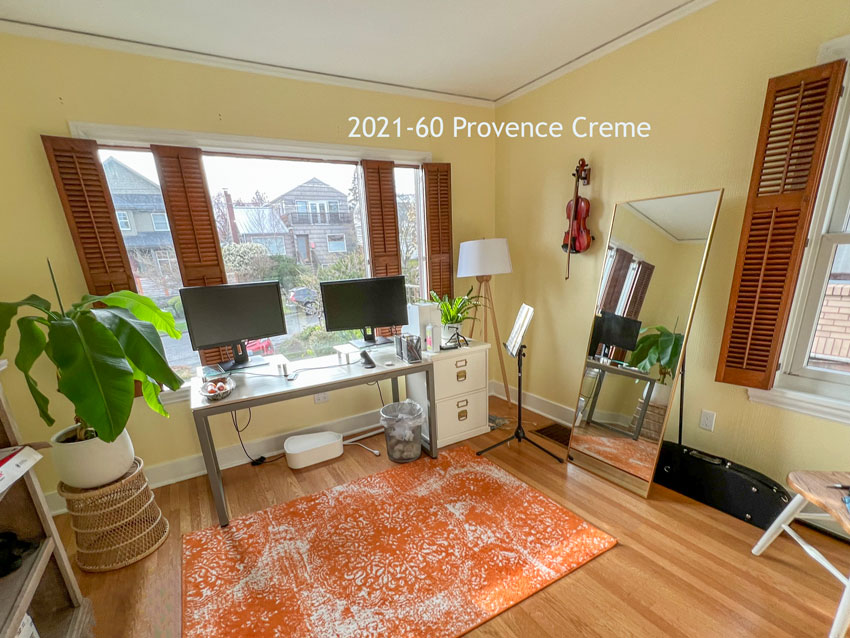 How to choose a yellow paint colour
First can I just say that I'm delighted people are bringing the joy of yellow back into their homes!
And yes, she's absolutely right. It would have been much easier to pick the perfect yellow for the walls if she had chosen some decor with yellow to inspire the colour FIRST.
A decorating plan makes choosing ANY paint colour SO EASY
It's too easy to worry about whether or not the yellow looks right if there is nothing in the room that relates to it directly. That's when you start to get critical about whether it's looking too bright or dull, cool or warm. Is it soft enough? Is it leaning green? Does it make me happy? You are simply staring at a wall colour by itself.
In this Martha Stewart room below, the drapes and area rug were clearly chosen BEFORE the paint colour. And that's what makes this room look so polished and pulled together.
In a room like this, no one is critical about the paint colour. Because it clearly relates beautifully to the area rug, drapes and chairs. This is a room that was created with a decorating plan in place FIRST.
You don't have to be Martha Stewart or work with high end custom drapes and one of a kind antique rugs to get a room to look amazing. All you need to do is choose a piece of decor or furniture in the colour direction you want to go and then pull the paint colour from that item.
That's because your options for the perfect piece of artwork, accent chair, or drapes that you LOVE are MUCH more limited than paint colours.
Paint is often the least expensive part of a room. And since it comes in nearly endless versions of any given colour, it makes it super easy to choose the wrong colour if you aren't getting inspiration from your decorating.
🔥 HOT TIP: Choose the decor first and then find the paint colour to match. And, you'll find this narrows down your options considerably.
Yellow is complicated
Yellow is the hardest colour to get right. That's because the sunny yellows that look pretty in the fan deck are MUCH too clean and saturated when you put them up on the walls, where the colour gets amplified. Think about how much bigger the surface area of your wall is than the pretty little chip in your hands!
Learn how to identify and compare clean paint colours in my two-day colour workshop.
The best yellows look downright dowdy and drab when you compare them next to the vibrant ones. They even lean into yellow beige. And you may have a hard time thinking this dowdy yellow will look pretty on the walls, so you lean into the too saturated and bright yellows instead.
Because CLEAN will always trump DIRTY in a side-by-side, out-of-context comparison. But here's what you need to remember about yellow. The colour you want will look dull compared to the cleaner versions in any paint brand.
Here's another hot tip: When choosing a yellow from the Benjamin Moore collection, avoid all the yellows in the 2019-10 to 2023-70 range.
The yellows in this range are too clean and only good for traffic signs–not something you want on your walls.
The yellow in my reader's room does fall into this range. It's a very pale yellow so it's not as obviously wrong as if it were a deeper hue. But going paler on a yellow like this one, which is too-saturated and way-too-clean is not the answer either. This is another common mistake.
And yellows that are too clean do tend to look a bit green and cold. That is, unless they lean into orange, and then they look pretty unappealing as well.
What you need to look for is a DIRTIER version of the yellow paint colour you want. You're looking for a yellow that looks very plain and muddy compared to the exciting, more vibrant one in the deck.
Learn how to identify and compare dirty paint colours in my two-day colour workshop.
A yellow paint colour by any other name
And sometimes, I might add, it's all too easy to fall in love with a romantic paint colour name. I mean, "Provence Creme" sounds like the perfect French country-inspired, happy, buttery yellow, right?
A much prettier wall colour would be something like BM Summer Harvest CC-190. I know this because it's part of my tried and true paint colour collection here.
But FIRST, my dear reader needs to find a pretty accent chair or large piece of art with the perfect yellow she loves to guide her yellow paint colour selection.
Have you ever painted your walls yellow? What was the result?
Three more colour workshops this Spring
Join me this Spring for one of my two-day colour workshops. This is where you'll discover how clean or dirty a colour needs to be. And you'll learn a few other ways to compare colour that will make decorating a breeze, like where to begin creating a colour palette for your room–and why it's backwards to choose the paint colour first.
Knowing how to compare colour in these ways will help you make more CONFIDENT colour decisions for your home or your client's home.
Hurry! Spots are filling up fast!
I'm going to High Point!
Are any of you going to High Point this weekend? Because I've love to connect! I'll be speaking at this event.
Plus, my director of eDesign and I will be handing out free neutral colour wheels and special coupons for my courses, so be sure to say hi!
Related posts:
Kelly's Happy Yellow Powder Room; Before & After
Grey with no Undertone + Yellow?
Can Grey by Dirty? Before & After