High Point Market is an excellent moment for trend spotting. Here are the top colour trends we're seeing for 2024 that appeared at this year's Spring market.
Many designers who attended High Point Market this year declared that it was the "Return of Pretty".
There was very little black. Almost NO gray. But COLOUR? It's back – in coral, warmer greens than we've been seeing for awhile, and SO much yellow! HOORAY!
Here I am in the Thibaut showroom, which is always the prettiest. Pattern is the key to decorating well with colour. And no one does pattern as beautifully as this textile brand.
Thibaut
Happy yellow everywhere
And speaking of pattern, the hot print trend this market is anything block printed. This bedroom vignette with pretty yellow accents below has both paisley and botanical motifs.
A pretty yellow block print at Highland House
Pretty, layered Modernism?
A new eclecticism is everywhere. Julian Chichester's store had a fresh look going on that mixed a layered traditional approach with vintage modern pieces drenched in colour. And yes, more block style prints. Or at least a similar soft look with geometrics.
Move over Scandi, Japandi and minimal modern and modern farmhouse (read: stark black and white). Because a prettier kind of modern is here.

Pink isn't going anywhere
Pink has become a decorating staple. Coral, salmon, mauve and rose where peppered throughout the showrooms either as accents, or as the main colour story as in this beautiful vignette below.
BTW, elephants are the new pineapples. This Indian block print friendly-looking motif could be spotted everywhere (note the elephants in the image where I'm sitting on the sofa at the top of this post).

Brown is the new black
You know brown has landed as an official "it" colour when you see it everywhere as an accent colour. We saw several brown lamps like these below.
Brown velvet is a hot look for sofas. The luxurious sheen of velvet keeps the understated colour from looking dowdy.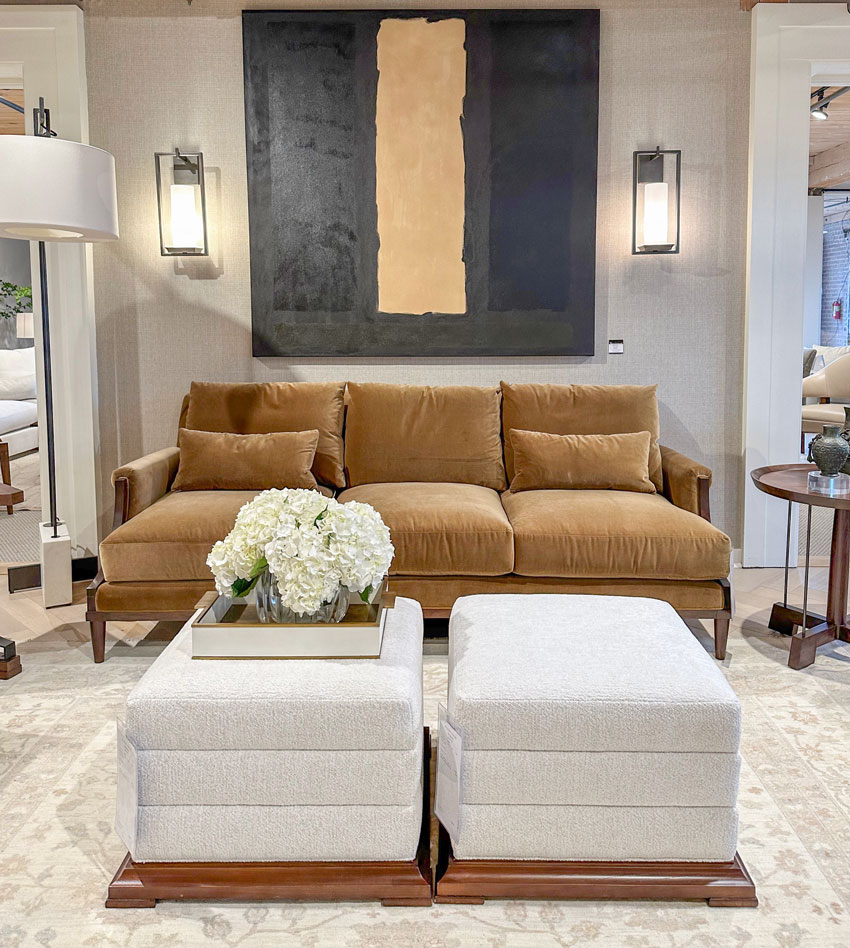 This arrangement below in the Kravet showroom is a clever interpretation of the colours and prints of the 70s. Brown, yellow and orange looking updated and new.
Overall, 70s hues like amber, orange, gold and warm browns were well represented.
And more yellow
And here's yellow as the star again in one of my favorite showrooms that never shies away from colour, Highland House. It's definitely true that you notice what's on your mind, or what you're drawn to.
But you couldn't help but trip over yellow this spring.
And yellow, gold, and gold beige are being used on walls. I've been watching gold and gold beige along with orange beige emerging in textiles and accents. But, you know it's really hit mainstream when you start seeing these warm colours wrapped onto walls.

(Can you spot the neutral undertone issue in this gold room above? Comment below with your answer 🙂)
Announcing the arrival of yellow based greens
Also frequently spotted, and again (below) at Highland House, olive and citrine greens leaning much farther into the yellow-based realm of greens than we've seen in a good decade at least.
Blue is eternally classic
I can't imagine a spring market without a strong representation of blue and white rooms. And rattan has been at peak saturation in terms of trends for the last five years.
I love the cluster of floral inspired pendants here. Have you ever framed your old jeans as art? Denim and rattan, two trending classics in perfectly pretty, but casual harmony.
And we met so many of you!
Tricia, my Director of eDesign and I had such a fun weekend. We plunked the colour wheel down on endless neutral furnishings to narrow down the undertone.
And we handed the wheel out to so many colour loving followers and friends we met.
I also had a conversation with a celebrity designer who, when I mentioned the black world we're suddenly in with everyone painting ALL THE THINGS black, he looked at me blankly.
That's the moment I realized that I'm the jaded one because I'm in the business of specifying paint colours and he's in the business of filling his high-end clients' homes with colour.
High Point was certainly not a reflection of the black trend that is taking over most homes in America and that was good to see.
Over to you my lovelies, are you loving yellow yet?
Related posts:
Trend Alert: Burgundy or Bordeaux, Yay or Nay?
10 Best Front Door Colours for your House
5 Design Trends to Ditch right Now and What to do Instead