Can a kitchen with a black countertop truly stand the test of time? I know you're all being tempted by the current black and white trends, especially in kitchen design. But which elements should be black? And when is it no longer timeless?
Here's my best advice for creating a beautiful black and white kitchen that's also timeless. So you can design a kitchen you love, without regretting your choices a few years from now!
Are black countertops timeless?
Lately a lot of people are asking me if it's possible to create a timeless kitchen with a black countertop.
And that's a darn good question because right now, we're right in the middle of the black (and white) trend. That means it's easy to get carried away with black details and quickly end up with a kitchen design that just looks harsh, flat and ultimately predictable.
So let's dissect a black and white kitchen I designed for a client many years ago. Because it still looks completely timeless since we didn't overuse black. Remember, good kitchen design is all about the details.
3 Design Details for a Timeless Black and White Kitchen
1. Keep plumbing fixtures in chrome or polished nickel
This isn't the most popular viewpoint, but black faucets are likely a fad, meaning they won't be around for a long while.
I hear you… black kitchen faucets dominate the shelves of major retailers, so it's tempting to believe they're the perfect fit for your black and white kitchen. However, opting for plumbing fixtures in a specific color is a guaranteed method to give your kitchen a timestamp.
So, if you're trying to design the MOST TIMELESS black and white kitchen, skip the black faucet. And you'll love your new kitchen forever.
The client's kitchen before:
Before
2. Introduce black hardware ONLY if you have a black countertop
Otherwise, and especially with a light or white kitchen with no large black element to ground the space, the eye will just bounce around with no place to land.
There is, however, one exception to this guideline, and we make sure our eDesign clients have this detail.
The client's kitchen before:
2. Mixing brass metal with black and white is a great way to warm everything up
I've said this before. Mixing metal finishes add so much interest and warmth to a black and white kitchen.
So, to create a more layered look – in other words, a look that isn't too busy and isn't too much black, include brass accents in your black and white kitchen hardware or lighting or furniture.
Read more: Here's how to mix metals like a pro
The client's kitchen before:
The client's kitchen before: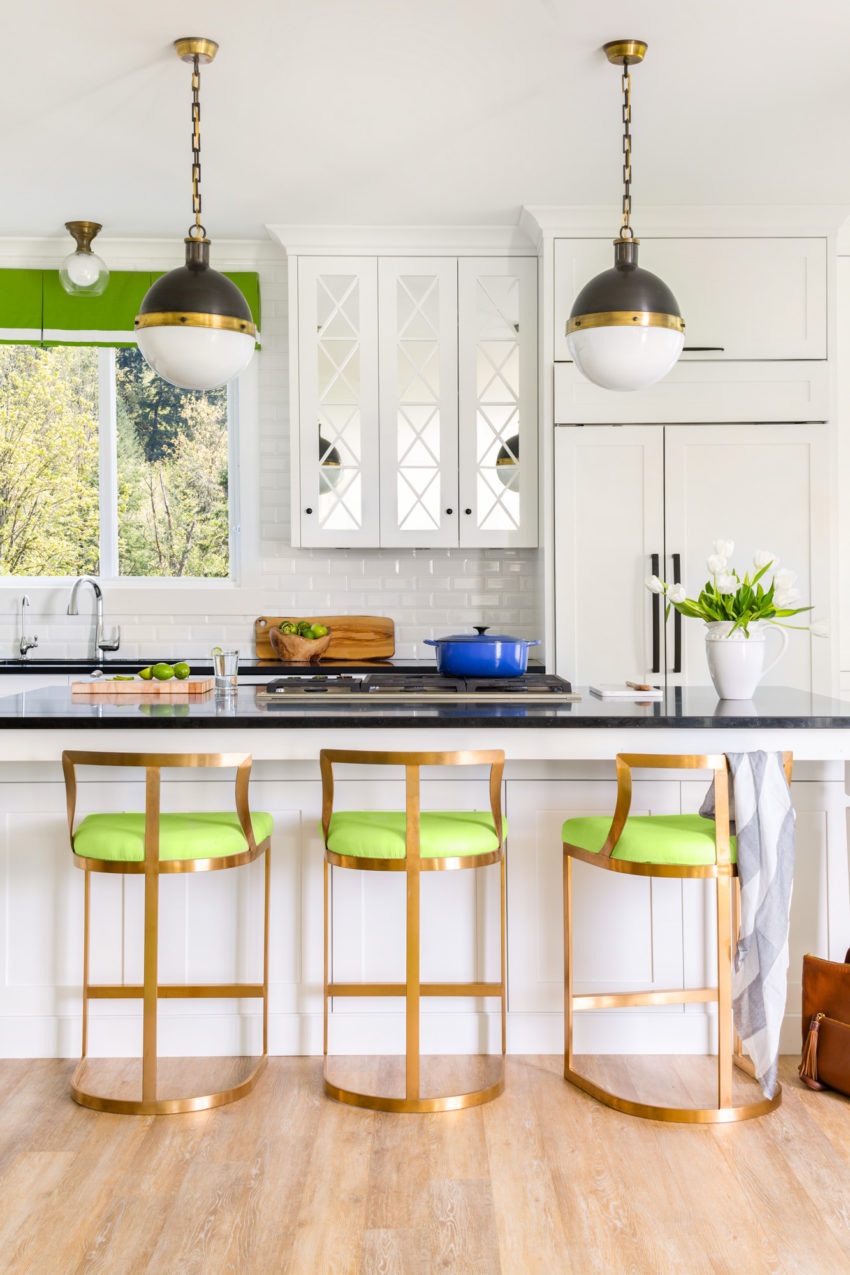 See the rest of this home here
Help me design my timeless kitchen!
Follow these 3 design details and this will help you create a timeless black and white kitchen.
But, if you'd like help with your kitchen renovation, here's the edesign package you need.
We also have a NEW kitchen refresh package (if you're not renovating everything)
New Colour Rescue coming soon!
I'm in Dallas this week and just finished two colour rescue makeovers, can't wait to share them with you!
Here's a sneak peek of the bedroom (lamp linked here) art & end table from Homegoods (art was on sale for $39)
PS. Everyone in America has been telling me that Canadian HomeSense is better than US HomeGoods. Well, I'm here to tell you that is not true! It's just that y'all have twice the merchandise we do, piled to the rafters, so it feels like junk if you don't know how to cherry pick in there. But a one-stop shopping store is way easier to decorate in than having to run all over town trying to put a room together.
Related posts:
How to Update a Tuscan Home: Before & After
5 Ways to Update a Tuscan Brown Bathroom
When is Black Timeless? (and 4 Design Traps to Avoid)