Are you tired of looking at a bathroom filled with tuscan brown elements? Here are 5 ways to update your bathroom for a fresher look. Hint: it has a lot to do with adding more white or cream.
My lovely client Deborah hired me to help her choose fresher colours and finishes for her bathroom and kitchen renovation, as well as help decorate her house. I'll share more soon, but I'm starting with the reveal of her fresh and light powder room, shown here: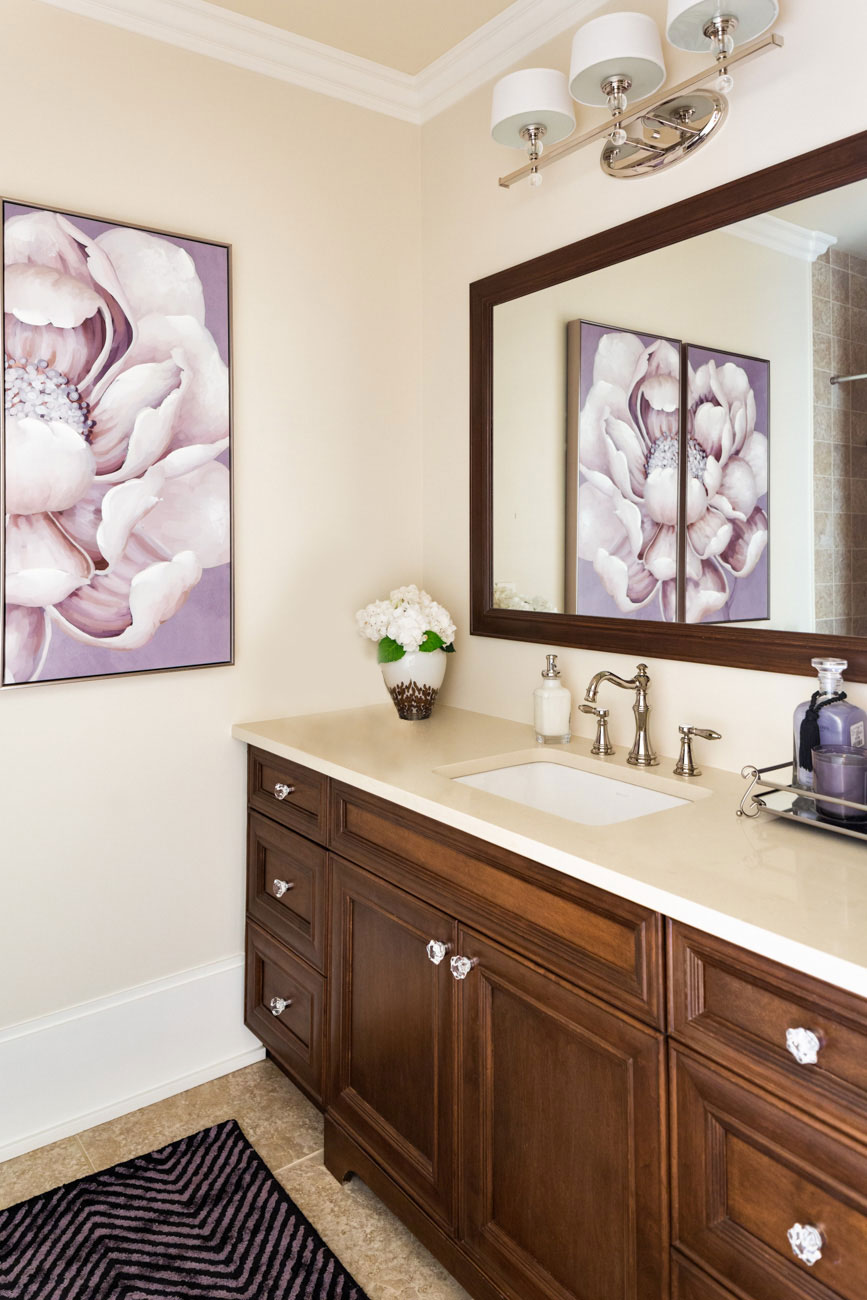 After (Photography by Barry Calhoun)
How to update a Tuscan brown bathroom.
Her existing bathroom was the typical installation from the Tuscan brown trend (below). You know the type… yellow/gold granite with a gold/tan patterned floor tile to coordinate.
In this case, it's not that the colour of the floor tile really clashed, but it was a lot of pattern and Deborah wanted a cleaner, fresher look and feel.
Her vanity was a pretty medium brown so it stayed. A wood stained vanity adds contrast and is still neutral, which also works in a strictly white or cream bathroom. Here are 5 ways we updated her brown bathroom.
1. Update the countertop.
Since the vanity was the first thing you see when entering this room, and it's constantly in view when walking back and forth in the hallway, the biggest bang for the buck, in this case, would be replacing the countertop with a solid colour.
Caesarstone Buttermilk was the perfect new countertop colour. It is a very pale creamy colour with a warm yellow undertone to relate to the cabinets and floor tiles.
2. Replace the faucet.
Notice that this faucet ends where the mirror starts. That's one way to help you decide how tall your faucet should be in your bathroom. Check out my pinterest board for more faucet ideas.
3. Add an area rug that covers up most of the tile floor.
If you don't love the tile in your powder room, toss the regular sized bathroom mat and instead find an area rug that coordinates with the art or accent colour in your bathroom.
Eggplant Rug Ideas: Similar  |  Similar  | Simliar
4. Replace the light fixture.
In a bathroom, I prefer sconces on either side of the mirror. But if you are already wired for a bar light, get one with shades. Shades help filter the light so it's a prettier, softer light. Full disclosure: I'm kinda obsessed with lighting.
Vanity Light: Source  |  Similar  |   Similar
5. Introduce a new paint colour.
Surprise! A new paint colour is a great way to freshen things up. I chose Benjamin Moore OC-6 Feather Down (a green beige complex cream), which is one shade lighter than Benjamin Moore HC-81 Manchester Tan (also a green beige, shown below). Both are very versatile paint colours if you need to freshen up a tuscan brown colour scheme.
>> READ MORE: How to update an earthy kitchen.
And, here is the after photo again: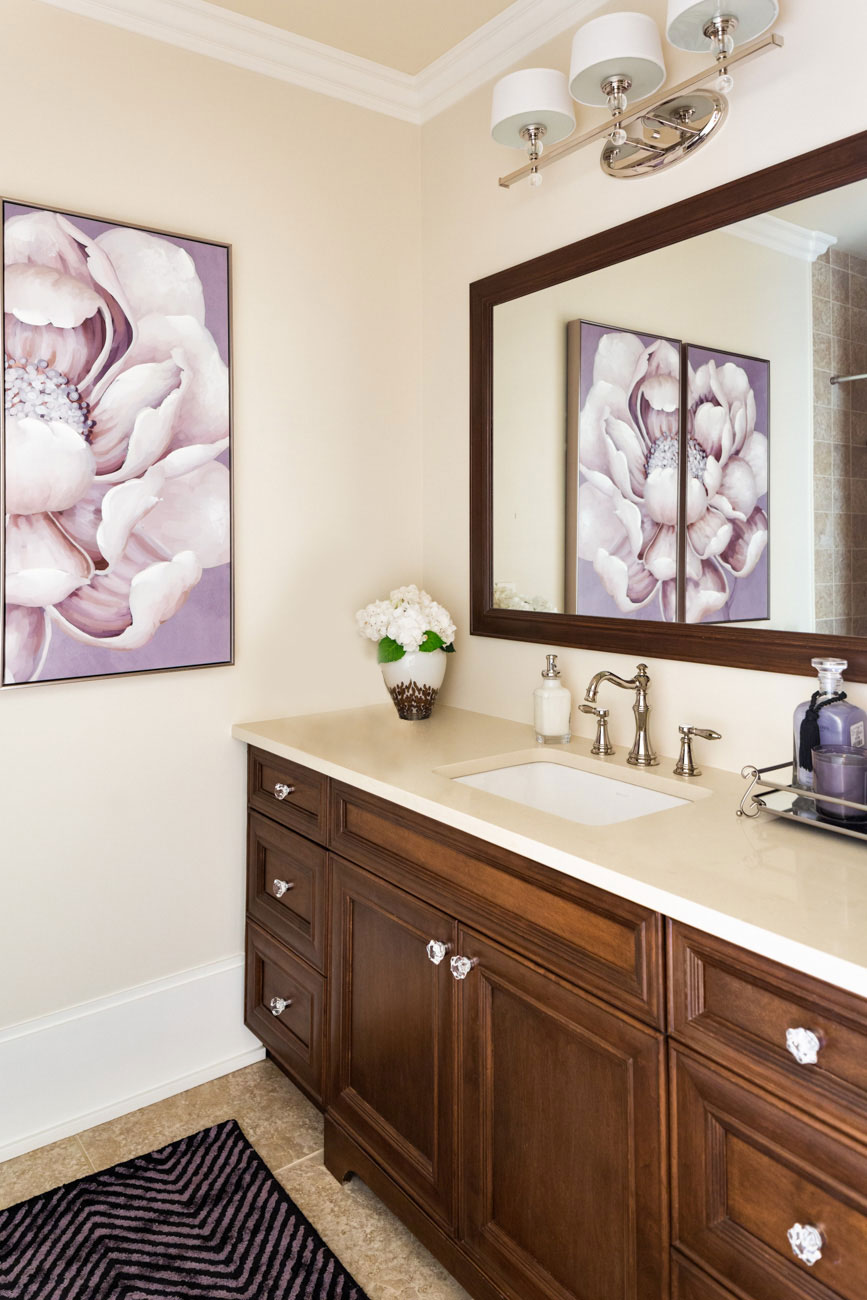 After
One last detail… Notice the absence of the 4″ quartz surround on the countertop. It looks much cleaner without it and is not really necessary in a less-used space like a powder room.
Related posts:
The Single Worst Mistake to Make During your Bathroom Renovation
It's a Charcoal Tile Intervention, Don't Miss This One
How to Make Earthy Tile Look Expensive
SaveSave