I see this mistake a lot in new kitchen designs. The minute your granite countertops are installed, something doesn't look right but you can't quite put your finger on it. It's the most common mistake when choosing granite. Find out what it is and how to avoid making this mistake in your kitchen.
Here's an email I received with this question:
Help, I don't like my granite countertops!
"I have just installed this kitchen in my new build. We have been in the house one month. What can I do about this dreadful granite countertop? I can't afford to change the tile and I actually like it. Please help me, I can't sleep at night because I hate how it turned out. My husband said, redo it and make yourself happy again. I am lost, can you give me some tips ASAP? I sure wish I would have read your DO NOT mix patterns post before I made my purchases."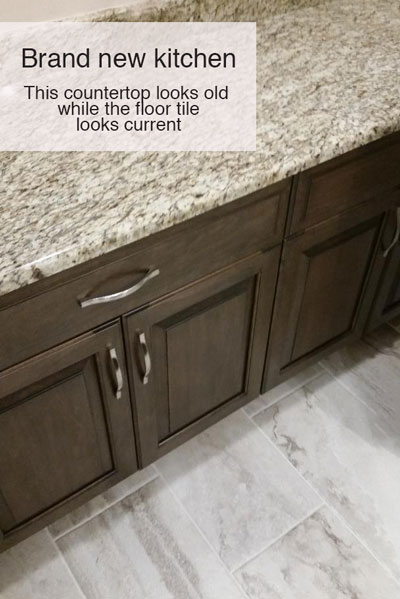 So first, I love my readers husband. He knows that a happy wife is a happy life.
Terreeia would say the same thing. She knows that I would obsess and obsess and SHE would not rest, until the mistake (whatever it is) was fixed.
1. The most common mistake when choosing granite countertops
Unfortunately, this kind of mistake is easy to make when you're making decisions with small samples. Because once you choose granite, you've maxed out your pattern quota for the kitchen.
A small 4″ x 4″ granite sample plunked on top of this tile in the kitchen shop probably looked totally harmless.
NOW that it's installed with the rest of the finishes, this kitchen looks like it has an old countertop with new, current greige tile floors. There is nothing we can do to change that except to paint or replace the countertops.
Read more: When Should You Rip Out Brand New Tile?
The least expensive option to fix this kitchen
You could paint the granite.
And this might be a good idea for the interim. We all know how expensive a new build is, AND it's rare that your old furniture looks good in a new house, so I might want to get my main rooms looking good first before I went ahead and replaced the countertop.
Of course the other argument for replacing it now is, her husband is on board with the idea. Better to get it done now than wait for new funds to be available down the road.
Plus renovating is messy. Always best to have it behind you for that reason as well!
Read more: How to Work with Granite Countertops: The Ultimate Guide
The more expensive fix? Replacing the countertop
This floor tile is not too heavy or trendy in my opinion. But there's unfortunately no way to save both.
Here are three solid options she could try, and there are several more that would work as well.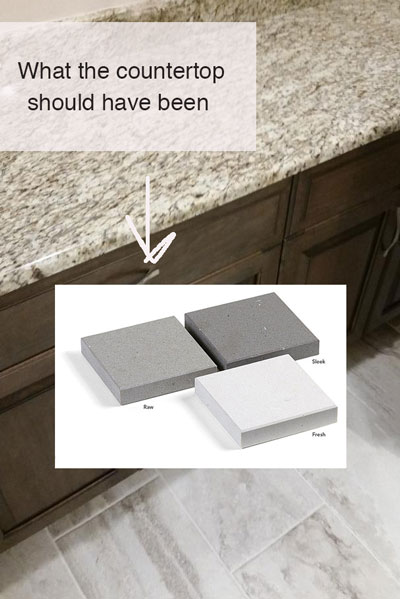 Solid greige or green grey quartz
2. The second most common mistake: Not shopping with your samples
The second biggest mistake people make when they choose countertops is NOT shopping with the floor tile, or the countertop sample, if they are looking for floor tile.
Your countertop should look happily married to the floor tile. And the only way to ensure that your kitchen is happiness is to bring that tile along.
Look at that kitchen again (above). If she had plunked even the 4″ x 4″ sample right on top of the tile, she would have seen right away that it wasn't awesome yet.
3. The third most common mistake: Listening to the granite suppliers advice
I'm cringing as I write this, but when I was looking for examples, I came across this advice said many ways, written on different granite supplier websites. This was, in their minds, one of the biggest mistakes people make when choosing granite:
"Making the colour your priority: The colour of the countertops is important, but not as important as its quality. While you should think about what your kitchen will look like, you also need to think about how long it will last?"
What??
Don't worry about the colour???
That is the WORST advice to listen to when renovating.
That is because they have no idea how to help their customers with colour, all they care about is SELLING GRANITE.
So, while it seems tempting to listen to the person selling the product. They do not have the vision of your house in your head you do. Your designer does.
Read more: Danger: Your Designer has Left the Building
Now that we're here, there's one more mistake I see all the time with granite countertops and that is:
For the most part, granite doesn't look good with trendy, current, geometric tile. Even if it's plain and white.
While granite might seem like the most up-to-date and current choice, marble or quartz is what we're doing now.
What else works with her existing floor?
Colour.
If this kitchen had solid (or almost solid) countertops that related to the floor, her kitchen could almost be any colour at some point when it came time to plan a refresh.
Or blue:
Nothing wrong with a pink backsplash, if it's a colour you love: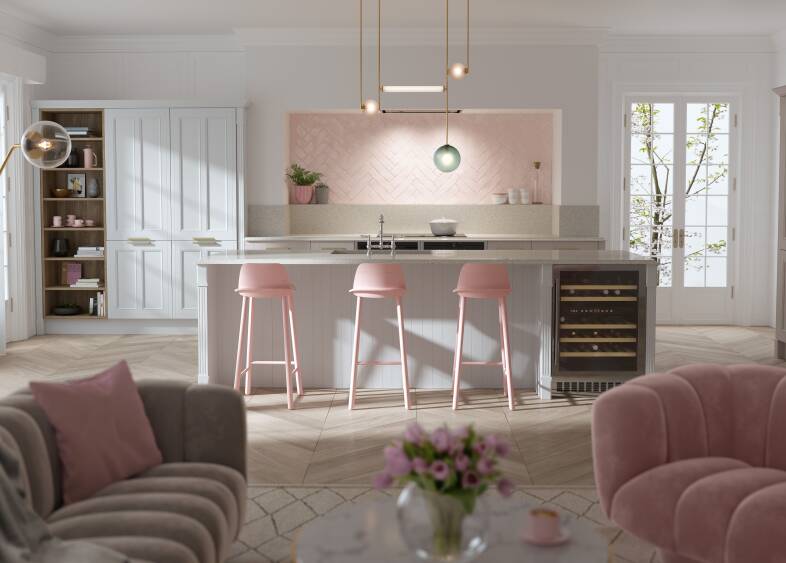 Or mint green:
or mustard yellow:
And, I've said this before many times. It's almost impossible to install hard finishes for a renovation or new build without making a mistake at some point.
Especially if you want to take a 'risk'. Which happens A LOT.
You could take a risk and end up with a look you love, but that is rare. How we know that, is because so many people try it and fail with the amount of bad renovations and new builds on the market every day.
Over to you my lovelies. Are you living with a granite mistake? Or did you think (like a lot of people) that granite was the most natural upgrade (if you've never had stone countertops) and now wish it was quartz? I'd love to hear from you! Your comments help everyone!
Hope you have a great week!
PS. Our larger eDesign packages were sold out last week but they are back up and available for a limited time only. See all the packages here.
Related posts:
Is Quartz Sexier than Granite?
Which Countertop Should I Choose? (What were they thinking?)
How to Avoid the 5 Most Common Kitchen Mistakes
Does Your Floor Tile have to Match your Countertop or Surround?
What Everyone Should Know About Porcelain Tile