Five years ago, my oldest nephew Luukas  (28) moved to Calgary from the Lower Mainland (where he's from). He lived with a bunch of friends in a house to begin with and worked as a waiter. Then he met Sam (his current roommate) and they've been roommates and best friends ever since.
Background on Luukas
Then Luukas decided to get serious about a career and two years ago he enrolled in CDI College and got a diploma as an Addictions and Community Services Worker. He has been employed at The Calgary Drop-in and Rehab Centre which is the largest emergency shelter in North America.
To save money as he went through school, Luukas and Sam lived with two friends in a house (again). And, as you can imagine, without a maid, four guys in a house is not the best living arrangement. I promised Luukas when he moved out and found an apartment with Sam, I would come and make it a bachelor pad worthy of a designer's nephew.
When I asked him what had him choose a career in social services this is what he said:
"I had never really considered going back to school but funnily enough I saw an add on Facebook for that particular diploma and thought "this is something I can do". Something that uses my communication skills and overflowing empathy and started doing my research. Landed on CDI, went in passed the entrance exam and enrolled the next day."
My nephew has a big heart and is a very sweet soul. I was thrilled to give him a sanctuary to come home to after the stressful work he does!
Styling makes an interior look high end
Many people think my decorating style is more high end than it actually is, because styling goes a loooong way to creating a look and a feel (something I spend a lot of time talking about in my live training, especially on Day 3).
And good styling most definitely makes any interior look more expensive than it is. There are many DIY bloggers all over the web who prove this every day.
You can put a bunch of high-end and expensive furniture in a house but if it's not styled, no pillows, lamps, art, and accessories, the whole look still falls flat.
My first business was called One Day Design and quick transformations that are so easily achieved through styling are still my favourite projects by far.
I'm the decorating fairy
When I told Tricia (my senior colour designer) that I was going to Calgary to do this for my Nephew she said "You're kind of like a decorating fairy". And I loved that because it articulates exactly how I love to decorate.
Styling creates magic as you'll see from the before and after photos below.
I especially love to wave my magic wand to help a well-deserving friend and I have done this many, many times on this blog here, here and here are a few examples.
Since I could only spare a few days to do this, I had to make sure any bigger furniture pieces were already there and the painting had to be done.
I asked Luukas to send me some photos of the existing apartment:
The brown daybed with the turquoise back cushions was staying. It was Sam's sofa and much newer than the cognac coloured sofa which was going anyway as it did not fit in their narrow living room.
Luukas had the bigger bedroom (right) because he found the place (that's their deal) but the trade-off is, he parks on the street and Sam's car is underground.
Where to look for colour inspiration
When I saw the dark pink beige colour of the existing sofa with the turquoise cushions, I immediately thought continuing with blue was perfect. Better if I could work with the existing turquoise cushions and one of the best ways to freshen up  a dark pink beige is with a fresh blue.
So I went online to IKEA and found an upholstered chair very close to the back cushion colour with a similar tract arm as the sofa. I ordered them and Luuk picked them up and I told him to paint everything BM Wickham Grey.
Then I was looking at his bedroom photos and asked him about the botanical art and Luukas said he loved green! So I suggested we paint the dining room a fabulous and dramatic shade of kelly green!
A mural or mirrors are best for a windowless room
No one wanted to sit in that windowless room, so I thought a mural or mirrors with hanging drapes on each side to duplicate the look of a window would be amazing!
I found this removable mural on-line (below) and had it shipped to his apartment. And this was my original decorating plan for the dining room:
Related post: Need an Extra Window Somewhere? Do this Instead
When we installed it, the self-adhesive failed within five minutes. So I scrapped that idea, discarded the mural and went back to the plan that included mirrors (I'll write a separate post on how we did it, for todays post, I'm mostly showing before and afters!).
My Mom and I arrived on Friday night and by Sunday night we were done! Monday we took photos and came home on the 6:30 pm flight.
Okay are you ready? This transformation is so fun:
Here's the narrow living room before.
The drapes were way too low and my suggestion if you are buying IKEA drapes is, always buy the 1″ rod. Anything skinnier looks cheap. Plus, I'm really over the look of grommet drapes, we bought all the curtains from IKEA but used their rings and clips to create a more custom look.
Before
I LOVE the curtain rods we found for the living/dining room. They were from HomeSense and they simply curved around to be installed on the wall and didn't need a finial. Since we didn't have much room for stacking around the picture window, this looked the best.
Full disclosure
Obviously, because I'm posting this project on the blog, I added more detail than I normally would. Could I have left the old drapes if I was just the decorating fairy, in town to make things pretty, without a blog to post photos? Sure, but then the final photo for the blog wouldn't have been as good.
Mom and I arrived Friday afternoon at 2:30 pm. By the end of the evening, Luukas and I had already been to HomeSense and IKEA.
In Canada, every good stylist is grateful every day for HomeSense. Our home decor options are soooooo slim compared to what ya'll have in the US.
This is what we found to coordinate with the inspiration botanical
Using Luukas inspiration botanical which I had in my phone, we grouped all the rest of the art together. Luukas has a wide range of taste in art, as you'll see when you get to his bedroom:
Gallery wall artwork
Before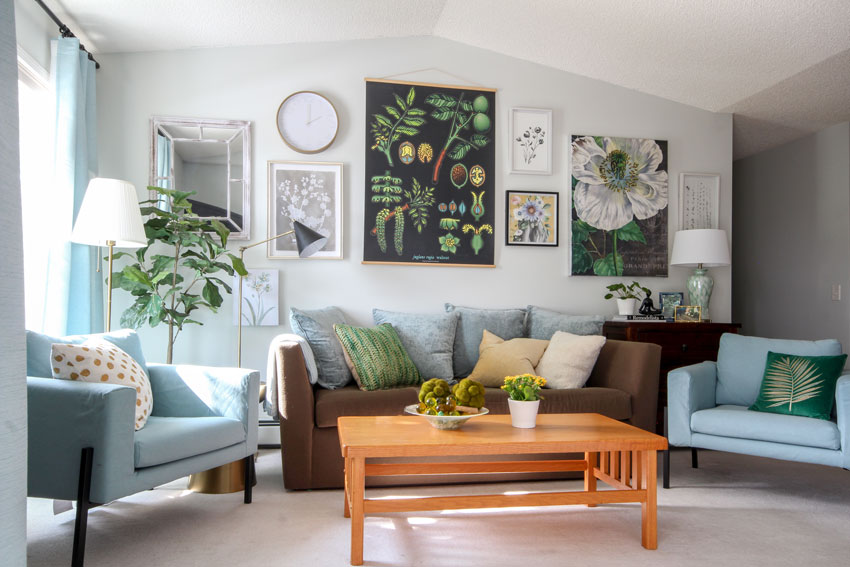 After
After
After
Luukas loves plants most of them were here before I arrived!
And here's the dining room which is my second favourite after the gallery wall in the living room:
Before
After
Here's a view from the white kitchen! It did not need a paint colour (except for the walls) haha.
And of course I managed to find a spot for a lamp (below right):
Here are the two best friends (below) changing the entry light fixture:
Sam installed all the rods and anything that required a drill (which was a lot) I couldn't have achieved this result in 2 1/2 days without his help. Sam sells security software for a company called Tugboat. I've heard so much about Luuk's good friend it was great to get to know him a little better this weekend!
Sam and Luukas
Here's Luuk's room with the botanical art that inspired the dining room transformation:
Before
Luuk's sound equipment station
Being in the master bedroom means Luuk also has room for all his sound mixer equipment. Luukas' other passion is working as a part-time DJ.
For the past three years he has been working his way up the ranks in the local Calgary scene to become the purveyor of all things under the umbrella of electronic music. Luuk's most recent project has been the Cosmic Robot, a new monthly dedicated to showcasing the latest in tech houses more cybernetic sound.
Luuk says "Music gives a soul to the universe, wings to the mind, flight to the imagination and life to everything" 
I love my nephew!
Luukas Junttila (follow him on Instagram here to find out where to catch his next show in Calgary)
So of course, if you've been following me for a while, you'll know I'm obsessed with lighting. Specifically, lamps with a shade. So I suggested we hang a few paper lanterns in this room. The effect was absolutely fabulous! So pretty at night or on a dark day!
After
I was especially happy to find the buffalo check tablecloth from IKEA that coordinated so well with the IKEA bedding (above)! It's simply covers an inexpensive folding table.
Luuk's music room/bedroom suddenly got a lot more inspiring.
And of course if this apartment was suddenly going to get this amazing, I couldn't leave Sam's room out so I had him choose a duvet cover from IKEA.
Since the dining room was being decorated, Sam agreed to move his desk into the bedroom. This was the new arrangement, much better:
Before
While at IKEA picking up the duvet cover, I saw this art for above his bed (below) and sent him a photo. He told me he loved it and later confided when he was there picking up necessities for their apartment he had seen it and loved it. It's so fun when that kind of serendipity happens in decorating!
After I picked up the art, I popped into HomeSense (for the 3rd time) and saw the art with the moon (Luukas and I had already picked up the moon phases art on the right the first night, not sure where it would go and this was the perfect spot). He already had the little round needlepoint that stayed right in the same spot that it was from the original before pic!
And of course the blue lamp was perfect with the two sconce lights to complete the lighting in this room. His old light sits on the dresser (not shown) so now we have much more balanced light here, yay!
After
My Mom was the best! She made us amazing food, dusted and cleaned, pitched in wherever she was needed, imparted all kinds of wisdom and hemmed the drapes (since every window had to be covered).
And did I mention, constantly made green juice (of course). In fact she brought greens and all kinds of fresh vegetables from her garden!
Here I am with my beautiful nephew in his new apartment makeover!
Luukas Junttila and Maria Killam
Whew. That was an epic 3 1/2 days and an epic post to write. I will post about the dining room mirrors later because it's such a great idea for a windowless room! Decorators use mirrors every day to make a room feel bigger or to create a 'window effect' but this was a very inexpensive solution!
Here's the before and after of the living room again: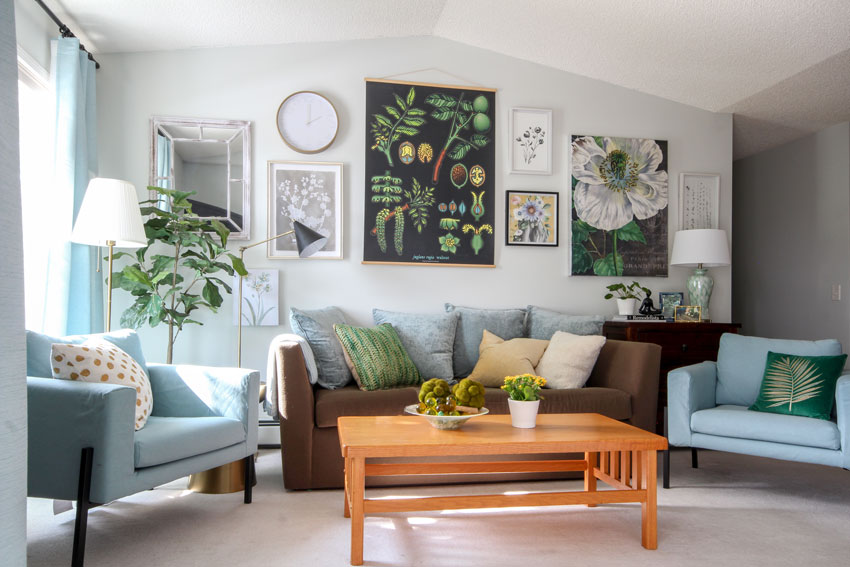 After
Which room is your favourite?
I believe everyone should have a home that fills you with joy when you walk in the door! I'd love to help you create that either locally (in Vancouver or the lower mainland) or through my eDesign services here.
If you would like to learn how to create a home you and your clients love, join me in my Chicago course next week (two seats left) or Boston or Orlando in November, register here.
Related posts:
Elizabeth's Library Room Transformation; Before & After
You Won't Want to Leave this Boutique Spa: Before & After