Everyone is currently obsessed with the farmhouse or modern farmhouse kitchen design style (thanks Joanna Gaines). If you are considering a farmhouse kitchen (or recently built/renovated a modern farmhouse kitchen), you might be asking yourself how soon will my farmhouse kitchen look dated? Can your farmhouse style be classic and timeless?

Because creating a classic and timeless house, using classic and timeless colours (especially in your hard finishes) is such a huge conversation on this blog, I constantly receive questions from readers similar to this one:
Maria,

What do you think about this trend of mixing white with wood (sometimes reclaimed wood)? For example, a white surround with a wood stained mantle (first photo below) or a white kitchen with wood stained open shelves (second photo below).

I see it a lot in the modern farmhouse look (which we're copying) and I love it, but wonder if it will look dated in a few years.
Interior design by (surprise)  Joanna Gaines
How Soon Will My Farmhouse Kitchen Look Dated?
Here's my response:
I think wood can warm up a white kitchen if it's done right. And, EVERYTHING dates eventually. However, a good question to ask yourself to gauge how quickly something will look dated is this:

How much money will it take to insert a new colour or a new pattern (either with paint, wallpaper or soft furnishings)?

Can we paint the kitchen a new colour or does it forever have to be 'gold' or 'green' because you have gold and green slate tile on the floor for example?
Case in point. This is a lovely Tuscan kitchen design (below) but with the glazed cabinets, gold and green tile floors, green countertops and a green backsplash, you're basically stuck forever with this colour scheme until you start renovating.
And this is where you need to listen carefully… if this is your kitchen but you love the "white and fresh" farmhouse look, you can't simply switch out the countertops for white marble or quartz because they will in no way relate to the floor.
Read more: Do this before you choose a cabinet colour.
You can't paint the walls white because there is zero white in this room.
What if you wanted to paint the cabinets or walls indigo blue or kelly green. Again, you cannot.
This slate floor will boss this kitchen around until it's taken out.
So, what's is the best solution for updating this kitchen?
Solid cream cabinets and cream subway tile backsplash would be the best choice for updating this type of kitchen.
This is the reason why I think white kitchens in general, if done right (with timeless wood or tile floors) are the most classic.
By the way, if you are choosing a white for your cabinets, walls, trim or millwork right now, make sure you download my White is Complicated eBook here (updated in 2020 to include my new complex cream category, which is super helpful for choosing whites).
Whenever I bring up subway tile, I always hear from those who say they hate the look. However, it's often the most timeless option for a backsplash, and that's why I recommend it.
But here's the thing, you don't have to go with actual "subway tile." Your tile can be a completely different pattern. As long as it's white, off-white, or cream. This way you're not 'stuck forever' like you are with the earthy kitchen I just mentioned.
Read more: What's Next After Subway Tile?
Here's a pretty kitchen example with a simple cream beadboard backsplash.
Via Julie Blanner
Even installing a trendy black and white encaustic floor (like the one below) will still give you more colour options later. And, ultimately that's what you need to consider when working with trends.
The best design advice
And the other thing you should know is that my design advice is for the person who has no idea what to do. If they are planning to make decisions on their own, without a good designer, they will surely end up disappointed. Magazine worthy kitchens cannot be easily copied.
Better to keep it simple.
There are some gorgeous, creatively-designed kitchens in this world (See both photos below).
2018 House Beautiful Kitchen of the Year by Martyn Lawrence Bullard
2017 Kitchen of the Year by Jon De La Cruz
But, there are so many details and things you need to know about kitchen design – that a designer already knows. And, if you DON'T know these things, you will simply insert all the latest trendy colours and finishes (that you've fallen in love with on Pinterest) into your kitchen or bath. Do you know the difference between a perfect vs. perfectly nice bath design. Without a designer or a design plan, you could end up with the kitchen or bathroom in Zillow that no one likes.
I bring up real estate sites, because that's the best place to find kitchens and bathrooms designed badly.
This is some tough love, I know. But I want you to be happy with your efforts and the investment.
If you are reading this and you're not a kitchen designer, you will not end up with a kitchen that looks like the two in the above photos, no matter how much you love them and try to duplicate them.
A kitchen needs to be custom designed to coordinate with YOUR house and that takes years of experience to pull off.
Not to mention that as gorgeous as both of the trendy kitchens above are, they are still extremely PERSONAL. These kitchens are best designed for the high-end home with lots of money to switch things out when the time comes.
White Kitchen Designs
I recently received an email from a reader who expressed that she was miraculously happy with the kitchen she was inheriting in her new house but lamented that the previous owners had chosen an olive green subway tile for all the surround tile in one bathroom and a pink beige hex floor in another bathroom. [sigh] Here's why I believe all bathrooms should be white.
Another objection to a white kitchen that I hear a lot is that it's cold.
Well this kitchen (below) is a pale blue grey which could almost be interpreted as a very cool blue-white, however the gold accents, wood floors and true white countertops, as well as the styling, make the entire look perfection.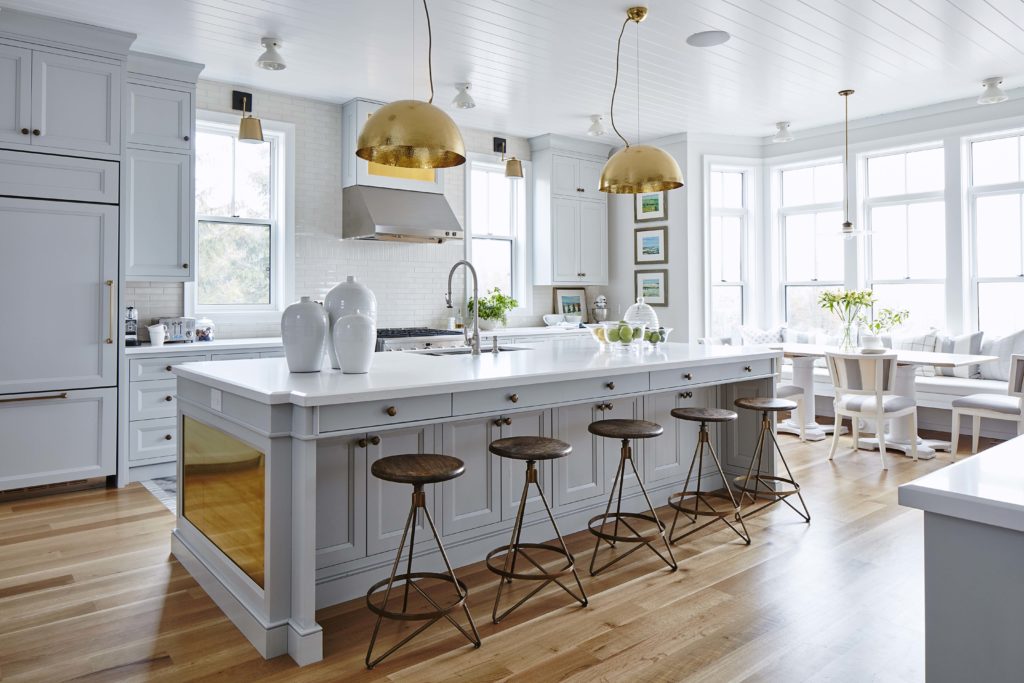 Dream kitchen by Sarah Richardson |
By the way, there's nothing boring about the subway tile in this kitchen, just saying.
If you take the earthy kitchen at the top of this post and suddenly install white marble countertops (as I mentioned at the beginning), that's when you might also conclude that "white is cold".
However, what really happened, is that you installed the wrong hard finish. It isn't a warm or cool problem, it's a yesterday and today problem.
Read more: How to refresh your bathroom without replacing the tile.
The overall design features of a white kitchen will technically date it much faster than the colour. For example, we are doing pantry walls now, which is where the storage is located. But more kitchens are being designed with decorative and open upper shelves or no upper cabinets at all (like the kitchen above).
If you have a microwave sitting on a shelf, that is also dated. The trend now is to have microwaves built-in to the pantry wall or installed in the island.
How soon will my white kitchen look dated?
So, here's the point of this post. Choose hard finishes that don't heavily dictate your decorating colours FOREVER and your house will be more timeless because you or a new homeowner will have more options for inserting their personality in the end.
And remember, ultimately the devil's in the details.
Generally farmhouse and modern farmhouse kitchen trends are fresh and white, which makes them pretty versatile. But if you include details like reclaimed wood and shiplap, you are letting everyone know exactly when it was installed. So the answer is, YES it will look dated as soon as the next trend replaces it. However, that doesn't mean you can't enjoy the farmhouse style kitchen. 🙂
Related posts:
Ask Maria: Help! I Don't Want the Same Kitchen as Everyone Else!
White Farmhouse Exterior Transformation; Before & After