How do you refresh a white kitchen? Easily when you don't have a lot of trendy tile or fixed colours to worry about. See the befores and afters of mine!
Okay so this is the month where you're finally going to see the two bathrooms I renovated last July! At the same time, I decided to do a kitchen refresh as well, mostly to show you, my lovelies, why a white kitchen is so versatile.
So I'm starting with my kitchen first:
Here's the original before pic again of my 80s oak cabinets:
And here it is after the first renovation 6 years ago: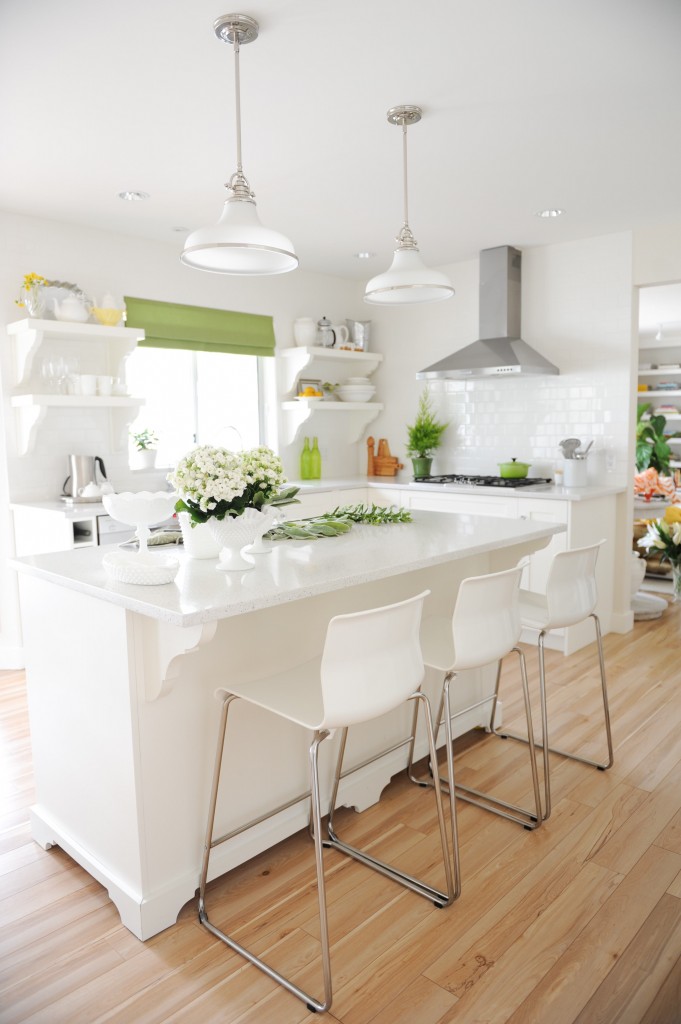 Photo by Tracey Ayton
And here it is with new pendant lights, a millwork hood fan, roman shades and counter stools!
Millwork by Quality Cabinets in Vancouver Design by Jan Romanuk
And I painted the island a brighter, happier green.
Also, I had door panels added with moulding around the bottom, if you scroll back and look at my original island, it was simply flat with moulding installed around the bottom. I was on a budget originally, but my island has always bothered me, so I took this opportunity to make it look more like a piece of furniture (above).
Make no mistake, the best way to update a lot of kitchens is to rip out the weird and unusual shaped island your builder thought was so cool with drywall on one side (which I've seen so often).
That's the only time you should consider painting it an accent colour as well. If you paint your island black, or brown or charcoal or a colour, make sure you are repeating that colour in your great room or adjoining room, that's how you create flow.
Also, don't paint your island UNLESS it looks like a piece of furniture like mine does now (it really didn't before).
This is the before pic of the other angle of the kitchen after the uppers had already been removed.
Stainless hood fans have had their 10 year trend moment but in the end, they really belonged in a more modern kitchen. However, they are definitely less costly than a custom millwork hood fan.
The new hood fan looks much more balanced and fits the space better. You can see that my green island (above) is brighter and cleaner if you compare it with my old roman shades (below).
Regarding storage, all my plates, bowls, flatware, cooking utensils are in the island. I have mugs for coffee above the espresso machine and all the rest of my glasses and dishes are in the pantry wall on the other side of the kitchen (keep scrolling to see the pantry wall, there is one more wall of cabinets beside the wall oven which is not shown in the photo).
Here are my new roman shades (below)! In the end, a geometric would probably have been better with the graphic black shades but I'm really tired of all those prints, they have also been around for more than 10 years now. And I'm a flower girl.
After (cabinets are Artisan White by Cloverdale Paint)
I love the way the colour flows into my laundry and powder room (seen from the doorway above).
For those of you that missed it, I did post my renovated powder room here last year.
I also bought a new marble round table. It's a better fit for this area. The only thing I don't like about it is that it's over 1″ taller than my old one making it immediately too high for me to sit and work on my laptop!
Before
First renovation (above).
New Table World Market | current photos by Barry Calhoun Photography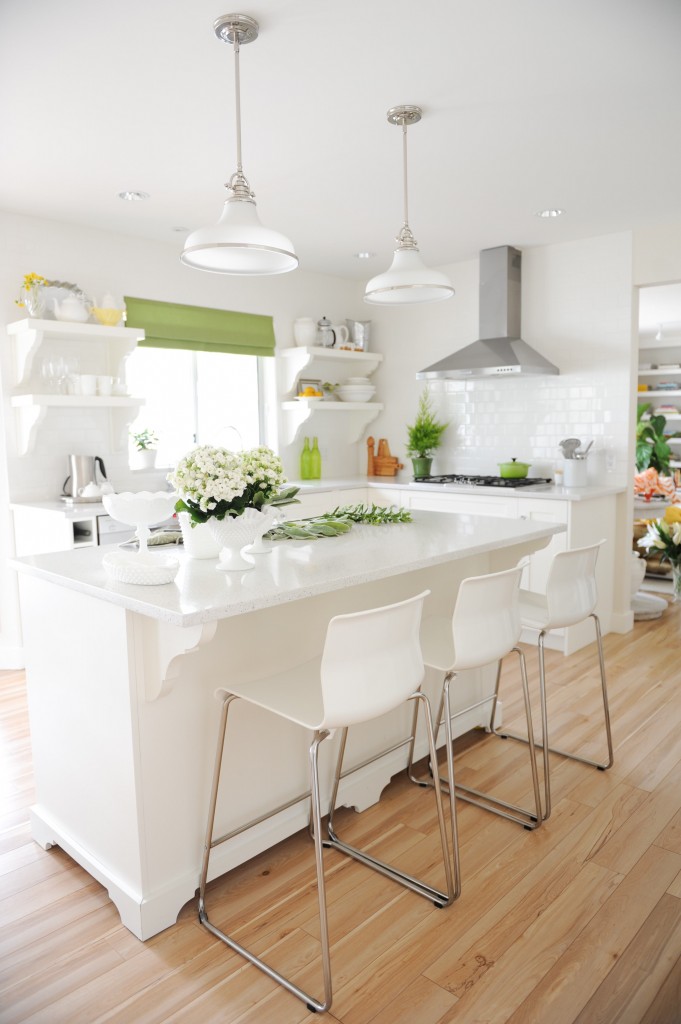 Before
After (see my full house tour here)
It's so easy to add colour and change up the look and feel when your kitchen is already white!
If you'd like help coordinating your kitchen finishes, we can help with my Create a Classic Kitchen package here.
PS. Amanda Gates interviewed me in Nashville after she's completed my Specify Colour with Confidence Workshop in the Spring, watch the video here. There's still seats left in the 3 courses coming up!
Related posts:
Tour my House; Learn the 6 Best Ways to Transition Colour
Which Shape is Correct for your Kitchen Island?
What NOT to do with your Kitchen Island Design
SaveSave
SaveSave
SaveSave
SaveSave
SaveSave
SaveSave
SaveSave
SaveSave
SaveSave
SaveSave
SaveSave
SaveSave
SaveSave
SaveSave
SaveSave
SaveSave
SaveSave
SaveSave