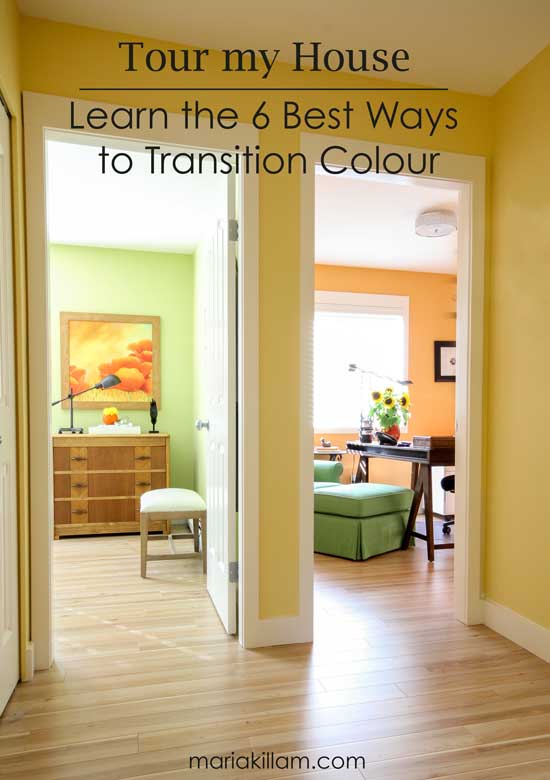 A lot of people think that the right way to create flow and transition colours from room to room with paint colours is to take a single strip of colours from the paint store and select a range of shades from light to dark.
When you do that, though, your house will basically end up painted lighter and darker versions of the same colour everywhere.
Also, who has a house (unless it's brand new) where out of the nine neutral undertones available, one of them will work for every single room? What if you have pink beige carpet in the halls and bedrooms, blue grey tile in the entry, a green grey stone fireplace in the living room, and gold beige countertops in the kitchen?
Now what do you do?
The chances of this method of choosing paint colours coming out beautiful is very slim, indeed.
Here's the best way to get it right: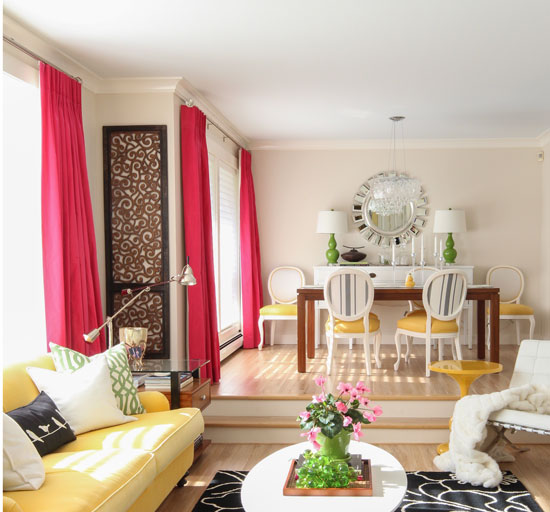 CA-037 Rice Paper by Cloverdale Paint (Photo by Maria Killam)
1. Flow starts in the living room.
When I work with a client on creating a new colour palette for their home, we always start here. This is the room that influences the entire house.
So if you are spinning and have no idea which colours to paint your walls—or worse, have nine samples up and are waiting for one to step out and say, "Pick me, pick me!"—well, the chances of this happening without at least a basic decorating plan for your living room will be even slimmer.
Paint colours should be chosen last (in a perfect world). There isn't a single colour I chose for my house without first knowing which fabrics or furniture were going in the room.
2. Don't choose all your colours at once.
What if you really don't know, or don't have time to choose furniture or artwork?
Then don't stress about choosing five colours. Start with one. And when you slowly start to make choices, you can repaint your dining room or powder room once you know what the accent colours will be.
My powder room (which is right past the laundry room, photo below) is painted a raspberry shade that ties in with the raspberry accent colour in my living room.
The main rooms of my house (living room, family room, and kitchen) are painted a colour that I consider to be greige. All the paint colours in my house are from Cloverdale paint because they generously sponsored all the paint when we renovated this house over three years ago.
A lot of my clients are simply looking for the perfect white or greige when repainting or choosing colours for a new build. I list a few perfect Benjamin Moore and Sherwin Williams options that can be found in my White is Complicated: A Decorator's Guide to Choosing the Right White e-book, which you can download here.
The days of painting each room a different colour are OVER.
Because we are decorating with much cleaner colours in the colour trend than we did during the Tuscan Brown trend, we need a neutral on the walls that will not look dirty with all these fresh colours and a colourful sofa in the living room.
Entry (Cloverdale 7928)
3. If the colours in your living room are fresh, the rest of your house should be, too!
As you'll see when you read this post, the palette throughout my house is not just raspberry, green, and sunflower yellow. Creating flow is not about simply repeating the same colours from your living room over and over. It's about making sure all your colours are either clean or dirty.
The biggest mistake most people make (including design professionals) is combining clean and dirty colours. We will be talking about this throughout our in-class exercises coming up in San Francisco next week, and Houston next month!
I chose a softer yellow than my sofa through my entry and hallway because this colour is too intense to have in a main living area, but it's fabulous through a hall you're only walking through.
Now, obviously, it would be smart to continue your main neutral down your hallways if you have carpet. A bright colour with a more muted, earthy shade of carpeting will not be fabulous.
Cabinets | Artisan White by Cloverdale Paint
The same green found in my living room is the only accent in my white kitchen.
 Rice Paper, Cloverdale CA-037
Laundry Room (Cloverdale 7928)
4. If you have already chosen a few colours, repeat them.
I repeated the yellow from the hallway here in my laundry room. You can see my raspberry powder room colour here. It still needs to be renovated, so it's not part of the tour.
View from the family room into the kitchen
The raspberry accent colour in my house was inspired by this piece of art found at a big box store and custom framed. I love this piece of art. She looks sweet and kind, something I aspire to be daily. : )
The colours in my family room are orange and yellow, with a small hit of navy. Truthfully, I had these navy pillows kicking around, so one day, I installed them in here. I am a total pillow tramp, as many of you know.
These striped ginger jars I ordered in the summer from One Kings Lane.
I found that column in the corner from an antique store and chalk painted it. The end table came from the Pottery Barn.
Kelly Green front door | Cloverdale 7669
5. What colour is in your entry or adjoining rooms? That could be your front door colour.
I love my green front door. When it's open, the colour relates to my living room. And as you can see, I'm breaking the clean and dirty rule with my carpet here. I have found that so many greens look good together this is when you can break the rules.
Transitioning paint colour | BM Pale Sea Mist (Guest Room) 124 Orange Appeal (office),
6. Paint your bedrooms a colour. These smaller spaces can handle a brighter shade
There's no greige, only colour at this end of the house. It's just happiness here.
Our guest room is green (it's not finished yet either) and Terreeia's office is sorbet orange. You can see through the doorway that the green chair and ottoman repeats the green from the room right beside it, and the orange and yellow artwork in the bedroom repeats both colours, too.
I specifically created the vignette on the dresser facing the hallway in the guest room because this door is never closed, and I love looking at it when I walk in and out of the master bedroom.
Here's a peak at Terreeia's office. It still needs drapery. My studio office is behind the house here if you haven't seen it. This post also includes my garden.
Terreeia's view from her desk is through the hall and into our turquoise master bedroom.
SW Rainwashed
Turquoise and yellow. This is really where turquoise is introduced. It's nowhere else in the house, but the colours still flow.
I had an old black-and-gold striped ottoman that I slipcovered to go in this room's sitting area. The sofa and loveseat are from Martha Stewart Furniture.
I simply adore these custom-made, off-white drapes. See how the horizontal stripes are uneven? It creates a ballgown effect. The end table is from HomeSense.
Some of you know how obsessed I am with a cute face. I recently picked up these gossiping parrots at HomeSense. ; ) ; )
I did not schlep this vessel home from Tuscany this past summer; it's from a gift shop in Fairhaven.
I love the soft and sweet look of maiden hair ferns. I simply replace them when they dry out if I forget to water them in time. If that's monthly, so be it.
And finally, I repeated the turquoise shade of the bedroom in our dated main bathroom right beside it. What will the colour be when it gets renovated? Only time will tell.
The only room you haven't seen is our master bathroom ensuite. I also painted it the same turquoise shade, but when it gets renovated, I will paint it a coordinating colour from the master. I like looking into a different room and seeing a different colour.
When people walk through my house, they'll say "It feels so fresh!" And that's because it flows and all the colours are clean instead of more muted and dirty. It's NOT because I've decorated the entire house with colours strictly found in the living room.
The same feeling of flow can be created with any colour scheme, even if you prefer earthier colours. Just because the colour/fresh trend is here doesn't mean everyone loves it or can realistically re-decorate.
Once you've chosen your paint colours, arrange them in front of you and compare, compare, compare to make sure one doesn't jump out more than the others. That usually means it's a cleaner colour than the rest.
I've noticed clean colours are EVERYWHERE finally. It's only taken 5 years for that to happen but even sofas are colourful which I think is fabulous!
Are you into the colour trend or do you prefer earthier colours?
Related posts:
Grey is Out! (Maybe) The Colour Trend is Here! 
Are you Waiting for your Paint Colour to Propose?
How NOT to Choose Paint Colours (But Everybody Does It)
If you would like to transform the way you see colour, become a True Colour Expert.