Instead of renovating your house 10 years from now in order to sell it, here are 3 timeless home decorating trends to update your house now so it stands the test of time for the next homeowner (aka won't go out of style) – no matter when you decide to sell.
12 years ago, Deborah and her husband Paul bought their house located on a quiet street at the end of a cul de sac.
They have a lovely, French Country home with a stunning garden in the front and backyard and a beautiful circular driveway with gorgeous mature trees.
This is what the kitchen looked like when they originally took possession in 2005. The house had never been renovated. So in 2006, they packed up and moved out while the first renovation took place:
They installed a cream, glazed kitchen because that was the trendy kitchen of the moment along with the espresso brown kitchens from the Tuscan era:
The 'after' from the first kitchen renovation
In approximately 10 years when their son is off to University, they plan to downsize.
Instead of renovating 10 years from now to update the house in order to sell, Deborah wanted to love her house now instead of making it new just for the next homeowner.
She had started following my blog and Instagram page based on a referral from another client.
Deborah loved the idea of creating a classic and timeless kitchen that would stand the test of time.
I met with her in January of this year to choose colours, finishes and discuss the overall look and feel of the refreshed kitchen. We also refreshed her dining room, living room, entry and gave the family room a complete makeover.
So what do you choose so that your house stands the test of time and won't go out of style – whenever you decide to sell it?
Here are my top 3 timeless home decorating trends:
1. Paint your kitchen white (a colour works too)
Remember, when I say white, I mean off-white, when I say off-white, I mean cream, when I say cream, I mean white. I'm talking about whatever shade of white works with the fixed white you have chosen or that already exists in your home. If you aren't sure, I wrote an eBook on the topic with my favorite go-to white paint colours.
White or a colour is way more timeless than the current trendy neutral (i.e. black in the black trend, gray in the gray trend, brown in the brown trend… you get the idea).
AFTER
The kitchen is one of my favourite rooms now! Deborah already had the blue and white china so I was very happy when I found the little blue and white lamp for the corner of one side of the kitchen.
The farmhouse sink was technically too white in the glazed kitchen but now it was perfect for the off-white kitchen. The cabinets are Sherwin Williams Snowbound and the countertops are Caesarstone Frosty Carrina.
She already had a wood stained island, so we repeated the same medium brown wood stain for her upper shelves. You can see that her microwave was moved to the lowers here.
After the kitchen was complete and I arrived to see it, Deborah had arranged the shelves herself with her blue and white china. I loved the clean look and didn't touch them on photo shoot day! #chinoiseriechic
This is the other side of the kitchen:
And here's the after.
Matt at Newcastle Kitchens designed the upper shelves and the millwork free standing hood fan. Deborah also had her cabinet doors replaced.
When I saw her hood fan, I immediately decided to replace my stainless hood fan during my bathroom renovations this past summer, you can see my updated kitchen refresh here.
Simply gorgeous!
Here's the kitchen dining area before and after in greens and blues:
Deborah wanted a coastal feel. She loved the idea of introducing green in the kitchen along with the blues as an accent so we accessorized it with pillows and recovered the bench cushions in blue piped in white.
The granite was removed from the windowsill and replaced with painted wood.
I also added my favourite large coral from the Pottery Barn along with some hurricane lanterns on the vignette behind the seating area.
Paul made the bench in the kitchen and carved their initials into it (below):
2. Don't be afraid to add pops of colour; it's only paint after all.
After the installation happened, Kelly (my design assistant) said to me one day "That bench should be green!" I thought this was a fabulous idea, so I immediately selected a green (SW Overt Green 6718) and texted it to Deb, the next day she sent me this picture:
I responded, "You are a woman of action", haha! She said "I sure am!"
This is the other view of the kitchen that includes the formal dining area which also had a refresh. We kept the original art and added new wing chairs and drapes:
Two years ago, Deborah had painted the house Benjamin Moore Rockport Grey in an effort to update the current look, however, the colour just made her house feel dark and gloomy.
The new colour is Sherwin Williams Agreeable Grey. It's lighter and fresher and works with all the happy new colours we added.
We painted the ceiling blue here to add colour to the dining room along with custom drapes and wing chairs to coordinate with her artwork.
Photography by Barry Calhoun Photography
Deborah's floors are original to the house and they are gorgeous. They added the small 2″ mahogany inlays in the entry floor during the first renovation and it took two weeks to install them.
The result is beautiful and totally worth it (below). Not every floor has to be medium brown to be fabulous.
The doorway to the living room is on the left and the hallway into the bedrooms is on the right so this is the only spot for an entry table.
And now for the family room. The living room post was a refresh and not a complete re-do so I'm saving that room for another post.
Here's the before:
3. Always choose a colour for your sofa over the current, trendy neutral. 
The existing charcoal sofa and loveseat will date shortly, however, the navy blue works with the coastal feel we created and I was so happy that she loves yellow too!  It just adds a happy glow to this room!
Related post: Which Colour Sofa Should You Buy?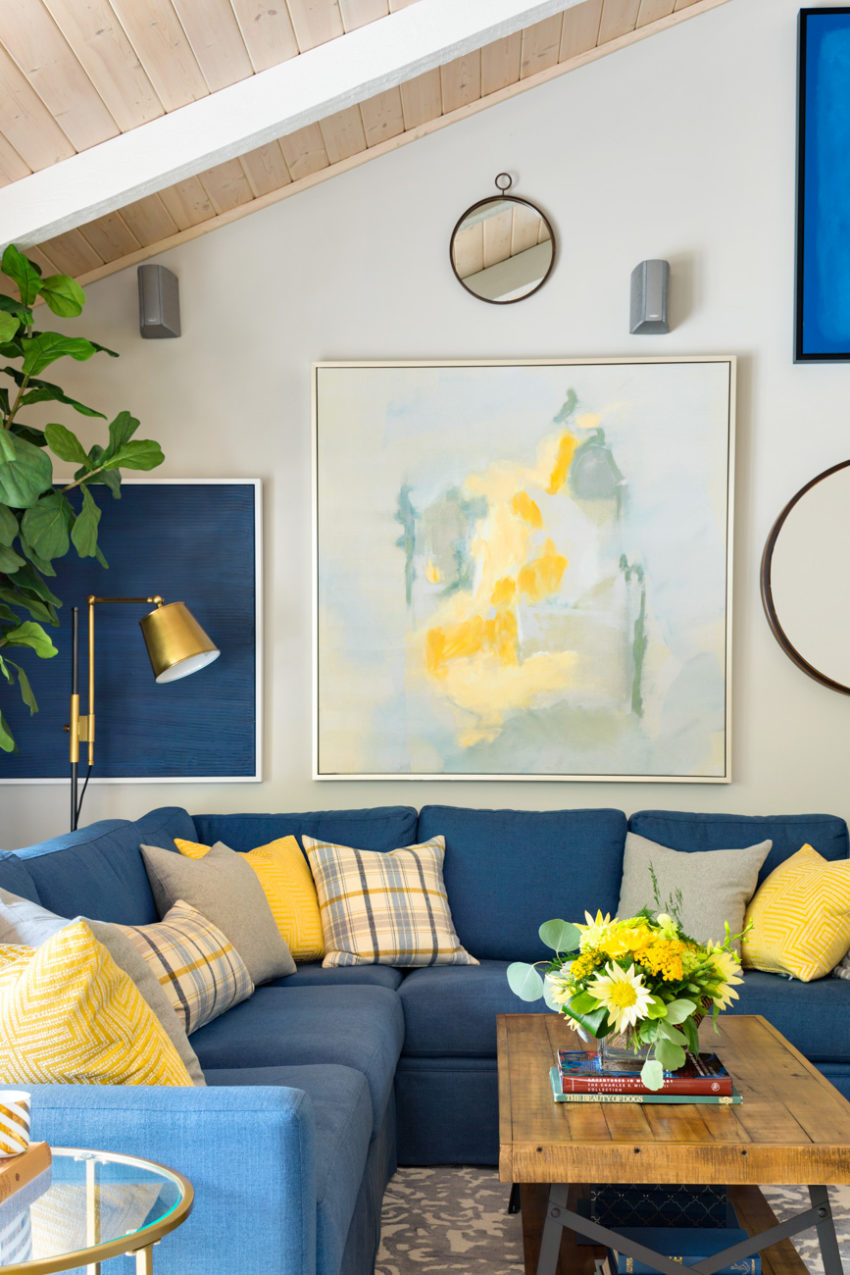 When you're designing a gallery wall, don't worry too much if not all the pieces are collected in the serious "Art Collecting" sense. It's fine to accessorize a special piece or two with some inexpensive finds that simply repeat your colour scheme to create a dynamic looking display and give everything context.
Related post: The Biggest Wall Art Trends from High Point 2020
The shape of the focal point wall in this room was awkward because of the french door on the right. For this gallery wall, we added some solid blue pieces from Kate Spade that I saw at High Point last Spring that repeated the blue of the navy blue sofa in a bold way.
You can also use elements that are not pictures at all like mirrors, sculptural pieces and even sconces to create variety.
Arrangement from Simply Perfect Flowers
The end result is a really more classic than coastal because we went with colours that were a bit more saturated than your typical sun-washed coastal look. And we didn't add any cliched nautical elements like ropes, blown glass and beach motifs (not that there's anything wrong with that).
But I think we came up with a fresh and original look that doesn't necessarily fall into a recognizable trendy "decorating style". And fresh is really what most people are looking for when they are drawn to the coastal look.
Related post: My Sister Elizabeth's New Coastal Living Room: Before & After
I was very happy with how the bookshelves turned out! We painted them white and I found a big stack of slightly faded blue and grey books in an antique store and they provided perfect pedestals for accessories and some cool, smooth and flat rocks collected by the family.
That is Paul's antique record player sitting above the television.
And here's my lovely client Deborah in her kitchen with one of their 3 dogs:
I felt really lucky to work with such wonderful clients. This is the note Deborah sent me:
"Maria is a dream maker!

We just love everything she has done. She was able to choose colours and patterns so easily-things we never would have thought of (but loved). She was so easy to work with and really listens. We never felt like we were being lead somewhere we didn't want to go and love the fact that she easily mixed higher end items with items we found on sale and items we already owned; keeping us on budget.

It is so nice to have a house we love to come home to every day that suits us perfectly. With all the light, happy colours it feels like a breath of fresh air. Thanks Maria!"
I still have her refreshed bedroom, master bath and living room to show you, coming up shortly!
Hope you enjoyed the tour and gained some timeless decorating trend ideas for your home too!
Related posts:
Transformation from Brown to Indigo Blue; Before & After
How to Get the Perfect Piece of Art for Your Home; Before & After
How Styling Saved this Kitchen; Before & After
SaveSave
SaveSave
SaveSaveSaveSave
SaveSave
SaveSaveSaveSave
SaveSave
SaveSave
SaveSave
SaveSave