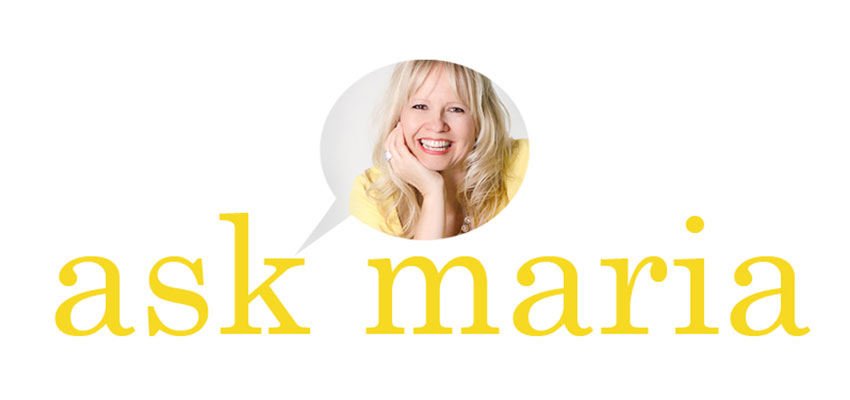 I've been receiving questions on two-toned cabinets lately and I can't believe I've never addressed them on the blog. Here is my lovely readers question:
I'm about to refinish my 90's oak cathedral raised panel kitchen cabinets, and am considering a two toned paint scheme. I'm thinking Fieldstone lowers and Gray Cashmere uppers. Do you think this is a trend or is this a classic look? I hesitate to do this until I get the Maria Killam stamp of approval. Can you tell us when or if this is ever a good idea?
Often when we're looking for inspiration photos to help us plan a renovation or new build, we're looking at photos like this (below).
If you cherry pick a high end look, it won't look as amazing
Gorgeous kitchens in high-end homes that most of us don't live in. This is another reason why I talk so much about classic and timeless finishes that seem boring to some people.
Most of the time, a new trend is incorporated the wrong way if you're doing an update, on your own, without a designer. For example, you fall in love with a large scale encaustic tile for a space that is way too small to handle it, or you take another interesting patterned tile and decide to install it on your backsplash along with a patterned granite countertop. 
Here's the thing. . . as I've said many times before, if you think my advice to install subway tile for your backsplash must mean I have zero creativity, you can keep clicking. There's lots of people who could live with this backsplash (below) for a long time and are very happy they found my advice BEFORE they installed the trendy backsplash tile they were originally considering.
Image source
Back to inspiration images. The problem with them is that the average house doesn't look like this kelly green kitchen (above).
In this kitchen, the kelly green lowers and white uppers look right as rain. To my eye anyway. And here's why it works.
The white subway tile relates to the white uppers. Kelly green looks amazing with black and white.
Here's an entire kitchen in kelly green.
Which one do you prefer?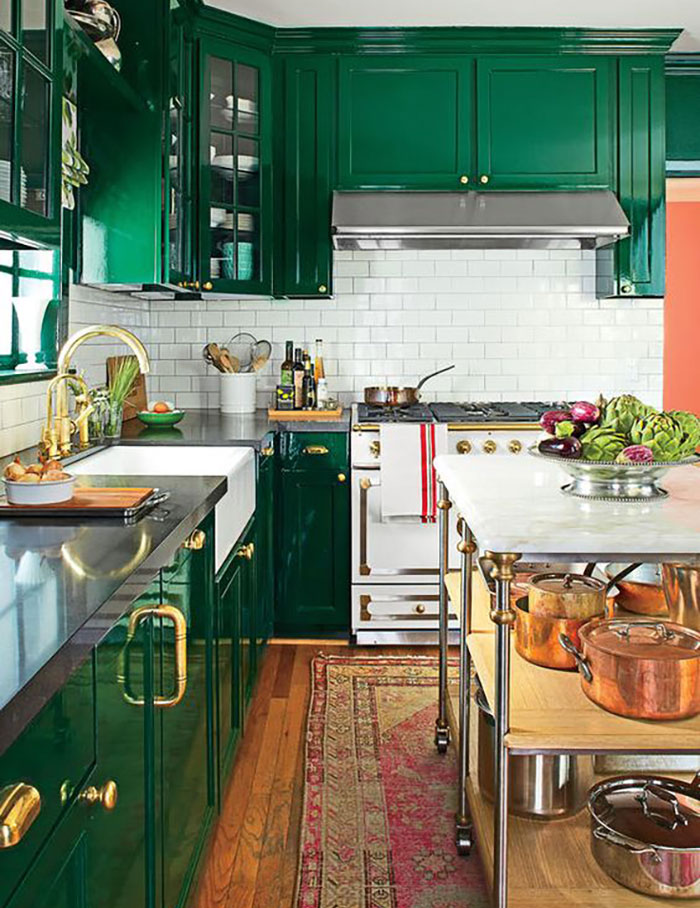 Interior Design by Bailey McCarthy
What else are you installing?
It's very important that you choose everything before you simply choose different colours for your uppers and lowers.
Most people make random colour choices without thinking through what the rest of their finishes will be or how the colours in their kitchen will flow with the rest of their house.
I can't tell you how many times people would walk into the paint store with their countertop or tile sample and were SURPRISED when I chose a colour that RELATED to said tile or countertop.
So let's explore some more of them shall we?
Here's a trendy grey on the lowers:
via pinterest
And notice that it needs the carpet that relates to the lowers, otherwise the grey is all by itself–especially because the beams in this kitchen appear to be taupe–don't relate to the cabinets.
Why this works
The backsplash tile here relates to the uppers and the lowers making this kitchen look well thought out.
via HomeBunch
Here the ALL CHARCOAL kitchen looks a little heavy (above). If you are going to choose a trendy colour like charcoal grey for your cabinets, better to keep them on the lowers like the first image.
At least the hardwood floors here are perfect.
via Desire to Inspire
The darkest colour should usually go on the bottom. There's nothing wrong with this kitchen (above) but to my eye the charcoal should have been on the lowers.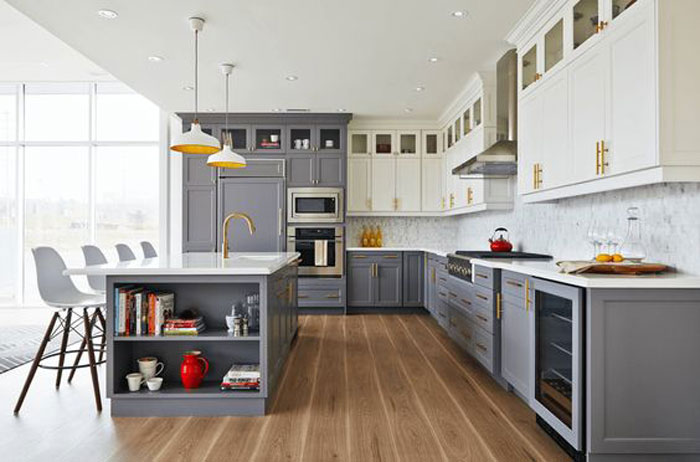 via Pinterest
However, most kitchens have pantry walls now so then you have to choose which colour goes on the pantry wall if you're going to have dual coloured kitchen cabinets.
via Pinterest
I would consider leaving the pantry wall in white if you have to choose (above).
via Pinterest
I prefer a little wood in a completely modern kitchen with white slab doors (above). Here the upper shelving relates to the lowers which makes sense visually.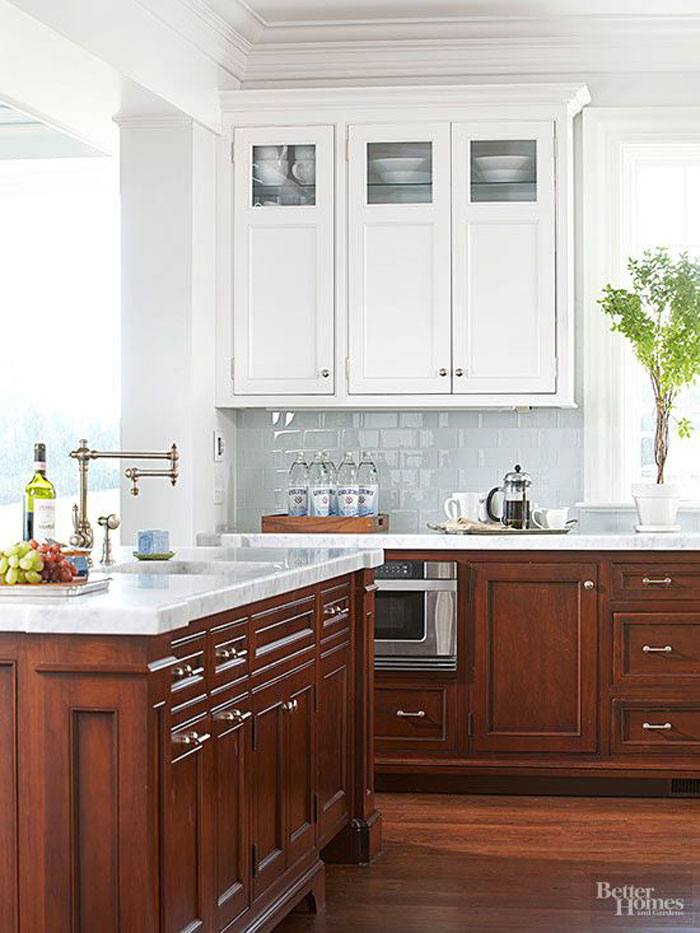 via BHG
If I had to choose two colours for my kitchen, I would probably choose stained cabinets on the lowers to relate to the hardwood floors and then white for the uppers. It still feels light and fresh but the lowers (which take most of the beating with wear and tear) feel like furniture here instead of kitchen cabinets.
Also, note that again, this is a higher end kitchen with high ceilings. Take an off-the-shelf builder kitchen without the furniture look of this kitchen and it would not look nearly as amazing!
Bottom line, if you are in love with grey and want to incorporate it into your kitchen, trendy or not, perhaps keep it on the lowers. Easier to change down the road when you fall out of love with grey. Which, by-the-way, will happen. Just like you're probably not considering espresso brown right now, but you might have been a short 5 or 7 years ago when brown was on trend.
Colour vs. a neutral
If you are considering a colour and not a neutral, make sure it relates to something. When you paint both uppers and lowers the same colour, they relate. But if you simply have navy blue lowers for example, it doesn't look like a designer has been there if you don't repeat that navy elsewhere in the kitchen.
Don't forget about Contrast. If you're going to install contrasting colours, which usually means darker on the bottom, keep your countertop a solid white or cream. In all the images I viewed when writing this post, the kitchens I liked the least where ones with granite countertops. It just starts looking too busy when you add granite to a two-toned kitchen.
One more thing, you might be considering two colours because you want your kitchen to look 'interesting'. Interesting comes from styling which is way easier to switch out than a trendy colour that will date your kitchen faster than anything else.
That's my classic and timeless advice for the week!
Which kitchen is your favourite?
If you have a question for my Ask Maria posts, please post it in the comments below!
If you would like your kitchen to fill you with happiness when you walk in the door, check out my eDesign packages.
Related posts:
When Should You Rip Out Brand New Tile?
Can Your House be Trendy & Classic at the Same Time?