Trying to choose a cabinet colour to coordinate with your matte white cafe appliances? There are plenty of beautiful cabinet colours to choose from, but glazed cabinets are not one of them. Even if your cabinet maker is still selling them.
I know, I know, we've come full circle. 2o years after the brown trend first arrived on the scene, we are talking about this look again.
And here's why:
I received this message on Instagram last week:
Before we go further, I want to say that I sincerely appreciate questions like this because this kind of post helps EVERYONE make better decisions going forward. I appreciate my followers so much!
Hi, we are building a new house and I picked cabinets yesterday (bottom right). I LOVE them, but now I'm unsure what colour to paint the walls. What neutral would you suggest? Our appliances are GE Cafe Collection (bottom left):
White and brass appliances | Cream cabinets with green grey glaze
First of all, these appliances are beautiful! What a lovely choice! However, when I saw the glazed cabinet colour she had chosen, I realized something.
What is the appeal of a glazed cabinet?
Going to a cabinet maker without a plan is like going to a brand new hairdresser with no idea what you want. And no idea what their style is.
You will be directed by their preferences and up-sells. Only instead of walking out with some trendy hairdo you never wanted that will eventually grow out, now you've now committed to a renovation of a lifetime plan for tens of thousands of dollars that might not even make sense.
Let's say you ask for a cream cabinet because you think white might be too stark because your house is already being painted white by default AND you have not done your homework BEFORE your meeting. Well, then you might suddenly get upgraded to a more "custom, high-end (NOT) look."
Custom does not always equal beautiful
Since I would never choose a glazed cabinet in 2021, because it's just not a current or timeless choice, it made me wonder what the process must be to land on one:
A lack of knowledge about trends, because installing a glazed cabinet now will instantly date your kitchen at least 15 to 20 years.
A desire for a "warmer" look than a white kitchen. Yes, warmer kitchens are trending, in large part, because walls are most often white therefore consumers are opting to add warmth (ie. colour) on their cabinets instead. But there are many more current, and timeless, ways of achieving a warmer look for your kitchen.
You walk into the cabinet maker's shop and they believe they are doing you a favour by directing you to a "custom upgrade." Raised panel glazed cabinets are still very much on display in any cabinet maker's showroom and someone is still choosing them. But these are just not the kitchens that make it onto interior design magazines and social media platforms. I'm willing to bet that you aren't pinning kitchens with glazed cabinets right now either.
A classic case of falling in love with an element out of context. Does the countrified charm of the glazed raised panel cabinet belong in your house? (Because a very traditional country house might be the only place it belongs. But even then, the more versatile, casual shaker is often the more current choice.)
Honestly, although it's going to be touted as a custom upgrade by any cabinet maker, a glazed raised panel kitchen is just a dated look.
And glazed cabinets in no way looks right with the streamlined, bright matte white GE Cafe appliances.
My advice? I told my reader that I wouldn't install glazed cabinets right now because that would instantly date your kitchen 20 years.
Here's a similar kitchen to the one about to be installed with white appliances. Imagine this same kitchen with the GE appliances? It simply looks like "old kitchen, new appliances." It will be very clear these were installed during different trend cycles.
So, what would be a better choice for creating a more timeless design for a "warm" kitchen with white appliances?
Trending kitchen styles with white appliances
The following kitchen styles aren't going to look dated anytime soon. Not only does a glazed cabinet look too country and busy in my opinion, but the transparent glaze over a solid cream creates a tricky colour to coordinate anything with. When we were glazing cabinets with "coffee" browns, they most often turned pink beige.
I've seen some cabinets with a grey glaze in the past 10 years since this neutral has been trending. But again, it simply looked like a cabinet maker upsell.
Glazed cabinets are just not what we're doing right now.
Instead, I would choose a pretty pale, SOLID neutral for cabinetry. (And although I haven't seen this kitchen, the GE appliances–being more contemporary, will look much better with a clean shaker profile than a more formal raised panel).
We have been specifying lots of pale warm grey, taupe, green beige and complex creams for cabinets in my eDesign department, and the look is really beautiful!
Choosing a beautiful colour (instead of a neutral) for your cabinets is also an excellent way to add colour to your kitchen.
My new VIP collection features a beautiful range of blues, greens, warm golds and terracotta, plus some beautiful neutrals that would be lovely choices for a custom cabinet colour. Choose a colour that you have loved for a long time, and it will always bring you joy.
By the way, if you bought this collection before March 2021, you might want to purchase the recent update of 20 colour boards that are available for a limited time only. Contact us here if you'd like a list of the new colours with a link to purchase.
If you prefer a warm look in your kitchen, consider light wood cabinets
Alternately, if you want to warm up your white hard finishes, consider a pale, natural wood-toned cabinet surrounded by lots of white. With white countertops and backsplash to match the appliances, you will create a gorgeous custom look.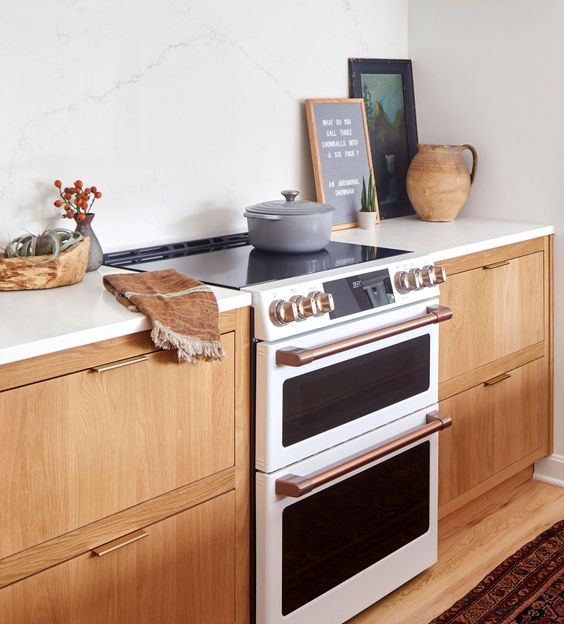 By the way, while writing this post, I searched for inspiration images on Pinterest with painted and wood cabinets with GE Cafe Appliances. Not one image came up for "glazed cabinets with GE Cafe Appliances."
So, if you are doing a DIY kitchen design and you can't find a beautiful image picturing what you have in mind within a few clicks on the internet, there is a good chance there is something off about your plan.
If you'd like help with your kitchen renovation, see my Create a Classic Kitchen package here.
Related posts:
What Everyone Should Know About Paint
How to Coordinate White & Cream if You Made a Mistake
Third Rule of Design; Expensive Does Not Equal Timeless