Looking for Tudor style home ideas? I can show you how to update your Tudor style home exterior colour with this before and after design consultation. Tudor style homes have a lot of exterior design elements that you'll need to consider in order to achieve a cohesive exterior design.
If you have a Tudor style home, you should also check out this post: Historic Tudor Gets an Elegant Exterior Makeover; Before and After
My client Laura and I go way back. I decorated the interior of this house over 7 years ago. Their house is in Morgan Creek (in Surrey, BC) and their backyard overlooks the golf course (below).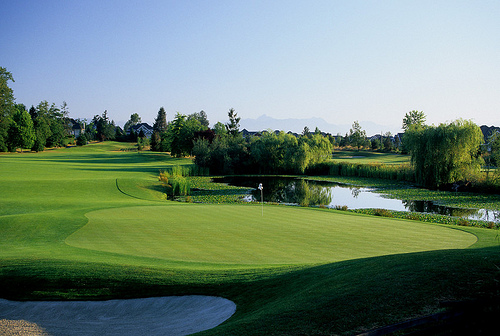 She has twin boys who will be heading to University next year and Laura and her husband will be downsizing. They have bought a fabulous, brand new condo in downtown Vancouver to experience city life and they will be moving in next year, after it's built.
This Tudor style house will be sold (below) and Laura wanted to freshen up the dated exterior colour scheme:
How to choose the right colour for your Tudor style exterior:
Given all the fixed elements of the stone and brick, the only colour that was close to being right on this house was the trim and fascia. The reddish brown, wood stained, tudor style trim didn't relate to anything. And the sage green colour made the house feel too dark.
There was no green at all in the orange-beige brick and stone to relate to this colour.
I chose a neutral green grey to create more contrast with the stone and brick and a new trim colour in a slightly lighter shade with a purple undertone for ALL THE TRIM – giving the entire Tudor style exterior a fresh update .
Tudor Exterior After in a Green Grey Neutral Colour
I also used photoshop to show the house painted in a shade of taupe so you could see it both ways, since there's taupe in the fixed elements as well (below). Tricia and I have talked about this a few times when we are working on exterior eDesigns with stone or brick. The decision is often which colour to pull out of the stone – either green grey or taupe.
Do we decide to go cooler to make it seem more current as it looks above? Or, do we embrace the taupe in the stone and brick instead, which will result in a more earthy look that is slightly less current and modern.
As you can see in this example, you can go either way.
After in a Colour with Taupe Undertones
After in a Colour with Green Grey Undertones
This medium-toned green grey colour is often found in mortar and natural stone or concrete. You can see that it relates nicely to the green grey cobblestone driveway here.
After (in taupe)
You can see that the existing windows are black so the trim could not go lighter. And, there is no white or cream in the stone so painting all the trim a paler colour than the house would not have worked either.
Here's the before again:
You can see that it is unnecessary to paint the gables a different colour. This house already has a lot going on because of the MANY gables and heavy trim and fascia (not to mention the combination of both brick and stone).
When I was a new colour consultant, I was under the misconception that if you had shingles, stucco or siding on your house, each element should be a different colour.
That opinion changed very quickly.
And here is the Tudor style exterior after the colour makeover:
After in Green Grey
Which neutral undertone do you prefer for this Tudor home, Green Grey or Taupe?
You can see that Understanding Undertones® is critical to choosing the right exterior colour. To become a True Colour Expert in one of my live workshops around North America, click here.
To get the exact colours in this combination, they are available in my Masterclass for Exterior Colour Selection here:
If you'd like help choosing colours for your exterior this season, check out our eDesign packages here.
AND, if any of my clients has an AFTER PHOTO to share from one of your exterior eDesign consultations, please email us at admin (at) mariakillam (dot) com. We would love to post it on the blog and would be so grateful to have one!
Related posts:
10 Steps to Transform Your Exterior
Navy Blue Exterior: Before & After