Are you thinking of painting your doors black? Here is some colour expert advice to help you decide with the do's and don'ts for painting your doors black.
In my last post about black shower doors, I edited it with a paragraph about flow later in the day. 😉 So if you're considering this product and you missed it, go read the post again. Then, I'll see you right back here!
Do's and Don'ts for Painting Your Doors Black
Also, I have received many requests to post my opinion on painting doors black.
Since the planet is moving from grey to black, here is the scoop on when it's a good idea and when it's a bad idea to paint your doors black. AND in this case, it IS easier to paint again.
DON'T be afraid to paint your doors black if you think it might work in your house
Okay so I'm trying to remember if I've ever — in 10 years of writing this blog — said these words: "It's only paint, if it doesn't work you can paint it again!".
I'm thinking NEVER.
I don't throw that comment around lightly because actually, painting your house is expensive.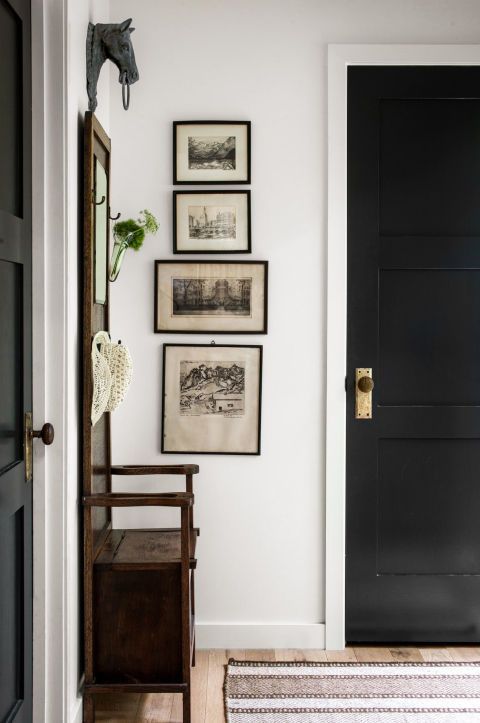 Painting one room over a few times — maybe you or your spouse is doing it? Okay that's cheap enough. But truly, hiring painters to paint your vaulted hallways or living rooms, painting the trim and kitchen cabinets? Yea, not so much.
But a door? That seems easy enough right? I mean of course you can mess up anything, but certainly painting a door would seem like less of a commitment.
Hey, it just occurred to me that an even easier way to see if this would work would be to go out and buy 3 yards of cheap, black fabric and hang it on your door. This way you can see in advance if you'll like it.
Okay so let's start this tutorial by examining why the black door in this first image (above) works.
Because the black is repeated in the frames and the area rug and the pale floors provide a nice hit of contrast.
Wondering if black windows are the best choice for your new build – I've got some advice about that too.
This entry (below) has just the right amount of black as well. And black always look great with orange or red brick.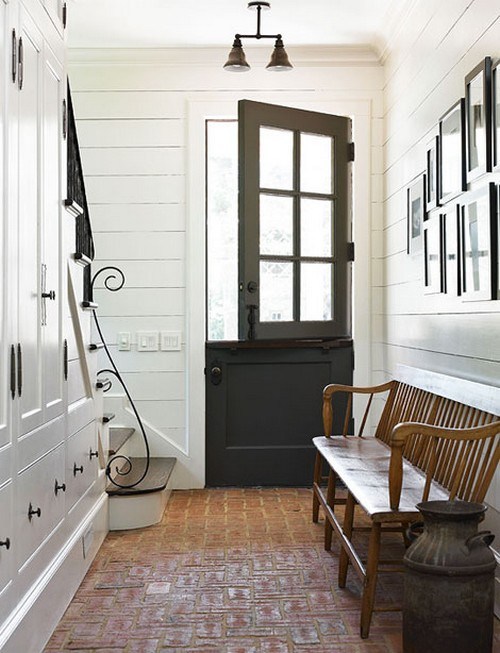 DO paint your hallway doors black if you have light hardwood
This hallway (below) with light, classic and timeless (with barely any grey) hardwood floors is chic and elegant.
DON'T go overboard by introducing too much black
Black doors with dark floors, or this much black trim (below), or certainly not with black walls too, will immediately take your black quota over the tipping point. Your walls should stay fresh and light.
If you're not sure about what I'm talking about, take a look at both these hallways below. One has just the right amount of black in it (right), the other feels dark and heavy (left).
This is just my opinion, but I learned my lesson about adding too much black years ago here.
DO add contrast when decorating with black
Does your entry look like this one (below)?
With the fabulous crisp white chairs flanking the door and the white tile floor inset with black accent tiles?
If so, then yes paint the walls black too. And notice the walls are also lacquered so the light bounces around, that's an important step too.
Here's another hallway with black walls, but notice everything that makes this work. The pretty doors, architecture, styling, white drapes with black banding.
These are all the ways in which black looks right instead of harsh.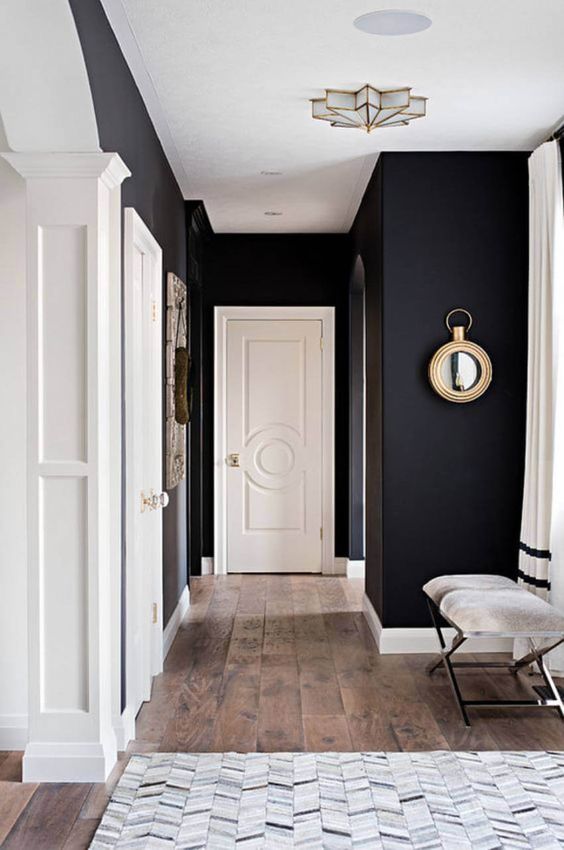 Or if you have french doors along with your dark floors and lots of white around them both (below). The look is immediately lighter and just fabulous again.
But notice the last three images are not usually in the average house on the street.
If you have hallways with pink beige carpet, your doors need to be brown, not black.
Earthy colours generally work best with browns and creams. Certainly, interiors that are still surrounded by decor from the Tuscan brown trend.
The world is full of bossy pink beige carpet.
CLICK HERE for help choosing the perfect carpet colour.
And, don't get stuck on black doors. This image (below) has hardwood floors, but it would be just as pretty if your carpet was pink beige (which a lot of people have).
First, fresh blues are the ONLY clean colours that work with pink beige carpet. And the blue green walls relate to the teal doors.
Sherwin Williams 6943 Intense Teal | Source
If you need help with your paint colours, check out our eDesign packages here.
Related posts:
The Shocking Truth About Too Much Black
Is Black the New Grey? (Why yes it is)
Ask Maria: About Kitchen Cabinet Uppers and Lowers in Different Colours