I was recently in a Mediterranean style home that had been built and decorated completely inside the Tuscan Brown Trend. Dark (pink beige & butterscotch) Travertine floors throughout the main floor, yellow/gold granite countertops, dark wood stained cabinets throughout, yellow walls everywhere and 8 bathrooms outfitted in very expensive finishes, most with conflicting colours in floors and countertops.
My client told me that she had thoroughly searched on-line, in vain, to find articles, posts, ANYTHING that would give her some direction to help her transition to a fresher, brighter look and away from the very dated interior she currently had.
She purchased the house for a really good price, it suited her soon-to-be extended family as it also had a guest house, a lovely, resort like pool, all these things made the house perfect, except for the decor.
I helped her choose a new colour scheme for furniture and wall colours that coordinated with her existing finishes, yet brought a breath of fresh air into her home.
Then while reading Leslie Sinclairs Segreto Style,  a gorgeous coffee table book filled with beautiful rooms and finishes applied by her company, it struck me that this was a book you could use as inspiration to help move your house from 2005 to 2015.
Here are some of my best tips:
Wall Colour
If you have any finishes in Travertine even if it's very light, the primary undertone is pink beige. Yes you'll find yellow and butterscotch tones in Travertine too but anyone who wants a more fresh look is interested in moving away from the yellow beige and gold beige tones that were so big in the brown trend.
Sometimes if grey grout has been used, you can pull a fresher, warm grey tone from there.
I asked Leslie how she handled going fresher with her colours and she confirmed she will often pull from the grout colours (see image below) to neutralize the walls and still have the tile relate. In order to achieve this with all the wonderful plaster finishes she uses, she will often mix a custom colour to get it just right.
Light Fixtures
Do you have some heavy, scrolly fixtures from this era? There are many examples on these pages of lighter more updated light fixtures that still work in this type of house.
Accessories
If you have a house with finishes and furniture like millwork and case goods that are clearly Tuscan, your accessories should still have a Tuscan flair, just make them lighter and not as heavy so they don't seem so dated. There are many examples in this book with before photos as well on some pages (below) so you can see how the look got fresher with colour and fabric changes.
Kitchen Cabinets
There's lots of inspiration for transforming your brown, Tuscan kitchen and giving it a fresher look with paint colour. Leslie also mentions the paint colours wherever possible.
Decorative Paint Finishes
This is Leslie's speciality and she knows how to choose and even custom mix the correct paint colours if necessary.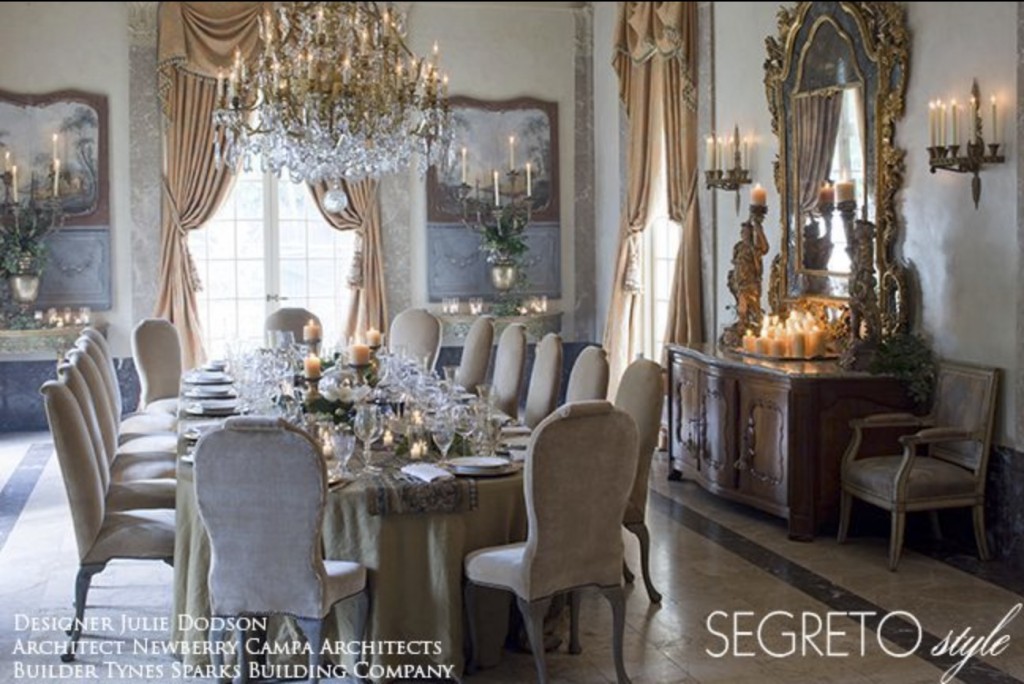 All decorative paint finishes by Segreto Finishes
To check out Leslie's site, go here. You can buy her wonderful coffee table book here.
Related posts:
Why Homeowners Mix Styles that Don't Work
Three Ways to Use Fresh To Sell Design
How to Inject Fresh into Your Earth Toned House
If you want your house to fill you with happiness when you walk in the door become a client.