I can't believe I have never written a post on what to do AFTER you've chosen a paint colour and now you need furniture. You might have heard me say this before, but you shouldn't choose your paint colour first.
However, maybe you just found my blog or you are feeling stuck now that your wall colour is painted. Well, I have some resources that can help you get unstuck, so keep reading.
Make paint colour easy
Have you ever been faced with a colour choice and ended up making the wrong one? Now what? These books will help you with that.
And they don't overlap.
In How to Choose Paint Colours, I walk you through my system and how it works:
On Page 28 you'll learn the 3 most useful ways to describe colour.
If you are a colour consultant, don't miss page 30 and read it many times. It's the secret to convincing anyone that the colour you've chosen is correct.
On Page 34 you'll learn my system in the following pages. And when you learn the shortlist of the most useful neutrals you will no longer need to search endlessly online or call a paint store to determine the undertone of a neutral or worry about the LRV of a paint colour. All you have to do is compare to the colours in my system. These books illustrate how.
And the best part is it's transferrable to any other paint system out there.
A decorator's guide for choosing white
Are you stuck on which white to choose for your house? Maybe you need a complex cream or greige instead? Narrow down your options and learn how to determine the best one for your home in my white eBook.
Discover which is the right white for your cabinets. On page 43 you'll learn why it's not necessary to overcomplicate your choice. I'll show you how to find the one that coordinates with your existing hard finishes or the new finishes you will be installing in your kitchen! If you're building a new home or planning a renovation, this book is a MUST-READ.
On Page 60 you'll learn why one of my clients painted their walls white and ended up seeing green undertones.
On Page 64 you'll learn the best way to choose the right ceiling white.
On Page 68 find out why it's a big mistake to choose the white for your trim on the same paint strip as the colour you just chose for your walls 🙈
And so much more! You'll also receive my bonus book of paint colours that will narrow down the world whites (likely thousands) and give you ONLY the MOST useful ones. Best of all, they are listed by undertone because this will make the selection process much easier!!
How to decorate (if you've already painted)
One of my newest online courses is also on sale. The Shop Online with Colour Confidence online training is such an easily digestible course. I mean how many courses have you bought and never took the time to complete? This is a course you'll want to watch over and over.
I get reviews like this daily from someone telling me how helpful this course is:
Here are the last two reviews I received:
Concise, jammed with information that is actually helpful, and a resource I am grateful to have at my fingertips. Sara W.

I'm so excited about being able to utilize the paint dots on my mood boards. True game changer!! Karen L.
Let's put it into action, shall we?
The most important lesson in this course is learning how to create a mood board, which is essential for making sure all your items not only look like they pull the room together, but arrive in the colour you expected them to be. If you've never put together a mood board before shopping online for home decor, you are truly missing out.
I recently received an email from a reader that said:
"My husband and I recently painted our open layout home Hirshfield's (Diamond Vogel) paint color Soft Leather #0336 at 50% strength. He says he will never paint again, nor will he pay to have it painted, so I must understand it and its undertones in order to redecorate."
"As already mentioned, I chose this whole house/open floor plan color before I discovered Maria's site and ordered her color wheel. I was told by the paint store color consultant that this color had a green undertone and was greige.
Having already painted our entire main level, I now find that it seems to fall between color wheel categories. While it does look greenish in certain light, it also looks peach and even sometimes slightly pink in others. The photo showing the olive-gold kitchen granite countertop, which does contain taupes and smoky browns, in contrast to the wall paint in our shaded breakfast nook and illustrates the most troubling issue with the color. "
"My husband refuses to repaint and the paint company offers no information at all on this color. So, I am asking Maria, what would you do with this as a main color? ** No need to comment on the decorating. We just purchased this old-build home, so many changes will be made.
Photos were taken between 8 am and 9 am using only the natural light from windows.
PS – I have since found a similar color, Sherwin Williams 9577, Soft Suede. Unfortunately, no information on the color, undertones, or coordinates is available to the public according to the company, because it is part of their Emerald Designer collection."
Does she need to repaint her walls?
First, her husband is right in this case. There is no need to repaint. We simply need to coordinate the paint colour to the new furniture. If they had purchased a bunch of new furniture and none of it worked with the new paint colour, well THEN we'd need to repaint the walls.
My first reaction when I saw these images was that I liked the colour a lot with all the wood trim. Wood trim needs strength in the paint colour. If these rooms were painted a barely-there white (which is what most people are doing right now) it would look like primer on the walls.
In addition to that, white walls need white furniture and that's just not a reality for most people.
Let's get the lighting objection out of the way
The reason she's noticing that the colour changes in the light is because that's all we're looking at. The walls are freshly painted and now we need furniture. Yes, colour changes in the light, however if you chose the correct colour that matches the room, it won't bother you when it changes because for most of the day, it relates to the furniture. Right now, we're just staring at a naked paint colour that goes with nothing.
When I asked her why she didn't trust my Understanding Undertones neutral colour wheel (
get yours here
) which clearly told her that the undertone was in fact green beige (below), she responded, "Because of how it changed in the light throughout the day."
Getting the colour right is 95% your job AND in your control. The light is only ever a problem 5% of less of the time. But that is extremely rare. I've written about this many times, but these two posts explain it best
here
and
here
.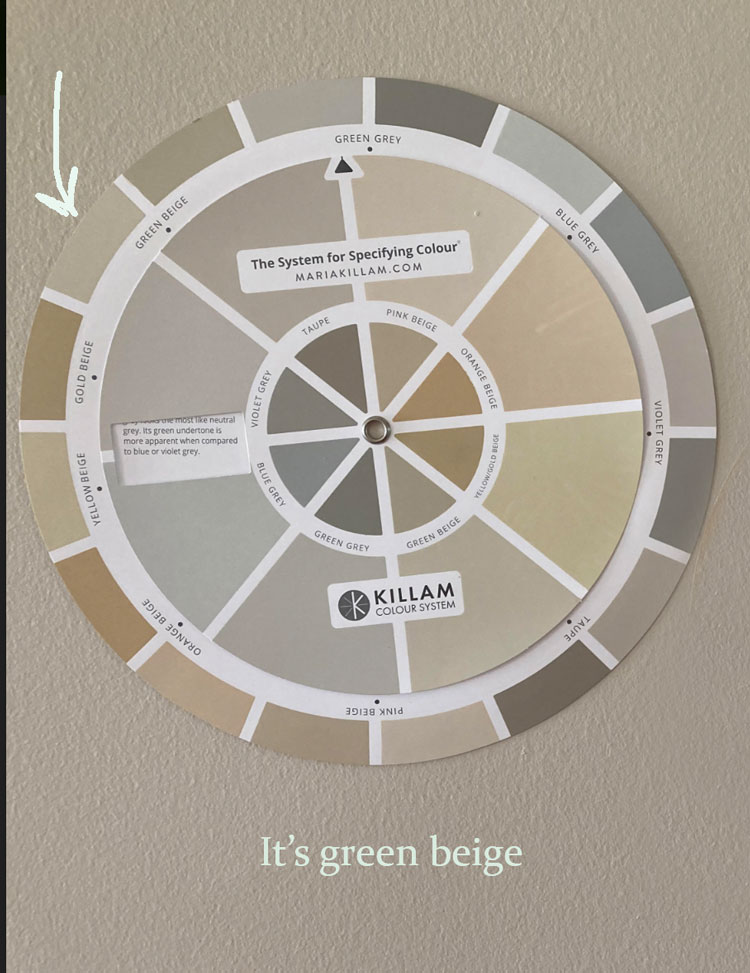 When you move into a new house and you have to paint, choosing the paint colour first happens all the time, but now what?
Let's find out how to decorate from this point.
We are technically working backwards. When you paint BEFORE you decorate, you definitely need to know what the undertone is so you can choose items that make that paint colour look intentional. After all, repainting is expensive! And spending that money on creating a look and a feel that turns your home into one you want to be in is a much better investment!
If you have this dilemma, you'll need to learn how to create a mood board. And in this situation, you'll need to start with the paint colour FIRST.
Place a paint dot or swatch on the mood board and then go from there. In my
Shop online course,
I'll teach you how. Sometimes you can't find what you're looking for because you're describing the colour wrong for example.
The colour she has on the walls is very close to SW Relaxed Khaki which happens to be one of the colours in my system. The complete list by undertone comes with either of
my 2 ebooks
.
Place it on your mood board, and start shopping:
Colour scheme # 1
In this situation, based on the oak trim, a cognac sofa (which happens to be trending, but is also a
timeless colour
) would look fabulous in this room.
Colour scheme #2
Add some cream boucle chairs (which are available everywhere). Include some black and white accents and you're done.
Colour scheme #3
Or start with the area rug (below)
HOT TIP: If all else fails or you're planning to shop in person, at least take the paint chip of the paint colour shopping with you.
Then when you're choosing your sofa, accent chairs or area rug, it'll keep you on the right track. Don't forget to bring my
neutral colour wheel
along too.
Need help creating a timeless exterior?
I can tell you that if you're considering making ANY changes to your exterior in the next 12 months – this masterclass is what you need RIGHT NOW before you make a single decision you may regret later.
Every choice is a colour decision. Every. Single. One. That means you need to understand how to coordinate colour AND know which elements should be considered FIRST to get it right.
This is the ONLY course that will guide you step-by-step to choosing the perfect colours for your exterior using my proven System for Specifying Colour.
Watch Module 1 for FREE here! This course has a total of 16 modules.
One of the most valuable lessons you'll gain from this online training is how to narrow down your choices to a select and optimal few. This knowledge will empower you to make THE RIGHT selections for your exterior and eliminate the fear of making an expensive mistake. You can't put a price on that.
Not only that, it will help you navigate the trend cycles to arrive at the most classic and timeless look for any exterior.
This Masterclass for Exterior Colour Selection is the fast track for learning to choose exterior colours like an expert. Everything about exteriors that I've learned, tested, and perfected over 20 years has been packed into clear, universal principles that anyone can learn and apply to their home's exterior.
But wait, there's more!
Last fall I created a private Facebook group exclusively for my masterclass students. This bonus Facebook group is already shaping up as the best place to find community support with fellow students (who also understand my system) for exterior design ideas, feedback and inspiration.
It's your place to ask questions, share photos, and read others' posts for inspiration.
And this course comes with lifetime access. That means you can use this to improve every exterior you'll ever own, for the rest of your life.
Click here for full details on the course!
Get her a gift card
Not sure what to get mom (or your wife, sister, etc?)?
Give her the gift of CHOICE! Gift cards can be purchased in any amount starting at $50 and applied to eDesign service, online product or training event they choose. Get yours here.