Do you have black appliances? Did you know there are only two countertops you should consider for the best possible kitchen design?
Oh, but there is an exception to this guideline so keep reading for the best colour advice for choosing the right countertops to go with black appliances.
So, let's start with the most obvious choice, shall we?
Choose black countertops with black appliances
Black appliances need black countertops to make them look like an intentional choice. That's why black countertops are the best choice to coordinate with black appliances.

Source
OR, choose countertops with some black in them or dark colours that visually relate
Here's the exception: If you have white countertops and black appliances, you could also opt for a more dramatic colour on your cabinets to marry this look (as in the photo below).
Black and cheerful pops of blue like this kitchen (below) look good as well. This kitchen doesn't have a black range but it could.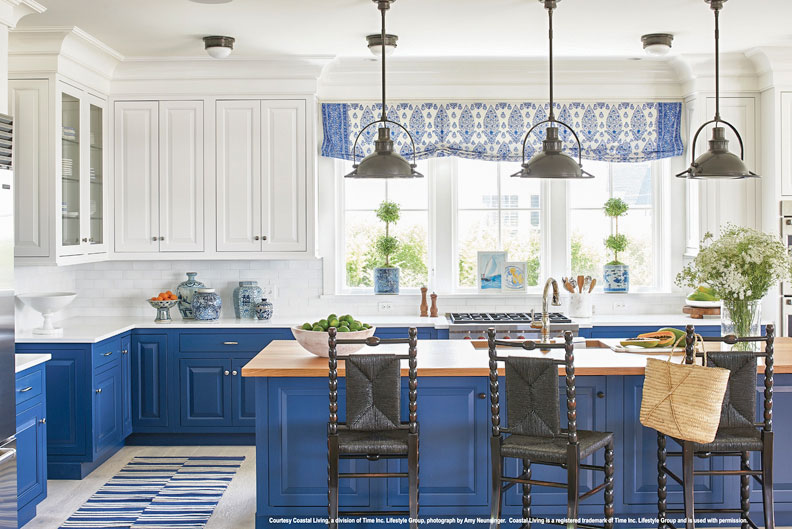 What if I have black appliances and no black in my countertops?
This is what your kitchen would look like without any black in your countertops. It's the darkest colour on the planet so you have to be careful how you incorporate it into your hard finishes.
Most of us remember expressions like:
"Every room needs a touch of black"
"Go black and you can't go wrong"
But you can go wrong. And quickly, if you just keep choosing black for every choice. Black is EVERYWHERE and it may feel like going against the grain not to make black the default choice for everything. Remember, every decision is a colour decision.
Read more: The Perils of Decorating with Too Much Black
More advice for decorating with black
Don't miss last week's post about how to incorporate black with your finishes in small, medium and large gradations for even more tips on decorating with black.
Beautiful kitchens and bathrooms are all about the details. That's why it's hard to copy that kitchen from the front page of House Beautiful and end up with the same result.
Are you watching my new series on Instagram? It's called 10 ways to immediately date your new build… See them here.
And if you are a longtime reader of my blog and not on Instagram, you will know them all already. 😉
See you over there!
Here's a shot of my backyard. Summer has arrived finally!
Related posts:
What Everyone Should Know About Black
Two Best Ways to Incorporate Black into your Bathroom
The Perils of Decorating with Too Much Black