If you are shopping for a couch, stop trying to choose your wall colour first! Instead, I'm suggesting you paint your walls to match your couch! Here's a little decorating lesson on how this can pull a room together, as well as some questions to ask yourself before you settle on a wall colour.
Years ago I walked into an Ethan Allen Showroom where the sales clerk said to me,
"THEY (clients) say couch, but WE (designers) say sofa"
Ha, ha! I don't remember what I called it back then, (I must have said couch because she gently corrected me), but it always stuck in my mind.
What do you call it? A couch or a sofa?
I received this email the other day and realized I have never addressed this specific question on the blog before.
Here's the question:
"Because our space is taking on all kinds of different colours with different exposures, I was hoping to find a paint colour that I like and then buy a sectional that compliments it. Will that work? Is it bad if my couch matches my wall colour? I just think that might be the easiest way to find the right paint colour."
This reader went on to talk about lighting and how she continued to test paint colours and how none of them looked right with 'her lighting'.
If you are reading this and wondering the same thing, let me make this easy for you. Here's the answer: Your paint colour will RARELY look right if nothing in the room relates to it and here's I post I wrote about the biggest paint colour mistake you keep making.
I know, I sound like a broken record to those of you who have heard this many times. But, your paint colour should look like it pulls your space together.
Now I understand, a sofa can be a relatively expensive decor decision and you don't want to buy the wrong colour so it seems 'safer' to start with the wall colour first.
I'm just telling you it's backwards. And it won't make choosing a colour or a sofa any easier.
Can I paint my walls to match my couch?
Over the years I have received this objection a lot. If upon looking at everything in a clients home, I have pulled out a large colour sample that relates to the sofa.
"Whaaaa?! Choose the same colour as the walls?" My client has questioned. "Does that work?"
Let's find out shall we?
Best reason to paint your walls the same colour as your sofa
First, the number one reason to consider painting your walls the same colour (lighter or darker, it doesn't have to be exact) as your sofa is if your sofa is old and tired.
Years ago I was in a house that appeared to have cream drapery in the living room. I pulled out my large samples and started holding them up behind the drapery, as well as the sofa to make sure the colour looked good with everything.
Turns out the drapery actually had a slight green undertone, which ended up looking the best with one of the green beiges that I had over every other colour I tried. All the other colours made the drapes look even more ancient than they already were (they were 5″ too short as they had been cleaned many times).
Okay, since your paint colour should pull your room together, there are actually three other places to look (before your sofa) to find it:
What colour is your drapery?
In this image (below) the greige on the walls was pulled from the drapery.
What colour is your wall-to-wall carpet?
If it's everywhere, and takes up a large part of the colour scheme, it could also be a good colour for the walls. And if you are shopping for new carpet, here's a post to help you choose the perfect wall-to-wall carpet colour.
What is your accent colour?
Sometimes you might use your accent colour for the walls (see below):
The violet grey on the walls is much paler than the purple chairs but it looks fabulous in this beautifully decorated room. That always helps!
Three places to choose wall colour from.
In the photo below there are three places the designer could choose the wall colour from.
First, the blue area rug. However there really isn't enough of the colour blue in here to repeat it on the walls.
Second, the pink/orange beige chaise. Well, we all know why beige was not chosen here. It's just too soon for beige to be back for walls. It's back in textiles, but technically not for paint colours.
Before we continue, I'll just answer your unspoken question right now:
Is it WRONG to paint your walls beige?? NO. Beige might be the answer for your home. There's no such thing as the right white for every house. White won't work for most homes. Which is why I'm receiving so many questions daily from people who painted their walls white and now they look green or blue, or something else. And, that's how I came up with Complex Creams.
The last option in this example, was to choose a blue grey wall colour to relate to the sofa and two chairs. And, that's what ended up here (below):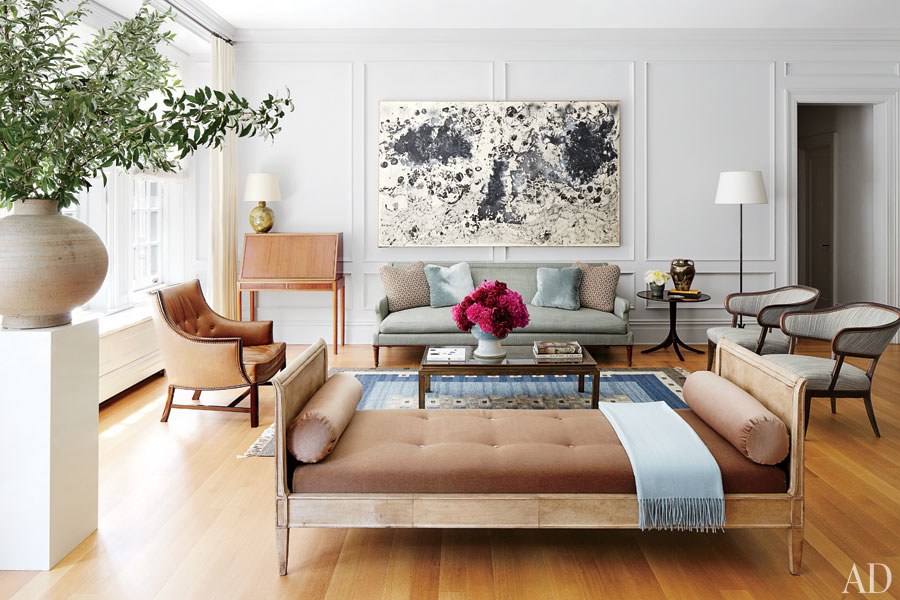 Nina Garcia
Below the room is painted in a green grey greige to relate to the green grey sofa.
In this room below, the wall colour again relates to the sofa. It's a pale pink beige linen colour to coordinate with the pink beige sofa.
The walls in this photo below are green grey to relate to the green grey furniture, which is probably one of the most popular sofa colours chosen in the grey trend.
So I COULD list the paint colours that belong to these rooms. Because I know what they are without having to look them up.
But if I'm teaching you to fish instead of giving you the fish, it will be way more powerful.
Once you identify the undertones of the neutrals in your rooms, all you have to do is go to the back of the bonus book of colours in my How to Choose Paint Colours ebook, or for whites, the back of my White is Complicated, a Decorators Guide to Choosing the Right White and decide how light or dark you want go go.
There will also be a brief description of the colours, as well as when and how to use them.
And for those of you who want to know why your white looks green (or some other shade that isn't what it should be) find out why and how to fix it on Page 59 of my White is Complicated; The Decorators Guide to Choosing the Right White.
What you are learning with both my eBooks is my System for Specifying Colour. This system works, as countless comments, emails and students have testified in the over 10 years that I have been writing this blog.
Here's what people are saying:
" I only found you last year and have spent months reading years worth of your blogs. The first post I read was about dumb "designers" putting horrible busy floor tile with counter-tops of a different color undertone AND equally busy pattern. I'm jumping up and down yelling "that's it, that's it, that's what I've been trying to tell you" as my hubs looked at me as if I'd lost my mind.

Then HE read the post, looked at the tile samples we had selected and said, "ooohhhh".

I just couldn't explain what was wrong, but your blog post made the lights come on for me. So, for our renovation, guess who is getting hardwood floors, white cabinets and plain white subway tile???

Why yes, the reader who did listen to Maria:-) Hahaha, in all things color and pattern, I'm always asking. . . What Would Maria Do? Seriously, I love the ebooks I bought. Choosing Paint Colors and White is Complicated. Totally simplified my paint sample buying and testing for the master suite. Picking paint has gotten way easier." Julie in Nashville

"I love your blog and have purchased both E-books. I found them so pertinent that I created a notebook of swatches, categorized as you recommend. Our family has moved very frequently over the years and that has given me the opportunity to renovate and decorate a lot. While I am a professional artist and "Color-swatch-aholic", using color as a way to create atmosphere in an environment and learning to work with existing hard finishes has been a challenge. (Way too much pink beige!) Your books and blog have helped tremendously!!!" Feel so grateful! Lynn S.