This guest post is written by Tricia Firmaniuk, my talented virtual design assistant.
I'm always saying (and teaching) that the days of different colours in every room are over. Now, the current trend is one main neutral throughout with colour in rooms like the powder room, dining room and bedrooms, for example.
But until Tricia wrote this post talking about individual rooms vs the open concept homes which is how so many homes are built now, I hadn't given that much thought to why this is such a big trend.
I love this thoughtful and bold post she wrote on decorating with colour, which as I briefly mentioned at the end of this post, is way more timeless than the current, trendy neutral.
My mission in life is to inspire you to create a classic and timeless home that you love as well as give you the confidence to use more colour.
When Terreeia was in Scottsdale a few weeks ago, she stayed at The Saguaro Hotel (above) because we are considering this town as a Fall location for one of my colour workshops.
When she was touring it, the sales manager mentioned that their chain of colourful hotels are the third most photographed hotels on Instagram.
Why?
Because human beings love colour, that's why!
When you walk into one endless grey hotel after another, does it inspire you to prop your family up against the charcoal wall and take a picture?
Not unless there's something really unusual about the decor that is worth posting on your social media pages right?!
So read on, and I hope you're inspired to choose colour for your next home decor purchase!
___________________________________________
I can mark my heart's switch of allegiance from big open modern spaces to cozy traditional houses to a specific day.
In my former career as a gallerina (and before Pinterest), I went into a lot of homes to help people select artwork. The majority of our clients, had newer homes with large modern open concept layouts.
At the time, I rented a big open studio with a wall of windows and high ceilings where I lived and painted, and I loved having the luxury of space. But after living there for awhile, I found that on a young artist's budget, it was hard to create a colourful and cozy feel. The space was nice, but if sometimes felt like a big empty box.
One afternoon, I had a consultation for the gallery with an eccentric elderly lady in an older craftsman home that made a big impression.
Her house had a different wall colour in each room without looking like a circus.  It was imaginative and bold but tasteful. It felt old world yet fresh in an intriguing way. The rooms were a comfortable scale for living and decorating.
The foyer and stairway were painted a sunny yellow with a gallery wall going all the way up. It led into a cozy sitting room with deep teal walls. Through one doorway off that room, the kitchen was wallpapered in a fun retro tomato red and white print and through another passage with a set of french doors, there was a glowing sunroom painted a fresh leafy green.
It was a modest home, but after all the big white, grey and beige boxes I had been in, this house was like a revelation.
The large painting I brought in for her to view over her sofa was whimsical and full of colour and tied things together beautifully (it was by the same artist as the one below). I went back to the gallery babbling about how I had just been in the very best house in town.
Bird Sanctuary 2 by Robert Wiseman, Peter Robertson Gallery
Before that day, my dream home was open and modern, but since that experience, my ideal has taken a complete about face. I still like open and modern homes, but if I had my choice, I would go with an older home with all the walls intact.
Older houses lend themselves better to colourful walls and you can create very different moods in each room. For someone like me who loves to play with decorating and colour, a historical house would be heaven.
I think that one of the practical reasons there seems to be so much fear of colour out there is that contemporary open concept floor plans make it almost impossible to transition paint colours well in the common areas. And I think this is a big reason why colourful walls have fallen somewhat out of favor. The vast majority of newer homes look much better with one easy going neutral wall colour flowing throughout the main areas.
It's also a much bigger commitment and expense to paint a couple thousand square feet rather than just one room.
Add to that, then we buy most of our furnishings in safe neutrals, and you end up with an epidemic of really blah, colour-phobic homes.
So if you love colour, what's the fix?
I'm always pining after boldly coloured rooms, and the best ones all have traditional architecture. But my house doesn't look like this.
Suzanne Kasler via Atlanta Homes
Traditional floor plans with ample mouldings and clear separation between rooms meant you could transition between fairly bold wall colours easily.
A beautiful green papered foyer could lead to a bright white room with a green accents like this below.
But just try adding a bold wallpaper like this to a newer home, if you're lucky, maybe your dining room and hopefully your powder room or bedroom have enough separation to transition to wallpaper well. I've seen a lot of single walls papered to add some interest, some are more successful than others, but it's really hard to pull off well.
Accent walls in general seem to be an attempt to mitigate the colourless situation many of us find ourselves in, but they usually feel a bit unfinished and jarring to me, less than ideal.
If you crave some colour, and you don't have a traditional home with nice separation between rooms, you have to be bolder about decorating with it.
Get Your Sofa in a Colour
This is why a colourful sofa is such a great choice. If you have a large room with two story ceilings, you're going to need some big hits of colour to keep it from looking bitty and getting lost. If you want colour but you purchase your largest upholstered piece in a safe neutral, you've just missed a major opportunity for colour.
You'll never get tired of a sofa in your favorite colour.
2. Get a Bold Area Rug in a Colour You Love
If you do have a neutral sofa, a colourful area rug is a great choice too. Something like this antique Chinese blue one (below) would begin to transform an otherwise neutral room.
Then you could repeat the colour of the rug or sofa with lamps, artwork and accessories. It's well done in this room below with a large hit of blue in the quilt, repeated in medium pieces like the lamp and chair, and smaller touches like the pattern in the bedding and drapes.
Even though the walls are neutral, this room gives the impression of bold colour.
It's useful to consider every item you purchase for your home as an opportunity for colour. This is not to say that nothing should be neutral, but really consider if it would be better in a colour to create some interest in your room. If painting the walls a colour isn't a practical option, you'll need to bring it in with your furniture and decor.
3. Paint a Piece of Furniture
Wood furniture pieces like armoires, consoles, dressers, end tables and display cabinets, chairs and even built ins are good opportunities for colour with a lick of paint.
4. Don't Get Chairs that Aren't Accents
Accent chairs exist for a good reason. A pair of brightly coloured chairs can make all the difference to an otherwise neutral arrangement. If you need colour, getting accent chairs in a drab, safe colour is just a waste.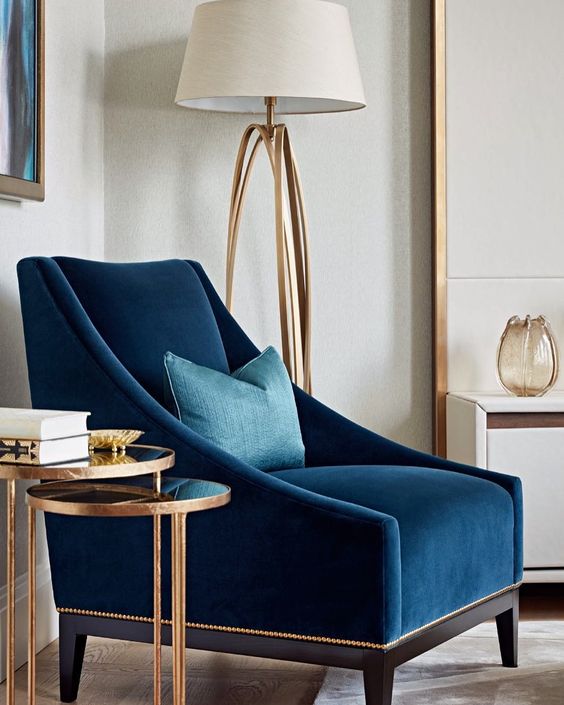 5. Dress Your Windows in Colour
I would never tire of these green drapes (below). This is a great way to go bold with colour in an otherwise neutral room.  If you have a nice neutral setting, everything you add in for furnishing and decor has potential to bring in some happy colour.
6. Don't Forget the Art
Too often art is just an afterthought. But you can use artwork as a large focal point or as a way to repeat your accent colour. A neutral space is a great place to display a colourful art collection. Here's a post I wrote about finding affordable art if the real thing isn't in your budget yet.
Painting by Hunt Slonem Interior by Steven Gambrel
So if you're not sure where to begin, commit early on in the decorating process to a colour you're consistently drawn to and take the plunge and purchase a couple of key items in that colour. Don't shy away from the big items, you need some large doses. Then you can add in one or two coordinating accents and repeat them as well.
If you know you want to add colour to your home, but you're not sure where to begin, you can get help with our Get Me Started eDesign consultation here.
_______________________________________
Thanks Tricia! Here was my class in LA this past week:
Los Angeles Specify Colour with Confidence Workshop
I had another amazing class here, last one of the five this season.
At dinner on Thursday night, one of my participants, a student in design school confided that she had spent the last three weeks working on a huge project, staying up late many nights and after two days in my class, she now needs to go home and change the whole thing!
Once you see undertones in the context of one of my live events, you can never unsee them ever again.
This is Nancy Sporsheim an interior designer all the way from Norway! She told us that the grey trend is completely over there and colour has arrived in a really big way!
I am honoured and amazed at how many people come from everywhere to attend my workshops!
Cheryl, Kelly and Jan
My design assistant Kelly Parkinson came with me this time as Terreeia was in Toronto. She did a great job at the back of the room with the help of our two volunteers. Past True Colour Experts, Cheryl Deagan and Jan Turcotte who kept everything running smoothly! Thanks so much again to both of you!
We will post Spring dates shortly.
Have a great week my lovelies!
Related posts:
Which Colour Sofa Should You Buy?
Ask Maria: What's Next After the Grey Trend?
Ask Maria: How Do You Keep up with Current Trends?
SaveSave
SaveSave
SaveSave
SaveSave
SaveSave
SaveSave