I recently received a collection of photos from a reader who said
"I am not certain if I will retire here or move so I don't want to do too many drastic investments, yet I would like to update my living room"
First, before we proceed, notice that her room is pristine and the photo has been taken without flash and in good natural light.
If you want me to consider using YOUR interior in my 'ask maria' column, make it easier for me to help you! I will not be inclined to show a messy, badly taken photo on the blog.
So help me, help you!! Clean up your room before you take photos.
Please note, I will ONLY post questions that have NOT been addressed on the blog before. In this case, we are talking about a 90s sofa. So if you are stumped on wall colours (covered that) or you simply need to re-decorate, we will send you a link to our eDesign services if it doesn't qualify to be in a blog post.
Isn't it better to have a plan, rather than spin around and wonder what colour sofa to buy? Which pillows are right? Which area rug will make your  living room joyful? Buy the right items the first time, that's what I recommend!
Okay, so the easiest way to start a room refresh when you're on a budget is with a throw pillow. Rugs are endless and it's hard to know when you have hit the correct rug. You might end up spending a lot of unnecessary time searching for a rug only to change your mind when you find the cushions to coordinate.
I personally, find it easier to source a throw pillow first. Especially on Etsy where there are lots of trendy pillows in great colours for a great deal! It's no accident my workroom calls me 'The pillow lady'.
Here is my readers living room (below). First the white walls are too stark for this palette so we need a new paint colour. And also you can see that her sofa was the 'trendy neutral' in the 90s.
The easiest change to make without spending a lot of money in this interior will be to re-cover the wing chair or buy a new chair because the price will be very similar, new drapes and a new area rug.
These are obviously custom window coverings but they don't have to be. I would also hang drapes on the smaller window instead of a valance.
Make sure you measure the rod approximately 10 – 15 inches past the window and install it the same height as the other rod.
Related post: How to Measure for a Curtain Rod
Lately, I'm into pink. I recently painted my Mom's sitting room this very shade of peony pink (below). I think pink is coming back in a big way and I hope yellow is not far behind it.
In case you worry that your husband will never accept pink into your home, consider this: there were teams of builders painting exteriors and interiors pink during the 80s and I'm guessing they were mostly men, so don't worry! As soon as it becomes as common to see as grey, your spouse will accept it too.
I found this pink and green chair along with some peony pink cushions and a more muted area rug to relate to the existing sofa. Since most greens go together, it's okay that the sofa is much more muted.
Peony Drapes | Chair | Pink & Green Pillow | Green and White | Pink Pillow | Chevron Rug
My reader could potentially keep her existing area rug because it has the same shades of pink in it, depending on her budget.
Since we're doing pink accents, we could paint the room pink too, this is BM Pink Bliss:
This blogger loves pink, see her full home tour here.
My reader could use a "hint of pink" blush colour like this: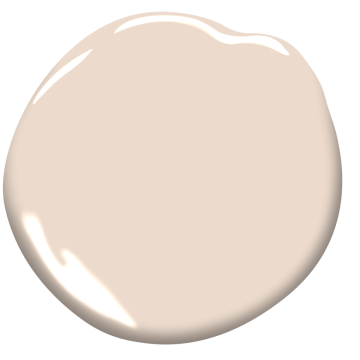 BM Bashful 1171
Or, she could go with a slightly deeper blush if she's feeling bold like this: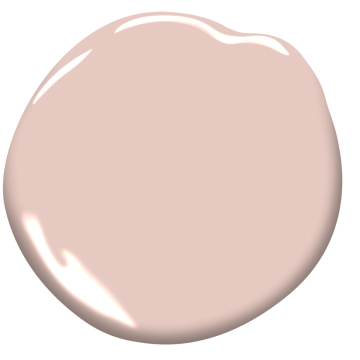 BM Rosetone 1186
Or again, she could go with a neutral ivory greige and keep her options open for changing up the accent colours frequently, like this:
BM Ballet White OC 9
Here are some more pink and green interiors for inspiration:
via Pinterest
via pinterest
I'm at High Point this weekend and so the next email you see from me will be my 2018 trends report! Follow along on Instagram for all the photos and updates this market.
I have one space left in my San Francisco Specify Colour with Confidence course. We were sold out yesterday but we had a someone that couldn't make it so we still have one seat left. Register here.
We still have a few seats left in our second Chicago course, the first one sold out almost immediately, go here to register.
If you have a question for my Ask Maria column, email me here.
If you would like a room refresh, purchase our 'Get me Started' package here.
Related posts:
Ask Maria: Is my Fireplace too Earthy for a White Kitchen?
Ask Maria: About Carpets, Oak Furniture and Dining Chairs
Ask Maria: I'm Worried My Area Rug is Wrong? (It was $10,000)