Unsure which curtain rod colour you should choose? Here's a guide to help you choose the right curtain rod, whether you want to frame your room perfectly or have the curtain rod disappear in your room design.
And before you purchase a curtain rod, read this post to make sure you measured them correctly.
One of my lovely readers recently asked if I would write about curtain rods. What size, what colour, which finials? Trendy or timeless? Wood, metal, or something else?
Curtain rods can either frame a room or they can be made to visually disappear. Generally speaking, they should be chosen with contrast in mind. Think of your curtain rods like eyeliner: they are there to frame the room and give it depth, but not to command all the attention for themselves.
How to Choose the Right Curtain Rod Colour
Choose the darkest colour in the room
Look at the dark furniture in the room when choosing a colour for your rods. In the room shown below, the beams, accent chair, and the base of the lamp relate to the espresso rod colour.
Source
Here again in the bedroom below, the thin, dark coloured rods are repeated in the canopy bed and the bedroom accent furniture.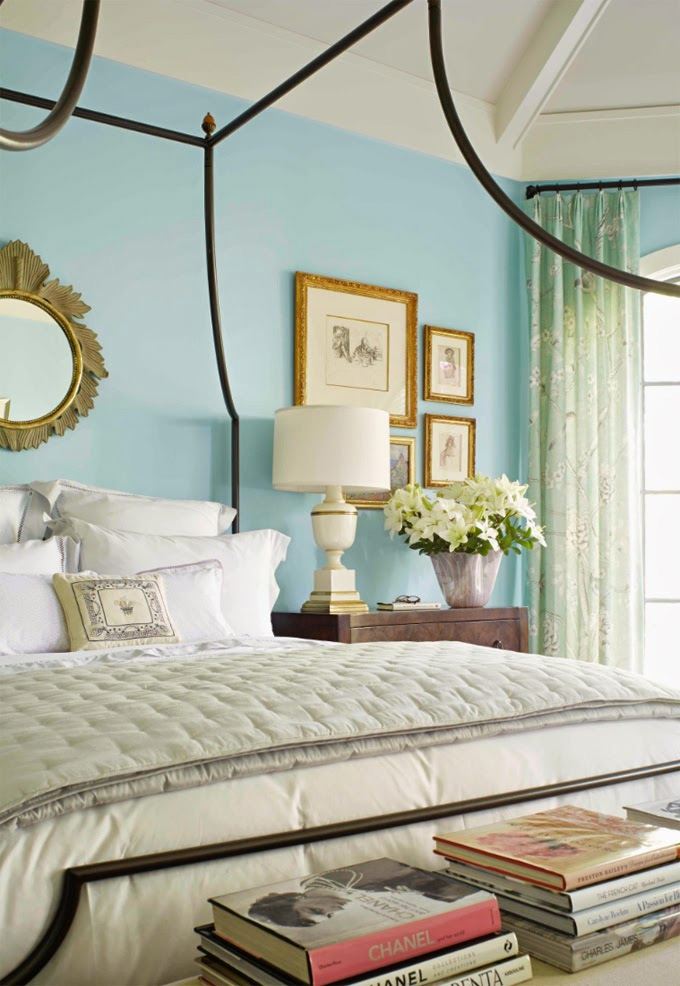 Choose a curtain rod colour that makes them disappear
The curtain rods appear to be white in the bedroom below. This helps to make the curtain rods almost disappear in this mostly white bedroom, instead of drawing unnecessary attention to them. The curtain rods do not need to be the star of the show in this light and airy bedroom design.
Choose a curtain rod colour that relates to the metals in the room
Brushed stainless rods coordinate nicely with the light fixture and grey tones in this Manhattan apartment interior.
Brass curtain rods are a great choice for this room because they relate to all the varying gold tones in the living room decor and accessories. A darker bronze curtain rod would have also worked in this room as it coordinates with the sofa and fireplace.
Although this room below is lovely, there is very little brass or gold in this room to relate to the curtain rod (maybe in the picture frame?). In this room, the curtain rod colour is a statement all its own. I think a brown rod would also look nice to tie in with the accent furniture.
Hanging drapery on a track works if you want a clean look and don't have too much space above your window. Because these are doors, they are taller and don't leave too much space between the ceiling and the top of the window. I think this look would have been much better if the track was either painted the same colour as the ceiling or black.
Source
In my living room, I opted for brushed stainless rods because I already have lots of contrast with my pink colour blocking curtains and didn't need to add more by detail by introducing black rods. My curtain rods also relate to the stainless steel legs of my white chairs.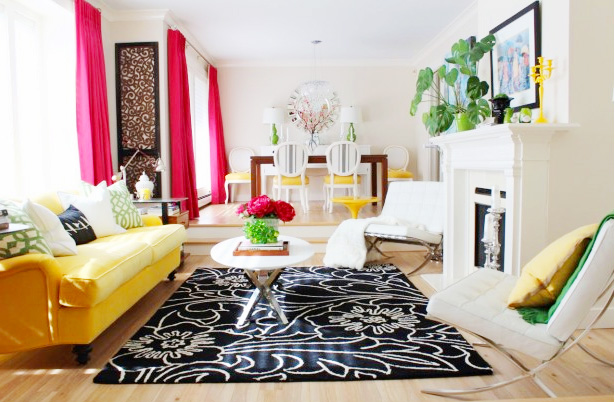 Choose the Right Curtain Rod Size
To my eye, slim rods look better than fat ones, so I always look for drapery rods that are close to 1″ in diameter. Rarely should you go thinner than 1″ curtain rod. Often, that's when it usually looks cheap and like you bought them from IKEA. So, just buy the 1″ rods at IKEA instead. There's nothing wrong with buying your rods there – just get the right size!
The rods in this bedroom below would look better if they were closer to 1″ in size, and better still if they were black to coordinate with the ottoman legs and picture frames.
Sometimes, a full-length rod is unnecessary. Below, there is a panel only on the right and it cannot be drawn closed. There's probably a matching window (out of frame) on the left to make this asymmetrical treatment work. Notice the rod is gold, which picks up the accessories and mirrored frame. Perfect.
Curtain Rod Finials
I have crystal finials on my rods because they work with the glam feel of my living room, but nine times out of ten, I will choose a simple ball finial. I'm not usually looking to draw attention to the finials, although a lot depends on the way the interior is decorated and how important the window treatments are to the final look and feel of the room.
Timeless or Trendy Curtain Rods
Which rods are the most timeless? Go for simple and slim, and your rods will look timeless. Go flashy, chunky, and attention-grabbing, and they'll be as trendy as anything else in your house that can be described the same way. (Did you really think I would say anything other than "simple"?)
Curtain Rod Material
I always use metal over wooden rods. Little-known fact is that wooden ones have to be turned occasionally so they don't bow, and really, do you want to add that task to your to-do list? Neither do I.
How to create flow in your rooms with curtain rods
Should adjoining rooms have the same rods? It depends.
If you can see all the windows at the same time, then yes. You might even need the same drapery between rooms if your home is very open concept-like. The more obvious separation there is between rooms, though, the less you need to be concerned with coordinating rods between them.
Read more: Ask Maria: How to Transition Paint Colours in an Open Concept Home
In a house I recently decorated, we introduced brass pendants in a kitchen that adjoins the living room. The two spaces are separate enough to allow for different rods and drapery treatments, so we will install gold rods in the kitchen to repeat the colour of the pendants, and espresso rods in the living room to repeat the colours of the floor and millwork.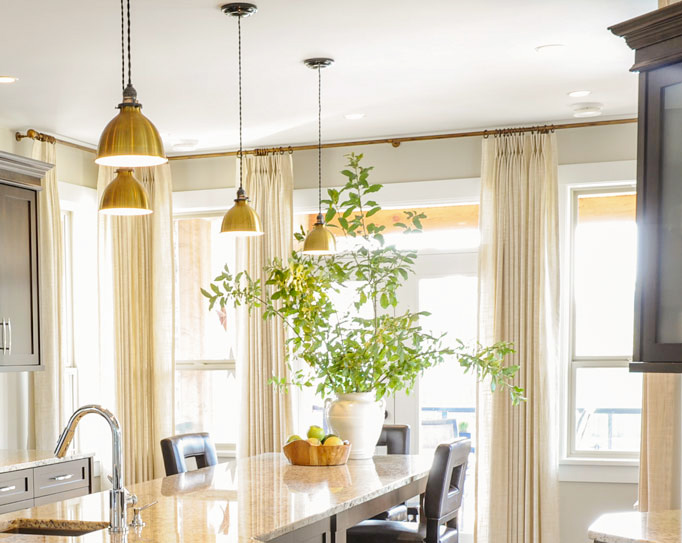 Interior Design by Maria Killam
How to ruin your perfect curtain rods
If you are selecting curtain rods for your home, make sure you read this post on how to measure for a curtain rod. So many people get this part wrong, and it ruins the final effect.
I'd love to know about the drapery rods in your home. What do they relate to? Please share! I'm sure you'll have ideas I haven't covered here!
Related posts:
How to Measure for a Curtain Rod
Easy Way to Create Drama with Curtains
If you want to transform the way you see colour become a True Colour Expert.
"Maria Killam's course was the best design course I have ever taken. Her hands-on approach and practical methodology lead me to quickly understand so much of what I had been missing about color in the past. The top two things I learned were:

1. How to differentiate between clean and dirty colors

2. How to determine the undertone of neutrals.

I can never look at design the same way again and I am amazed that so many designers miss these crucial steps to introducing color in their design work."

Jennifer Johnson of Jennifer Louise Interiors, Oahu, Hawaii