On a recent lakeside vacation, I couldn't help but notice SO MANY drab, grey or charcoal exteriors. So, here are 6 of the best (and I might even say happiest) exterior colours for your lake or beach house.
Our summer holiday this year was at a lake house in Shawnigan Lake. It ended up being cloudy on the day we rented a little boat to tour around and see the homes right on the water.
And you know what I was most struck by?
The overwhelming amount of charcoal upon charcoal homes. Countless homes that were a variation of this colour scheme: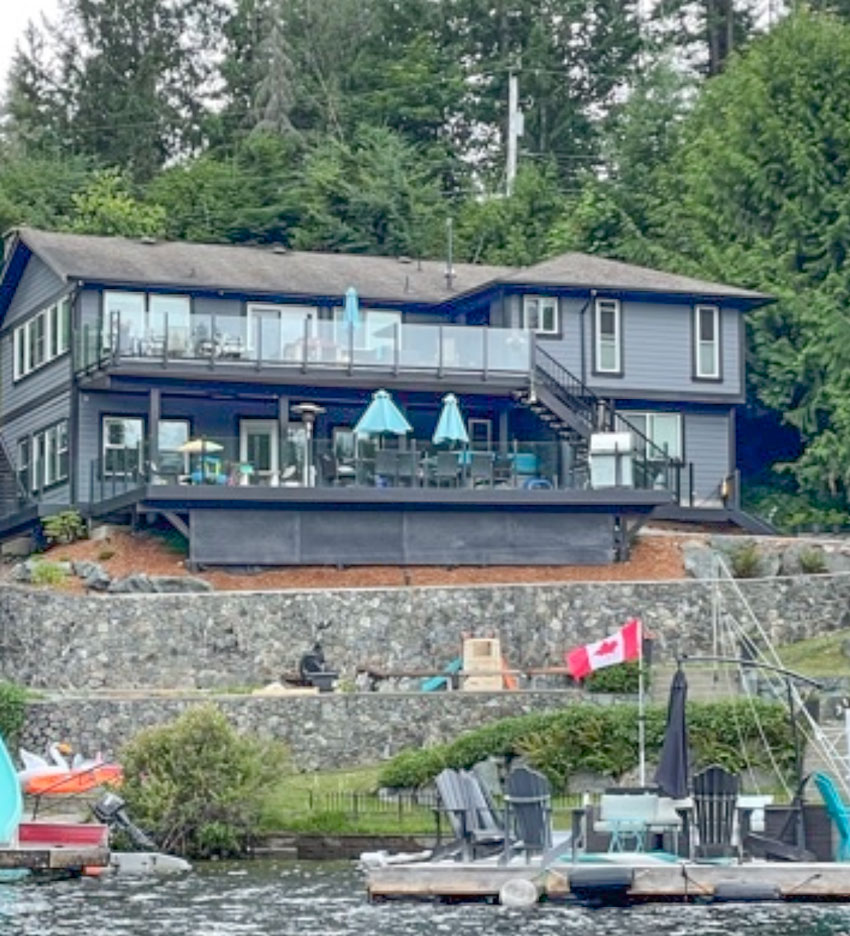 Then, after the whole huge house is basically made to disappear in bleak, heavy charcoal, turquoise (or there were many that added red umbrellas and chairs as well) was introduced to try and brighten the situation.
I'm here to tell you once you've come this far with charcoal, it looks just a little too late to throw in a colour.
Should a beach house ever be grey?
The best look for a grey beach house, in my opinion (if you MUST have grey) is to paint it the colour of weathered wood (in other words, a light to midtoned green grey). The look is plenty fresh enough to support the pretty turquoise accent on the front door.
Or a fresh, pale blue grey that leans slightly warm and green. Like this one (below). AND it should have a generous amount of white trim to pull it off.
3 | Houzz
Blue is the colour of water and sky
Any kind of blue is a classic choice for a beach house of course. Look how this one below looks like the deep blue sky.
4 | Cornflower Blue Beach House
Blue and white decor is a classic beachy look inside and out.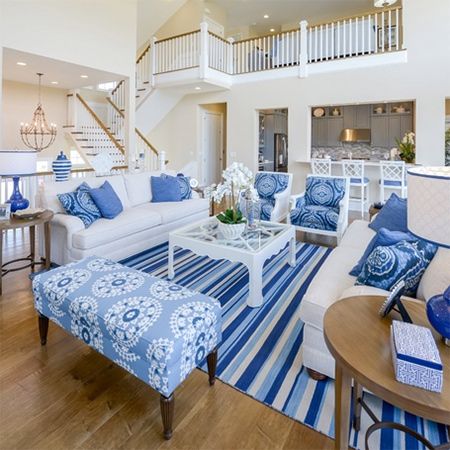 What about contemporary modern homes?
But Maria, what if my house is not a traditional beach house with crisp white trim? What then?
On the West Coast, where we live and where we vacationed this year, modern contemporary homes are more the rule than the exception. And they are designed to blend with the rugged natural surroundings of the coast line.
But that doesn't mean then need to be doldrum charcoal grey and black!
Introduce contrast into a neutral palette
While this style does lend itself to darker bronze or black windows, wood and stone accents and neutral palettes, you should still be striving to create a look that is fresh and appealing. And that means introducing contrast.
Instead of choosing EVERYTHING in charcoal grey or black (or in the previous trend, brown, taupe and dark beige), choose a soft white or pale neutral to break up the heavy darks. And warmer wood tones to give the palette life. Or some green to give the palette some colour.
This house below would make a lovely West Coast modern beach house.
5 | Lanefab
Honestly, if I was building a beach house, I would go more traditional so I could paint it blue or turquoise with lots of crisp white trim. That would be my happy place.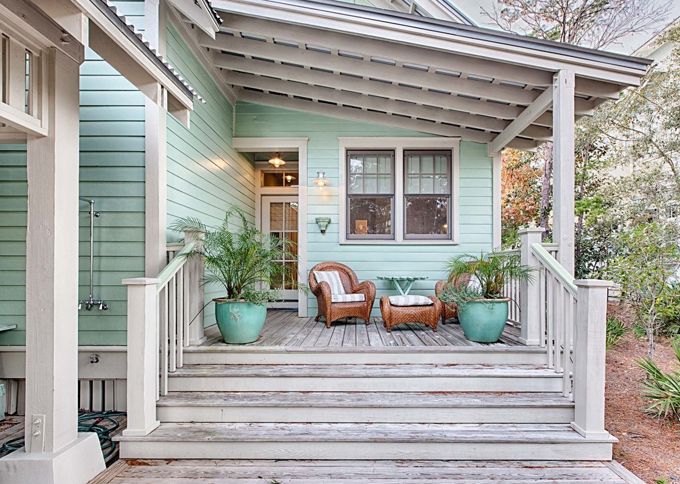 6 | ourboathouse.com
But you DO have to consider the style of the neighbourhood. The trick is to find the freshest, most timeless look possible within those constraints.
My Best Advice for Choosing Exterior Colour for Your Lake or Beach House
Please, please don't simply choose everything in charcoal and black! It's a vacation waterfront home. It shouldn't look so heavy and serious. If you're in love with the black or grey trend, consider that you will be on the other side of it within the decade for sure and use it sparingly if you must.
If you would like help finding a happy palette for your beach or lake house, you can find my Essential Exterior Palette eDesign consultation here.
If you have purchased my Exterior Masterclass, all the exterior colours in this post will be found in the facebook page connected with the group. If you are reading this post late, search it on the page and you'll find the colours.
PS. Here's Terreeia and my Mom and I at the nearest tourist attraction:
Related posts:
What Everyone Should Know About Blue
Two Timeless Blue Exteriors; Before & After
From Grey Gardens Disaster to a Timeless Blue Exterior; Before & After