Well it's been awhile since I've posted pictures of my garden. To update those readers who are new, four years ago, I demolished my entire garden, the front and back yard, and installed brand new landscaping, with the help of my fabulous landscape designer MaryAnne White.
I'll get to my new boxwood beds in a moment, here are a few before's and after's of the garden as it looks now.
Front Door – After
Front door – Before
Spring 2020
Gardens are living, breathing and constantly changing MaryAnne says, it's not like a room where you hire a designer, place all the furniture and accessories, and until you move things around, it could look exactly the same for years!
You don't really know how your plants are going to function until you install a new garden. Then, as everything starts to grow, some plants will grow faster, some slower, you have to move things around until you discover what works for YOU and YOUR garden, and the area you are in.
What I loved the most about working with MaryAnne, is I loved everything she suggested, if you find a designer whose aesthetic you like, everything is way easier. I instantly loved the English garden vision she had for my garden. The only direction I gave her, was that I wanted a white-on-white garden (with yellow as a secondary colour), lots of boxwood and white and yellow Shasta Daisies.
When you work with an experienced Decorator whom you hire because you love their aesthetic, when they present you with their suggestions, you pretty much love them all. It wasn't like this for me at the beginning. Twenty years ago when I would arrive with fabrics, I would bring most of my fabric books as back-up, hoping that something would stick. Now I show up with option one and two and usually option one is the best and that's the one we go with.
It works the same way with an experienced landscape designer. Every day, my garden fills me with joy and I think how lucky I am that MaryAnne found me (she was a reader who approached me when I started talking about what I was going to do with my landscaping). And she did all of this LONG DISTANCE from New York. Follow her on Instagram here.
I thought we'd do a little review of the before's, three years ago and how it looks today, five years later.
Related post: Professionals know When to Avoid the Obvious
Before – April 2012 (when we took possession) My nephew William was so happy we had moved close by
June 2014
You can tell when a professional has designed your garden beds because there are no straight lines (unless your design is ultra-modern) everything has a curve.
July 2017
May 2020
I loved the way the boxwood is square in front of the house, and the L that frames the doorway with a curvy bed, a spot for a garden bench (upper left), and the curvy, flagstone pathway leading up to the front door.
Often when Tricia and I are choosing colours for our exterior eDesign projects, we will mention landscaping. If you are not happy with your exterior, it may not have anything to do with the colour, it might be that you need landscaping.
The same thing happens inside. You'll paint a room and immediately start criticizing the paint colour because the room is not decorated yet.
MaryAnne, can design much more than an english garden. She has been designing landscapes of all shapes and sizes for 30 years.
The former owners had created a gravel driveway for their RV. You can start to get a sense of why the entire garden had to come out, just wait until you see all the concrete in the back yard.
After – June 2014
We planted Shasta daisies beside the hydrangeas in the first installation, but I moved them later, in between some shrubs a little more to the left underneath the windows (above).
I loved my Hebe shrubs, but because there is only ever about 3″ of growth before you hit branches, I did not have them trimmed. They were quite big by this year and got damaged by the heavy snow we had this winter which is rare for the West Coast, anyway, I had them cut right back this Spring and I'm worried that I've killed them – eeeek. I see a little bit of growth (below) but they are still looking mostly brown!
I really love the Ladys Mantle. My next door neighbour had lots so she gave me some. I planted them all along the edge on this side of the garden and I love the yellow blooms.
You could say that my garden is really white and yellow.
Spring 2020
In my front yard, the transformation of my walkway is my favourite (below):
Before – Spring 2012
June 2014
After – July 2017
Before – when we moved in, April 2002
After – July 2017 Photography by Maria Killam
This is what my yellow sofa looks like from the street at night because I have two up lights sitting on the floor behind the sofa.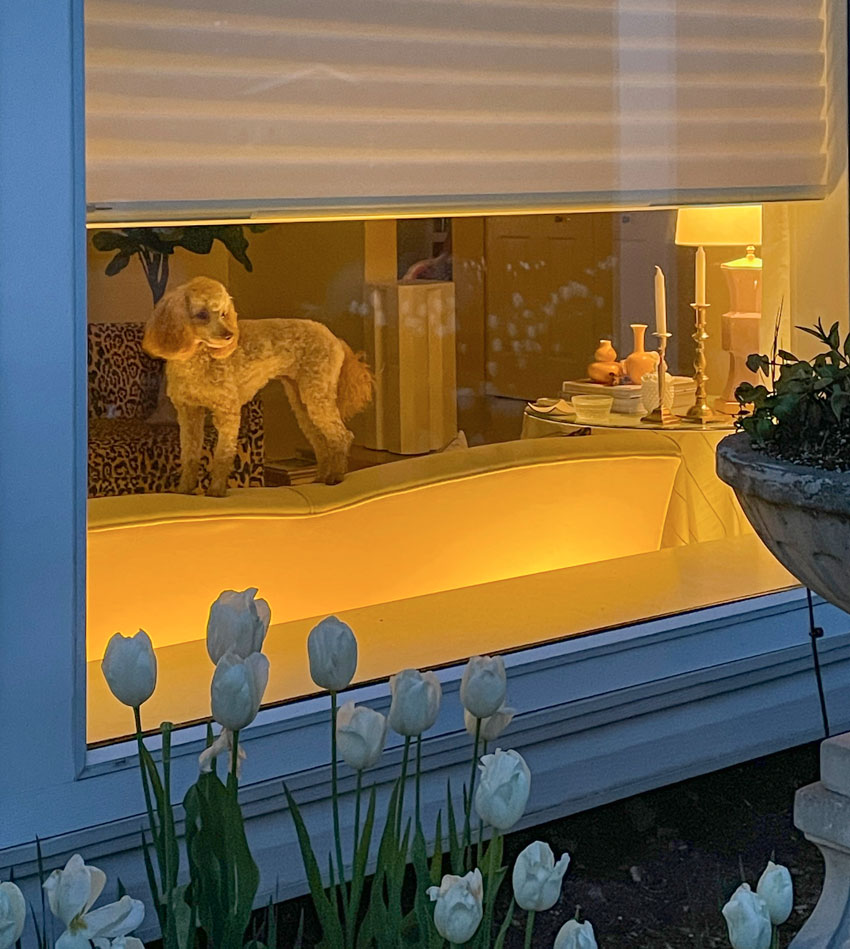 From May 2020 when our new mini golden doodle Lucy was just over a year old
MaryAnne specified white Irises in the area with the concrete urn. Once they've bloomed, it just looks like long green grass which is really pretty behind the clipped boxwood hedges.
I had to plant a bunch of new lambs ears this Spring because the winter killed a lot of it and it just wasn't coming back. Love the new large leaf variety that my gardener planted.
Here's a photo of the irises in bloom (above).
And then, the backyard, which was, unfortunately half filled with concrete (below).
Here's what my studio looked like BEFORE it was completely transformed from a work-shed.
After – June 2014
The first year I bought these green adirondack chairs for $99 each at a big box store. They were literally TRASHED the following year because they were some kind of inexpensive wood. So then, I got smart and bought white plastic adirondack chairs with a 30 year guarantee (below). This way they can sit out all year long and I don't need to worry about them.
I also really loved the evergreen Clematis MaryAnne specified to grow along the right side of my studio (above) but one year it died in the winter and the following year, after I planted another one, it died in the summer??? Even though we had a sprinkler system by then. Sigh. So this year I bought Wisteria, and you can see it's just starting to climb. My local nursery said that in Yarrow, the winds are too strong and this type of Clematis doesn't survive.
I even had lattice installed all along the soffits so that it would grow right across. I have yet to see that happen. Hopefully the Wisteria will like it there.
I have started planting thyme in between the flagstone pathways in the backyard (below). I have so much flagstone, I just focused on the front yard the first few years.
After – May 2020
Then, there's the vegetable garden. We had two white sheds on either end of the garden, so MaryAnne designed a lattice fence to connect the two buildings as well as define the vegetable garden from the flower beds.
She designed bigger beds in front of the lattice but I thought my garden was big enough so I asked for something simple. She suggested yellow roses.
But the problem with the roses is that they looked the prettiest when I was standing in the vegetable garden when they were in full bloom (below).
And then in the winter, I was just looking at these sticky shrubs.
So I asked MaryAnne for a design that included large and small boxwood so that it would be prettier to look at in the winter time since this fence is really the focal point of our view from the kitchen and family room.
And here's what she sent me:
Along with this computer generated simlulation:
And here they are now:
After
After
Terreeia manages the vegetable garden but she let me install some terra cotta pots with boxwood.
MaryAnne even designed the flagstone to be installed starting in the grass and go into the vegetable garden just like this (above).
This year, we missed planting something underneath the tutor so it's looking a little naked.
Before – April 2012
After – May 2022
I'm soooo happy with my new boxwood beds, they really feature the lattice fencing now which I was smart enough to get installed in vinyl so they never need to be painted.
Before – April 2012
My daisies planted around the decorative fence beside the driveway.
Here's the before pic again (above)
and the After
Spring 2020
Hope you enjoyed the update!
My bathroom renovations are coming along, the demolition was done last week, then the electrician came to install all the wiring for the new lighting and then the subfloor was installed for the tile installation which starts tomorrow! I'll be posting on my Insta-stories here.
Have a great week, thanks for stopping by!
Related posts:
Maria Killam's White Garden Transformation, Before & After
It Takes a Village to Own A Home, Before & After
Ignorance is Bliss: Before & After
SaveSaveSaveSave
SaveSave
SaveSave
SaveSaveSaveSaveSaveSave
SaveSaveSaveSave
SaveSave
SaveSave