Since hurricane season has hit, I have received a few requests on the best, inexpensive, on-a-budget updates that will hopefully make both you and your insurance company happy. Here's a comment I received from my lovely reader Donna on my new powder room reveal post:
"Hello Maria, you spread so much happiness and I've enjoyed following your blog for many years, admiring your work and happy to see your success blossom. Your JEM of a powder room is gloriously RADIANT in Coral! You'll be smiling with laundry or garden tasks and give your guests a reason to smile as they visit your perky powder room all full of happy! I have needed to see something beautiful since we suffered from recent hurricane Irma.. and before there was Harvey, that pair of storms left 1000's of homes in mayhem, chaos or completely gone. So many Florida and Texas people face rebuilding, and at the same time we see more storms heading to our south and eastern coastlines. Insurance companies are limited to restoring function…and I know many need that sense of home and beauty and have few resources. Your imagination and talents are many so I thought to ask.. could you and maybe your many designer friends get busy to help our sisters, friends, moms, aunties and daughters to re-feather their nests through low cost DIY touches (like the ones we used when we were young and had little but our imaginations? ) I am helping where I can here at home…online not my thing. How about an initiative " Home after the Storm…broke but not broken" with posts on many blogs to provide how tos, simple ideas, tricks with low cost items (remember no-sew napkin throw pillows?) to help these women as they put their battered homes back together again. Keep spreading your happy Maria, you are a joy to this world!"
My heart goes out to everyone who is facing this. I can't imagine what you must be going through, but I know how important it is to pick up the pieces and move on, so I'd like to share some tips and tricks for budget friendly bathroom renovations.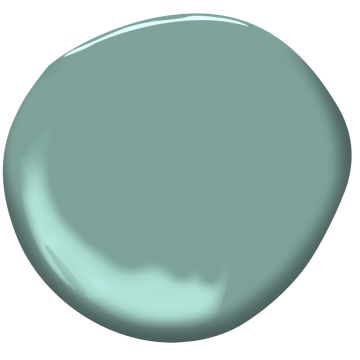 BM Mill Springs Blue HC 137
A pretty, bright and classic bathroom does not have to break the bank (or insurance payout) if you keep it simple and timeless and add a dash of colour to make you happy.
Flooring often needs to be replaced when there is water damage (or when the existing floor is just plain ugly and dated). While a classic hex tile floor doesn't need to be expensive, if your insurance allowance or budget is tight and you need to spread it around, you can consider installing a hex look lino for considerably cheaper. Here's one I really like:
It has the look of a classic hex floor with a warm greige colour that is easy to maintain and some subtle black. It's neutral enough to allow you to paint your bathroom any happy colour you like 🙂
It also comes in more colourways without the black accent.
One of my new True Colour Experts, Vicki Lerch from Naniamo (in my Vancouver course this week) is a stager and she showed me this 80's pink bathroom (below) in a house that has been listed for 40 days with no bites.
The homeowner has not been interested in doing anything but he's coming around because the house desperately needs some updates.
The bathtub and surround is all the same material but the existing sheet vinyl floor is really bad. A quick fix here would be installing the hex sheet vinyl with the green grey background (above) because that's the same neutral that's in this bathroom.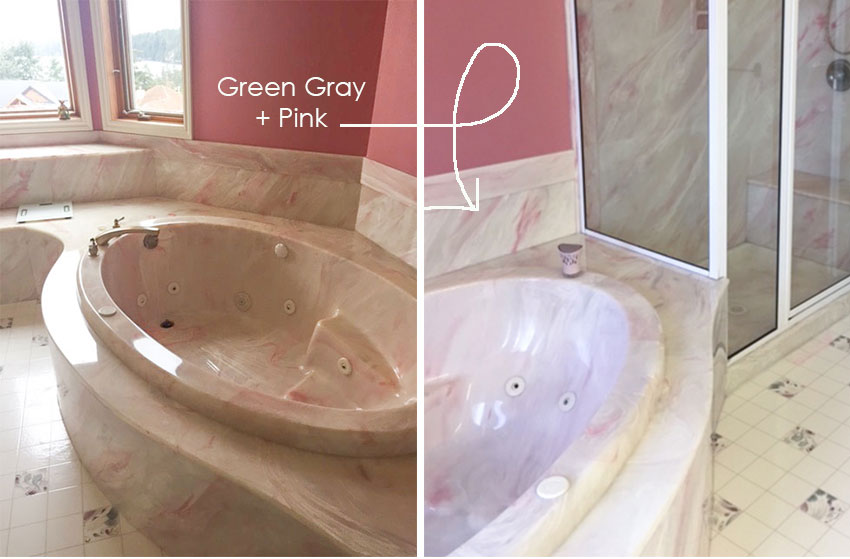 There's also a basket weave tile which is new this year! Finally, something classic that belongs in a bathroom, I love it:
You can't go wrong with a  hex floor and a pop of colour. This blue above is pretty, try BM Serenata AF 535, or you can go for something really happy and optimistic like yellow, green or coral.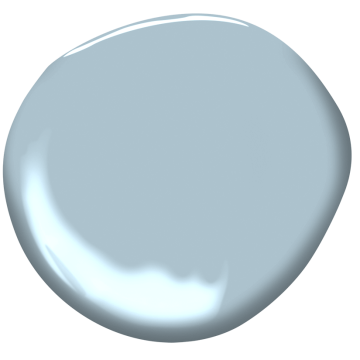 BM Serenata AF 535
Recently, one of my lovely readers sent me an article that declared that 'white-one-white' bathrooms are OUT, OUT, OUT, one of the reasons being that they are hard to keep clean.
However, the greige hex vinyl sheet flooring still gives you options for happy colour, plus there's also nothing wrong with a stained wood vanity in a bathroom, it adds contrast in a white bathroom and again, it's easier to keep clean.
If your vanity is still in decent shape, you can definitely paint it and add some cute hardware. If not, consider looking for a used wood vanity on Kijiji and painting it, why not?
As I just demonstrated in this post, colour is way more timeless than grey, black or brown.
SW Quite Coral 6614
You can also get creative and find a thrifted vanity or dresser and outfit it as a bathroom vanity. Maybe you already have an extra piece of furniture that could serve the purpose? There are lots of tutorials on how to do this on Pinterest. It doesn't have to be a fancy antique like the pretty one below.
For counter tops, you can find some really wonderful and inexpensive laminates these days, and they offer nicely finished squared off edges that look like stone now which makes a big difference from the dated curved ones we all imagine when we think laminate.
Another option is to look at Ikea's Godmorgon series vanities. They have been a long lived offering from Ikea, and they have wonderful reviews and impressive durability and features for the price point like quiet closing drawers with lots of storage space. One bonus of going this route is that the molded porcelain sinks double as a countertop, so that eliminates one expense.
White subway tile is of course the most classic and least expensive tile option for a shower surround and backsplash wall. Installation is the biggest expense, but it is possible to DIY it with some research and time, YouTube is great for renovation tutorials.
Plus, I'm really into round mirrors and Ikea also has this covered with a few options for under $100 below.
And some REALLY inexpensive sconce lights for either side. They also come in nickel.
For faucets, here are some I like on Pinterest.
A classic bathroom update or repair doesn't need to break the bank, if you're clear on what you're looking for. Create a neutral backdrop with tile and flooring and treat yourself to a really fun colour on the vanity or walls. I love my new coral powder room, it makes me so happy!
Don't forget to decorate and style your fresh new bathroom. Take a look at my Pinterest board for styling white kitchens and bathrooms for some inspiration, and while you're there, make sure you're following me so you can see what's inspiring me right in your feed.
Related posts:
How I Saved $1500 in my Bathroom Renovation
Best Fix for Ugly Tile in Bathrooms