So I'm on a wood kitchen kick this week! In particular, kitchens with older rich warm, REDDISH wood stains that aren't the current ashy oak look.
When I say cherry I mean red
I've been called out over the last couple of posts for calling species of wood other than actual cherry CHERRY. And that's because by cherry, I mean anything that is a deeper, warmer wood tone leaning into RED or ORANGE visually. I don't pretend to know what species of wood I am looking at in any given photo of a wood kitchen.
What I DO know is that deep warm wood tones are just not what we've BEEN doing in current new kitchens.
Although, warmer wood tones are poised to make a comeback.
It's fine to keep your cherry cabinets
And to clarify another thing, I don't believe that an older wood stained kitchen should ALWAYS be painted. Here's one below from an eDesign client where she was clear, she wasn't interested in painting her pretty wood cabinets. But she did want to refresh the backsplash.
And I wholeheartedly agreed.
When she updated her very dark backsplash, she was so pleased with the result that she shared some pretty before and afters along with this note:
By the way, funny thing was the original backsplash was the last thing I picked in the reno back in 2011 and I was just tired of making decisions at that point and let the women who owned the tile store push me into the dark tiles. They were lovely handmade tiles, but very dark. When I decided to redo it I went back to her shop and she all but refused to help me if I wanted to take them out. At that point I knew what I needed to do.

If not for your edesign service I'm not sure I would have been able to make the decision. But I went to another tile store and [after gaining confidence from the consultation], went with what you had suggested. I'm so glad I did.

I was able to get my original contractor to come back because I wanted it to be done the right way. He had used a lot of moldings that had to be re-cut due to the difference in the depth of the tiles. I waited almost a year for him to be available for a small job but it was worth it. Even he was amazed at the result. Thanks! Barbara
Change out the backsplash instead
Here's what her kitchen looked like before with the expensive hand cut tile that was too dark and provided zero contrast with her already deep "cherry" cabinets.
Her granite is nice and light so she was able to keep it and simply replace the backsplash them with a much less expensive bevelled soft off white subway tile, and the transformation is dramatic (below).
Because it's never about how bespoke your tiles are if they are simply the wrong colour. Here's a cherry kitchen I can get behind, beautiful job!
If you have to choose, update the hard finishes
I have had many students in my Specify Colour with Confidence workshops over the years ask me about their cherry stained kitchen cabinets with bad countertops and backsplash and often my advice has simply been, "If I have to choose whether to paint the cabinets and leave the dated and clashing countertop and backsplash, or change those out? I would leave the cherry and update the countertop and backsplash".
In this case, the countertop was white enough that it could stay, but the new backsplash definitely achieved the fresh look we are all craving right now!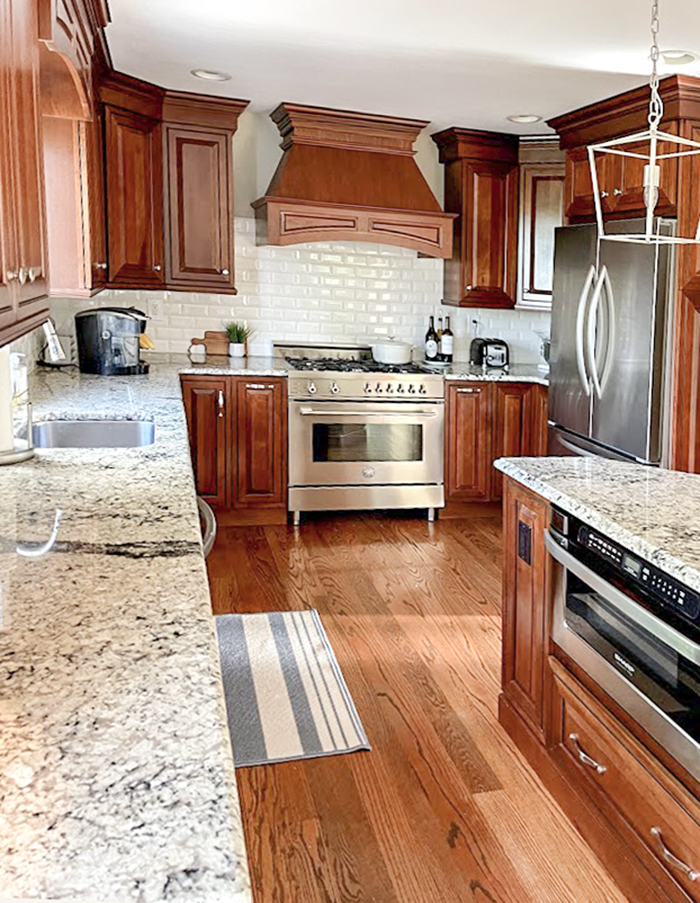 Again, it's in the details
It's great that her cabinets are already boxed in and finished right to the ceiling creating a polished high end look. And her matching hood fan is perfect.
The new simple white backsplash reflects so much more light. The cabinets actually look warmer and richer by comparison. I don't know about you, but I would be much more motivated to cook and entertain in this kitchen now!
Great job Barbara, thanks so much for sharing!
If you would like help deciding what the most impactful updates you can invest in to make your kitchen look its best are, you can find my Create a Classic Kitchen package here.
To become a True Colour Expert, there are still spaces left in my last two workshops this year. Register here.
Related posts:
Before & After; Are Cherry Cabinets Back? Yay or Nay
Before & After: A Quick Fix for Updating 90s Wood Stained Cabinets