This reader wants to install a wavy white accent tile in her bathroom. Is this a fad that she'll regret in a few years? Here's my colour expert advice for white accent tile.
I was on CTV Morning Live a couple of weeks ago! If you'd like to see my segment, watch it here.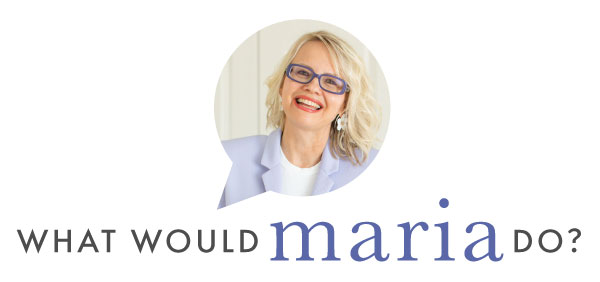 I recently received a question from a reader that made me smile so I'm sharing it with you:
Dear Maria, After years of wanting a "cool" bathroom, I discovered your blog and binged on your articles. You convinced me.

I'm ditching glass tiles, skinny horizontal accents, and patterned tiles! I must pursue a timeless elegance.

But. . . how about these long wavy white/cream textured tiles? Are they also a fad that's going away? Must I bid farewell to them as well?

Clueless AND sleepless in Los Angeles
Should I install wavy white accent tile? Are they also a fad that's going away?
Here was my response:
"Pretty much. Wavy white accent tiles belong in a super modern bathroom and frankly, I've never seen them installed where I think they look good except for in those inspiration images you included in your email (above and below).
So if your bathroom is identical to these images, then maybe it could work. It's rare that an inspiration image translates to a beautiful bathroom in real life. Boring now = timeless later! Hope that helps!"
Read more: First Rule of Design; Boring Now Equals Timeless Later
All images above from Houzz
Notice even in this inspiration bathroom (above) the tile floor does not belong in this bathroom at all. And the only reason we are still looking at it is because the wavy tile is visually separated from it by the vanity.
Here's the thing, wavy tile is a statement and a pattern ALL BY ITSELF. Even if it's white.
It does not belong with any other pattern or tile except a very plain solid white or colour. The end. That's why in all my 20 years of being in this industry, I've never walked into a bathroom with wavy, modern tile and thought, "This is perfect, I love it."
Then she replied:
You've done it again! Thanks to your no-nonsense wisdom I can now bid adieu to those mod wavy glossy tiles!

Indeed – I was just lamenting to a girlfriend – why is it that whenever I'm shown a real life remodel picture by a contractor, or even a friend – that I think "meh" and my heart sinks a bit? It's NOTHING like the pictures on Houzz! It's been a conundrum that had me scratching my head for the longest time. And now I discovered your blogs and read an article where you point out the importance of whole assembly (e.g. accessories) – I understand – that must be a large part of it, as well as matching undertones, having simple classy selection, all that.

In other words, sadly I'd never have one of those breathtaking bathrooms – I'm not into decoration savvy enough to put the whole package together.

Well. Not all is lost. That's all the more reasons to opt for classic and timeless. I'm now even considering hex and subway tiles – two tiles I vowed NEVER – ha!

That article along with THIS tile picture (below) was the game changer.

How did you know I've been lusting after skinny, horizontal accent mosaic tiles forever? And that i was thinking beige-khaki-neutral? Ha! Yet when I saw the photo of this brown mosaic, i was like yawza! I can't have this happen to me!! Seriously, a disaster narrowly avoided. I noticed the article was a decade old, yet still so relevant.
Now I'm thinking more along this line (below).

Link bait image (Please let me know if you have the source for this image
The challenge will be to find classy expensive looking marble-like tiles, as I have read that honed marble is high maintenance and expensive. Just discovered gold tinged Calcatta marble, love them more than carrara because of it's warmth – alas they appear to be even more expensive. I dislike white subway tiles (always seemed cold and clinical) so it's going to be a challenge!
Thank you again and please wish me luck.

Sincerely,

Still largely lost but with a bit more sleep in Los Angele
That's when I hit reply and said: "Love your witty emails so much, can I post our entire conversation into the blog? I think it would help so many people understand!"
"Whoa, what an honor! I think your writing style is da bomb! Personable, relatable, unwavering and straight to the point. Very refreshing and your personal style shines through.

Glad to know I'm not the only interior design challenged soul. I don't trust my judgement so I hired an e-designer (long before I discovered you) but I had to come to YOU to get straightened out, because I'm too easily swayed by every trend and the designer is too nice to be blunt."
Never paid much attention to bathroom design before, but now that I'm finally doing it, I was all over the place.

"Glass pencil mosaic tiles"? Awesome!

"Morrocan Patterns?" So unique!

"Minimalist beige?" High class!

"Art Deco gold and black?" How opulent!

"Shiny 3d wavy tiles?" Modern cool!

The problem is – they won't look magazine worthy in my modest 8'x9′ bathroom, in an 1947 original tract home by LAX!!

You are so right. Thank you
At least once a year, I have to write a post about the perils of accent tile right? And this exchange was the perfect segue.
Enough said.
If you'd like help with your bathroom, take advantage of my Create a Classic Bathroom Package today. We currently have two packages in stock, if they are sold out, add your name to the list and you will be the first to be notified when they open up again.
PS. I know what you're still thinking. Maria, where's the bathroom with wavy tile that you think works? Even in the above examples my reader sent, the first image doesn't show the floor so that one doesn't count. Okay, after an extensive search online, I found one and here it is:
The floor tile appears to be wood look tile in green grey tones but at least it does look like real wood. And the warm wood vanity warms up this grey and white bathroom nicely, in addition to the picture window at the end. This tile is not wavy, but it's the same idea.
Okay found one more I like as the day progressed (below). I love the solid wall of pink tile and then the random checks in pink and white with the solid white floor.
Click on the link above and you'll also see the rest of the images that do not work. Wavy beige tile with tiny hex tile floors?! The look should be clean and sharp if you're going to use these wavy white accent tiles.
Related posts:
A 10 Year Review of Accent Tile; Should you Install the Current, Fad Tile?
Dos & Don'ts for Installing Accent Tile