Planning a kitchen renovation or building a new house? Your design depends on which kitchen appliances you have purchased. Here's a guide to help you know how and when to buy appliances for your new kitchen.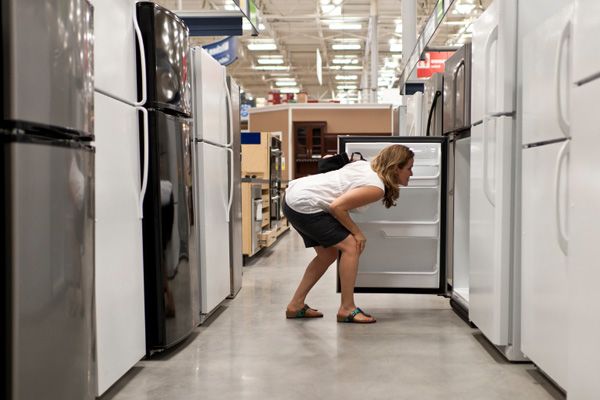 Did you know that until you have chosen and purchased your appliances, you can't begin designing your kitchen?
Jan Romanuk (my long-time dear friend and past business partner) says many of her clients are surprised to learn that this is the first step inside any kitchen renovation.
Three years ago when we bought this house and renovated the kitchen, Jan designed it for us. She has been renovating and designing interiors for over 35 years.
Jan has impeccable taste in all things fashion including, of course, the home. And, she is a wealth of information and can answer just about any question you'll have about home renovations. Keep reading to see her tips for kitchen appliance shopping.
She's been working with Mike Langari (below) for years, a very successful cabinet maker on the North Shore who builds kitchens and millwork for every room in your home from West Vancouver all the way, to well, Chilliwack (my house).
Jan Romanuk & Mike Langari
He built my cabinets and and he's recently hooked up with Pedini Kitchens from Italy to bring fabulous, sleek, and extremely functional, Italian design to Vancouver.
Mike still makes every other kind of kitchen you and I have in our home, however if stunning, high end Italian is what you're after, now you can get that in Vancouver through Mike and his team.
I was at their official grand opening last night.
A fireplace with custom millwork by Mike in the showroom
Check out this very great faucet from Brizo. It has a touch feature so when you're prepping food, you don't need to use the lever, just touch the faucet and it turns the water off and on.
And as an extra bonus, it comes with a bud vase (on the right).
So here's the skinny on appliance shopping from Jan:
How (and when) to buy appliances for your new kitchen.
Buying appliances is just as expensive as buying a car. If you don't know what your appliance budget is because you have no idea what they will cost or what you will like, go to several different appliance showrooms to find out which colours and brands appeal to you.
The minimum you should budget for is $10,000, And it's important to know that appliances brands have become really important to buyers.  Appliances have become the jewelry of the kitchen. In high end neighbourhoods, Real Estate agents are now asking questions like "Did you install a Sub-Zero, Wolf package?".
Choosing a Refrigerator
Full fridge, drawer fridge, half fridge half freezer, wine fridge the options are endless today with the largest selection of refrigerators we have ever had.  Whether you are looking for a small 24″ or a professional 60″ refrigerators today can be integrated with custom panels to look like the rest of your Millwork. This gives you the homeowner more design options to create a furniture like feel to your open concept kitchen family rooms.
The new 24″ freezerless refrigerator is great because the entire length of the refrigerator is in use. And it's great to have more access to vegetables and dairy products since people are freezing less and eating more fresh.
I recommend a 36″ standard size, 24″ counter depth refrigerator, because in the average kitchen it looks balanced. If you install something larger than this in the average 10 x 12 kitchen, it will look appliance heavy.
This new concept of luxury appliances featured in this kitchen (above). This horizontal line of wall oven, steam oven and microwave all in 24″ format offers the homeowner the convenience of having easy access to their appliances in at a height that is most comfortable anywhere from 36″ to 42″ from the floor.
Gone are vertically stacked appliances. Horizontal, is the new trend in kitchens now.
Choosing a Gas Cooktop
Gas cooktops have been the desired cooktop for chefs and homeowners alike for many years. They still provide  a very accurate cooking temperature with flame control and evenly distributed heat and gas is much faster than electric with no waiting time for immediate heat.
Another advantage of gas is that if there is a power shut down you can manually light your gas cooktop and cook your meals.  Cleaning of a gas cooktop if one of the major downsides when compared to electric or induction
Choosing an Electric Cooktop
An electric cooktop gives you the convenience of a easy clean surface, however, the inability to evenly distribute heat and the longer turn off time makes this a less desirable choice. If your budget requires that you look at this option buy the best your money can buy.
Induction cooktop source
Choosing an Induction Cooktop
This is my favourite, with the great instant off on and instant cool to the touch, I believe we will look back on gas cooking like we we do now with coal burning stoves of yesteryear.  You can expect exact temperature control with the most efficient simmer on the market. The coolest kitchen ever, that gives you instant "cool" to the touch, no more burned fingers and the safest cooking product for your children.
See how one side is boiling and the other side is ice? That's because only the place where the pot comes into contact with the surface of the cooktop gets hot.
Very cool. Literally.

Choosing a Hood Fan
Another appliance that gives the homeowner an opportunity for self expression.  The world of hood fans has been given new life with inserts that gives us the freedom to create a invisible hood fan above the cooktops (see how it doesn't stick out in this photo above?) .  With the advancement of induction cooktops that blend into our countertops, the invisible fan is a continuation of the cleaner, clearer more furniture looking kitchen.
My best tip for shopping for your new kitchen appliances.
My best tip? Don't blow your budget on your appliances. I recently spoke to a couple who had just spent $50,000 on their appliances and wanted to spend $15,000 on their millwork.
A kitchen with expensive appliances, especially if it's white, should be a wood painted product instead of a less expensive MDF kitchen which will swell when it gets wet.
Thanks Jan!
There are two people who have changed my life and Jan Romanuk is one of them. We were business partners for a short time right before I started writing this blog in 2008 and so much of my knowledge about renovations, kitchens and bathrooms comes from working with and knowing her. She is one of my closest friends and I feel lucky to have her in my life!
If you need help designing your kitchen on-line or in-person, contact Jan or Mike at Pedini Kitchens here.
 Jan Romanuk & Maria Killam
Next time, remind me not to wear stripes in a photo. They make me look huge, haha!
I'm doing a poll that will help everyone, how much did you spend on your appliance package?
Related posts:
My White Kitchen Inside Style at Home
How to Coordinate White and Cream (If you made a Mistake)