As you might have figured out by now, I travel a lot! I've seen many hotel bathrooms over the years that I've been writing this blog and never felt compelled to show you one, until today.
When I held my Specify Colour with Confidence™ course at the Harrington College of Design in Chicago and we stayed at the Palmer House Hilton.
Hotels especially need to install classic, white or cream tile because it's very expensive to renovate–in this case–1639 bathrooms (which is how many rooms are in this hotel)!
Install a trendy strip of tile around the perimeter of a bathroom shower in a hotel and it'll immediately scream 1985 or 2002 or 2009. That's why they are usually not part of the decor.
When hotels do a renovation, they change the vanity and countertop, but often leave the shower tile and tub.
What's the dead giveaway here that the tub and surround tile are not current? The tub faucet (below).
You can see that this one was installed sometime in the 80's.
The surround tile was primarily cream with miniscule pink specks in it. The marble floor tile looked new and it was off-white and grey in comparison to the old cream tile.
I like the way the frame around the artwork related to the vanity (below).
The black and white wallpaper relates to the black granite countertop, white sink and tub. If you look closely, the toilet is off-white (not as white as the tub) but because the bathroom is so pretty, you wouldn't notice.
Beautifully done.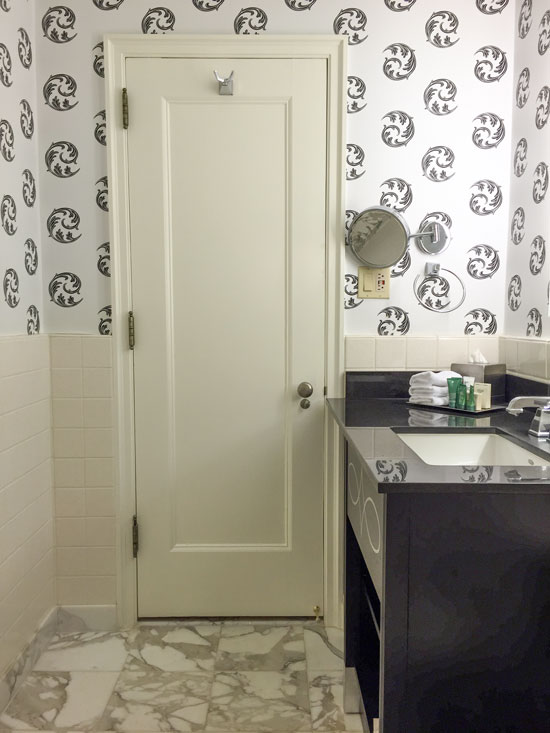 The door and trim is painted cream to blend in with the tile. It also creates contrast with the white in the background of the wallpaper.
The vanity could have been white as well to pick up the white in this bathroom but because it was a dark wood stain, it actually takes the attention from the off-white toilet. I didn't notice that it didn't match the tub until I started snapping photos to show to you.
Had the new floor tile been a larger scale tile like a 12″ x 24″ it would have not been as great of a transition with the old 4″ x 4″ tile as the new 12″ x 12″ marble is.
Hope this helps if you're trying to work with old tile in a new bathroom to update it. Even if you are not updating an old bathroom, this is a great way to combine white and cream in a brand new bathroom too!
By the way, all these images were taken with my new iPhone 6. I no longer carry around my little Canon camera in my purse because the camera in this one is so much better.
Who loves their iPhone 6? Every designer should have one!
Related posts:
Is your Bath Perfect? Or Perfectly Nice?
One More Reason you Should Skip Accent Tile All Together