Often when I see a Persian or oriental area rug, I think DATED. In fact, I have an Ask Maria post about this very subject where I simply told my reader "This rug will NEVER be amazing".
Well, as I have said many times in this blog (often in the comments) I'm willing to be wrong.
Last fall when I held one of my Specify Colour with Confidence workshops in DC, Erika Ward from BluLabel Bungalow was there. She had been waiting for me to come to Atlanta but when she saw DC come up, she decided it was close enough and it was time for her to attend.
Erika's blog has been around almost as long as mine and I was thrilled to meet her. Somehow, we got to talking about oriental rugs and she showed me some rooms she had decorated that really made them fabulous.
So fabulous, that I'm posting them here for those of you with Oriental rugs that were so expensive you can't part with them yet. Or maybe you have an inherited Persian rug or two and need to know what to do.
This dining room is my favourite. The wing chairs with this graphic pattern seriously bring this rug back to life! Notice the walls are a bold navy blue grasscloth with white drapes for contrast which keeps the look fresh.
I love the graphic red and grey pillow here and the solid silk drapery to tie in the red. Simple really. If you just think 'solid drapes' instead of a pattern, you can buy them off the shelf and transform your living room TODAY.
Here she just recovered an antique chair with a bold black and white stripe! Inspired!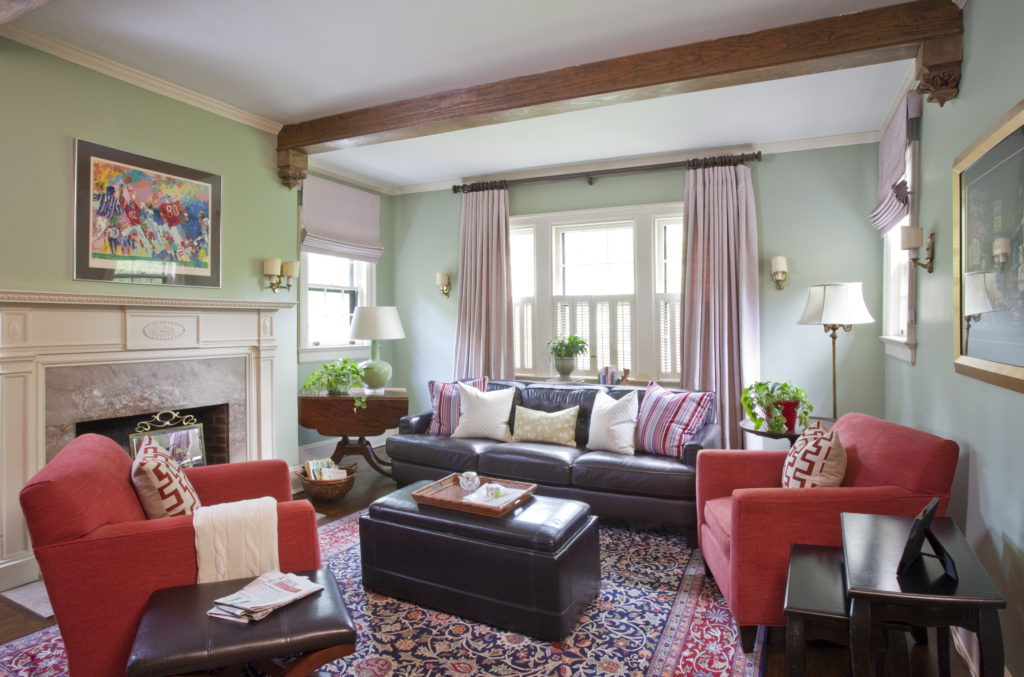 So the lesson here is GO BOLD. You can't wimp out with colour or pattern if you want to update your oriental rug.
See the difference with Erika's room (above) and this living room (below)? I found some chairs in a bold buffalo check and solid fabrics to pick up the rug that is very similar to the one Erika decorated with for her client.
Here the sofa could technically be brown again like our inspiration picture, because some of you might still have a brown sofa. White would also be a fresher option but not very practical for most people.
Image source | Source for chairs
So if you have a very similar rug, don't despair, just don't be shy about repeating the colours found in  the rug.
And thank you Erika for showing us how it's done! I will never see a persian/oriental rug in quite the same way again! Erika is located in Atlanta, see more of her work here.
When I told her I was writing this post Erika said "Hey I still owe you a video about your course", so here it is:
My course is Chicago has been sold out for a few weeks already and the waiting list was almost up to 20 people so we found another location for the following week May 18 – 20, 2017.
There are still 3 spaces left in Austin and Toronto and it will be more than two years since I'll be back at either of those locations so the time to jump in is now!
San Francisco is the week after Chicago at the end of my Spring lineup, May 24 – 25, 2017
Related posts:
4 Guidelines for Choosing an Area Rug