In the 20 years I've been in this business as well as the more than 10 years I've spent blogging, I have seen a lot of staircases. In person, and in photos. Some good, many that are just plain bad.
This trip to Paris is Terreeia's first trip (my third). This time I was struck by the style of all the Parisian balconies and noticed that many (or even most) of them are really busy. But they still look gorgeous because of the architecture and tone-on-tone colours of the buildings.
And it got me to thinking. Maybe there's nothing wrong with a really busy wrought iron staircase? Maybe it's everything attached to the staircase that makes it look dated and wrong.
Read on and tell me if you agree with me:
One of the things that makes Paris so beautiful is the uniformity of the buildings. They are mostly all the same colour (a yellow beige, sometimes green beige) and the sweeping style and delicate filigree that characterizes Paris architecture today is largely a result of George Haussmann's work. An architect commissioned by Napoleon III to open, unify, and embellish Paris.
On our tour of Paris,  the first day after we arrived, our guide took us to this street (above) to show us what the old Paris used to look like. The streets were dark, dismal and so narrow there was barely enough room for one cart to traverse.
Here's another photo of an old Paris building:
It was puffer weather when we first arrived in Paris (below):
And of course here are what the buildings look like now:
And what makes Parisian staircases so pretty, is they often have black and white (or grey) tile or black checkerboard tile to repeat the wrought iron railings.
The cafes throughout Paris are so charming. Happily, everyone got the memo about installing bistro chairs and adorable round tables that often face the street so the patrons can people watch as they sip coffee and eat croissants.
Many of them have planters with boxwood or beautiful, coordinated, plant material like this (below):
Photo by Maria Killam
In the little town where we live back home, we have a little bakery/cafe where the owner hired a designer for the interior and he did a great job.
But then, the following summer, he decided to add an outdoor patio (and obviously thought he could do it without his designer). So he built a huge, out of scale pergola, and then picked up a bunch of bad residential patio furniture with multi-coloured umbrellas from the nearest big-box store.
I was so underwhelmed, I have not been back since.
It's the details that often make or break any design project. One decision on something seemingly small and inconsequential can ruin a staircase, kitchen or bathroom, (the list goes on and on) that otherwise could have been perfect.
Ask Maria: My Husband Got One Choice and It's Wrong, HELP! 
The view of the rooftops outside our hotel room in Paris (above)
Here the railings get more simple at the very top (above)
In the middle of our trip to Paris, we drove out to Normandy and stayed in this Chateau, built in 1763.  The floor tiles are black and orange beige. The steps are concrete.
Notice the curvy style of the wrought iron railings (below):
And how it relates to this railing (below).
I took this photo in a new build I was visiting over 10 years ago. The designer who worked on this project confided that the original design (by the client) was MUCH busier than it is, even now, before she intervened.
I posted it here because it was so similar to the staircase above.
Well, what do you think? Which one is better? Why?
Here's another staircase from a Chateau in France. Notice the same black tile repeated in the entry flooring.
Classic and timeless.
So timeless, that it has been the same in the Chateau we stayed in, for over 250 years.
Here's the 24″ x 24″ parquet flooring everywhere else:
And the bathroom attached to our room? Plain white tile that would not need replacing anytime soon.
At breakfast, when I asked the owner how many bedrooms were in the chateau, he replied that he didn't know. But he did know that it had 99 windows and he had replaced 45 of them, haha.
The mirror reflects the windows and beautiful grounds behind the Chateau
Here's a typical Tuscan inspired staircase. The black wrought iron gets lost among the wood stained bannisters, cherry flooring and pedestrian pink beige carpeting.
Suddenly it looks trendy instead of timeless.
And we start looking around for white paint and a simple design to update when we can (below).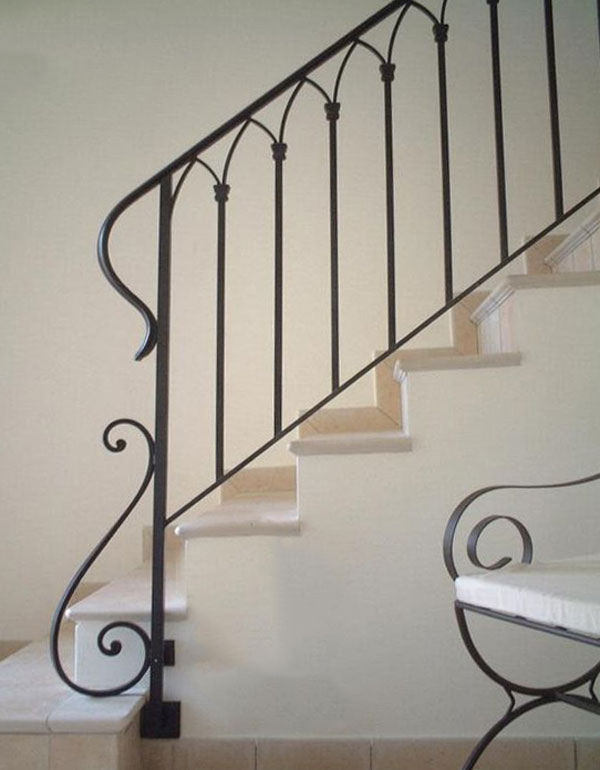 Over to you my lovelies! What do you think? Do we need to break open some white paint cans and install some black and white checkerboard flooring or what?
Parisian or Tuscan? I vote Parisian.
If you would like your new build to fill you with happiness when you walk in the door, check out our new build eDesign package here.
Related posts:
Is Your Bath Perfect or Perfectly Nice?
How to De-Tuscanize Your Home; Before & After