Today's guest post is by Tricia Firmaniuk, my eDesign Director.
Tricia and I were talking about a thread on a forum where a designer was very concerned over a paint colour she had just specified for one of her clients when she started searching online and reading what others were saying about the same colour.
Let me be very clear. There is no such thing as the perfect colour. Every colour in the world is ugly in the wrong context. A clean colour will look bad with a more muted or dirty colour, a dirty colour will make a clean colour look bad, if your trim is too dark and your wall colour is too light, your trim will look dirty, but that same trim with a dark colour will be perfect, the list goes on.
So I asked Tricia to put together this post so that we could clear this up perhaps more profoundly than I have in previous posts:
_____________________________________________________________
Paint companies are smart. They know that if a celebrity designer comes out with a list of their favourite shades of white or grey or fill-in-the-blank-here-paint-colours, that people will grasp onto those brochures and lists like a life raft, and then bottom line, gallons of paint will be sold, which is the whole point right?
People constantly poll each other online about their thoughts on this colour or that. They look to their favorite designers, bloggers, Pinterest and Houzz for help with finding that elusive perfect paint colour.
And I wouldn't be surprised to learn that the feature at the beginning of every House Beautiful issue where they list designers favourite paint colours along with the description is their most popular.
We've all seen those seductive articles that create mystique around this paint colour or that, like this below:
Sensible Hue SW 6198 and Aloof Gray SW 6197

"These grays are just the calmest thing in the world, and the green in them means they go with everything. I like painting a wall in two shades. The darker colour grounds the room, and then the lighter runs right up to the ceiling and makes it feel higher. It creates this serene atmosphere." Laura Bohn, paint by Sherwin Williams
Whoa! Doesn't that just make you nod your head and want to head directly to the paint store like some kind of decorating zombie?
I want some serene atmosphere.
And who doesn't want high ceilings from a colour that "goes with everything"?
However, Joanna Gaines or Laura Bohn (below) have not been to your house. And the room that you are admiring has a look and a feel. Something you will still need to add to your room once it's painted.
A lovely room by Laura Bohn
So, eventually, after spending days upon hours online researching paint colours, you take the plunge and paint your room the-colour-somebody-on-the-internet declares absolutely foolproof (and we know there's no such thing right?).
Now you're staring at four empty, freshly painted walls, squinting and tilting your head, and turning the lights on and off. You're trying to discern the relative virtues and flaws of this hue you've just committed to.
Do you see a hint of pea soup? A whiff of smog? Weird fleshiness? Is it too dark? Too pasty? Does it fill you with serenity and a sense of well being? Probably not, because how can you be sure it's right?
What's missing when you're looking up paint colours online is the same thing that's missing when you're staring at a paint chip or a freshly painted but empty room:
Context.
Context is everything. A paint colour will never be magical without relating well to your furniture, finishes, and décor, no matter what people on Houzz have to say about it.
Here is BM Pale Oak, a pale greige with a taupe undertone, which is a very popular neutral right now.
It's looking a bit pasty and well, pink, with the cherry trim in this empty, freshly painted room (below). There is a significant amount of reflection from the very red wood floor going on here and often wood trim requires a deeper colour depending on what colour it is.
And here is a lovely decorated room painted Pale Oak (below) with the colour repeated in the artwork and decor. (Ok, and pretty painted trim).
However, if you had painted the room above based on this image (below) you would definitely not be happy at this moment.
This is also the same reason why the paint colour that is simply ethereal in your neighbour's home might be just dreadful in yours.
If you've been hanging around this blog for a while, you know that it's a completely random draw if you don't ground your paint colour choice in what you need it to relate to and what you need it to do for your room.
Even so, it can still be tempting to look online for inspiration and validation, which, most of the time, just confuses the issue. If you've wisely narrowed down your options based on what looks good with your furniture and finishes, don't go online to research the colour that your eyes tell you is right.
You are likely to find someone who's had a bad experience with the colour (because it doesn't relate well to their room) to cast doubt on it for you. And you're also going to get distracted by other colours that someone out there loves. Now what? You go in circles because the internet is not your room.
BM Nantucket Gray (above) looks drab and dated in this room, but on this shutter, it's a good example of why you can't judge a colour based on the chip without context
Recently, based on some online inspiration, a friend of mine decided he would paint his house a fresh pale gray. His wife called me in a panic, she just knew the colour was wrong, but she didn't know why. She was sure it should be more "beige". And she was right. Based on their furniture, carpet and tile, the right colour was BM Manchester Tan, a versatile green beige, and with my large boards, it was immediately clear that it was perfect and a marital crisis was averted.
And if green beige is the colour that works, your room will look much better painted green beige than the Sherwin-Williams-colour-of-the-year, or Joanna Gaines' current go-to gray.
And about cream and beige, the popular neutrals have been hanging out on the cool end of the spectrum for quite a few years now, from taupe to gray to white, and people have become reactive about anything creamy, warm and especially yellow (most beige has quite a bit of yellow along with it's dominant undertone). I've defended beige and cream before, and I'll say it again, if you have earthy finishes, your room will look much fresher if you work with what's there instead of trying to drag it blindly into the white and gray trend.
So while in a room with cool white finishes a beige or cream might look dingy and dated, in a room with creamy or earthy tile and furniture, the same colour might look absolutely fresh and beautiful which is why if someone online is dissing cream as dirty, don't be persuaded, they are not standing in your room, the context is completely different.
Look at how pretty and fresh BM Spanish White, a deep yellow cream, looks in this gorgeous kitchen with a beautiful cream La Cornue range (below).
Cream colours that border on beige get a bad rap as "apartment beige" (said with a wrinkled nose) because we tend to imagine something like this below.
It has some charm, sure, but it feels a bit stodgy. This room below is painted the same colour, BM Navajo White, a complex cream which, looks completely current.
If this room was painted a whiter white based on current trend pressure, it wouldn't look as good. It's perfect with the Spanish style of this house. It's the styling that tells us it's current with black and white photography and a textured black rug. Styling and context are what make the colour look right.
Pink beige is too often used in the wrong context as a default "warm neutral", but that doesn't mean it can't be pretty in the right setting.
Here's BM Natural Linen which does appear to match the pink beige bedding, but both the bedding and the paint look like they were chosen as a "safe" neutral below.
By the way, you may have noticed that the world is now full of gray versions of this bedroom.
Looking at this room (above), you might file Natural Linen in your "never" pile, even if it does match your fabric perfectly. Which would be a shame because Natural Linen can be a perfectly pretty paint colour in a well decorated room (below).
BM Grant Beige is a shade deeper than any green beige we've been specifying for interiors lately, but it's still a perfectly good colour in the right context. Here it is looking less than awesome trying to hang out with pink and purple undertones (below). It's easy to see how based on this room. someone might pronounce Grant Beige to be "dirty" and "way too green".
But here it is looking classy and lovely in a pretty foyer (below).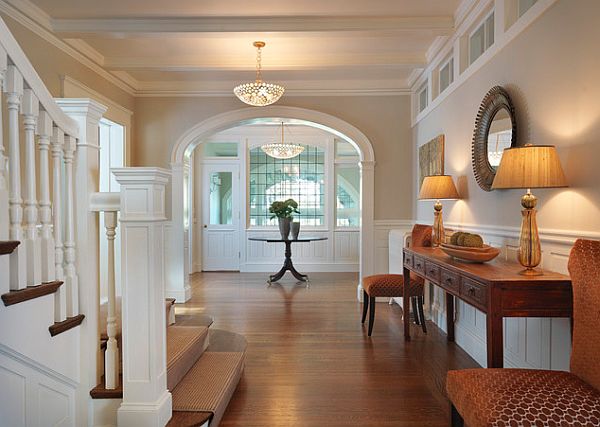 When Maria and I receive feedback on our eDesign colours, whenever someone has been less than thrilled in the past, we ask for photos and the explanation rarely has anything to do with the wrong paint colour being specified, it's just that the room isn't finished yet. And for heaven's sake, take the green tape off the floor before you start to judge.
Paint cannot do all the heavy lifting, it just can't. And I think I've shown you that in this post. And, we have now added a slide that explains that in our eDesign presentations.
Here's another perfect example of popular and versatile BM Edgecomb Gray looking a bit drab and uninspired (below). In this case, the chair and ottoman look like they are slipcovered in a natural linen fabric so they are looking slightly pink beige in comparison to the green grey wall colour.
And you might come to this conclusion, "I've just painted my room, but it just feels blah", and go back online looking for paint colour magic, possibly even putting a negative spin on Edgecomb gray for someone else based on your experience. But we know better right? It needs decorating, not a repaint.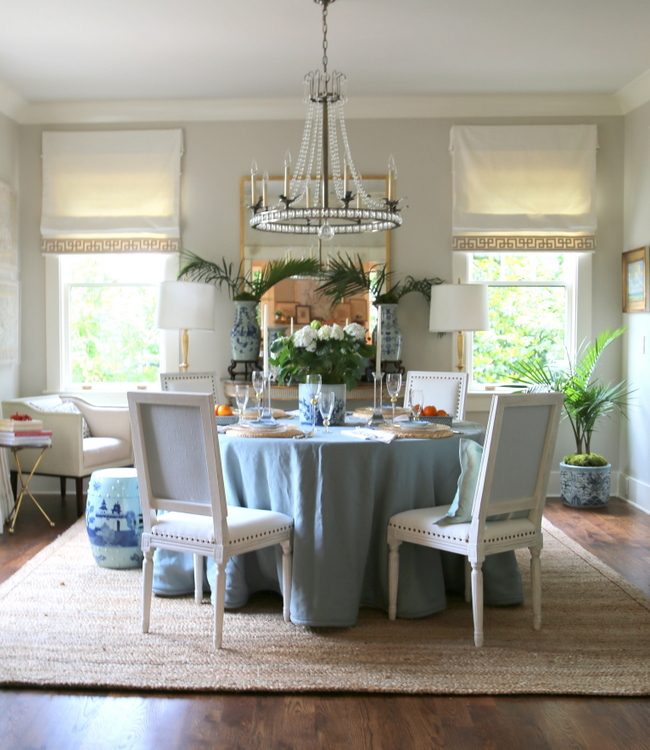 Here is Edgecomb Gray looking perfectly lovely in a well-decorated room (above).
The right paint colour is only one part of your decorating puzzle. It's an impactful one for sure, covering lots of square footage, but be careful not to overestimate what paint will do for your room.
The right colour depends on the fixed elements, furnishings and decor in your room, and has nothing at all to do with what's trending on Pinterest, or top designers' current favourites. It will only come alive when it relates well and you decorate and style your room, so don't panic if it doesn't sweep you off your feet the minute it goes up.
Always use large samples and trust what your eyes tell you about what looks good in your room over what any trendy article, hot designer or the hive mind recommends. Step away from your computer and design your room.
If you would like help narrowing down your options, diagnosing your undertones and figuring out what colour to test, check out our convenient and effective eDesign consultations here.
If you would like to own the best colour tool for choosing colour, check out Maria's curated collections of large paint colour samples here.
Thanks, Tricia for another thoughtful and well-written post!
Related posts:
How Much Heavy Lifting can a Paint Colour Handle?
Are you Waiting for your Paint Colour to Propose?
Why Your Paint Colour is Kinda Boring
SaveSave
SaveSave
SaveSave
SaveSave