Please, don't install a new fireplace without reading this first. Many people choose a fireplace style that does not relate in any way to the style of their home. Here are my tips for how to choose a fireplace that suits your home and is classic and timeless.
Okay, this is very important because I want to save you all from one of the most common mistakes I see homeowners making when they renovate or design their new build.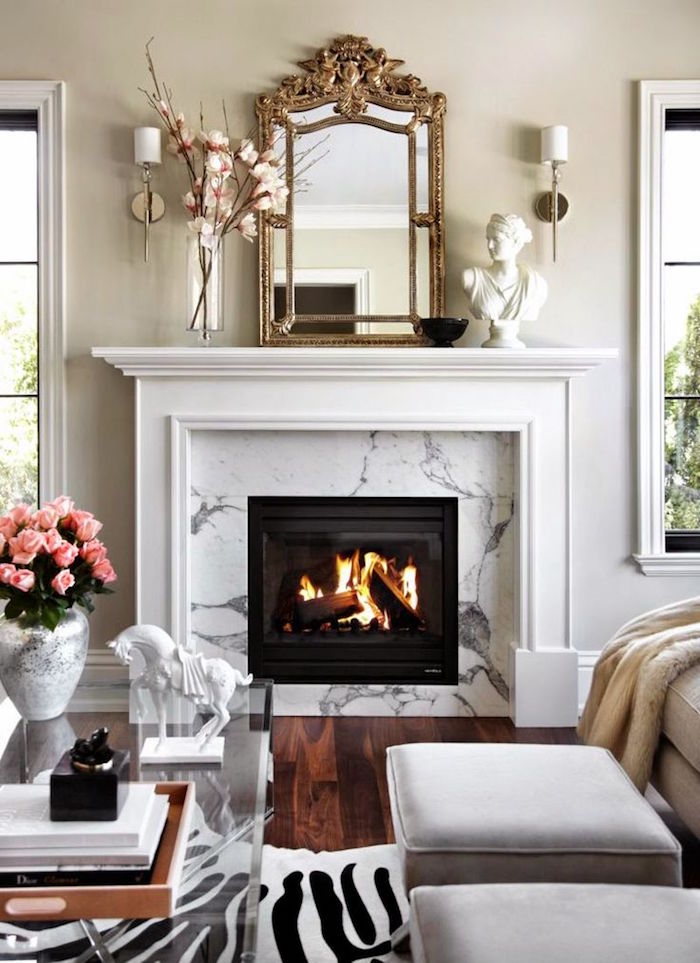 And that is, installing a contemporary linear fireplace in a home with traditional or transitional architecture because it looks 'new and trendy'.
Here's the issue. If you are not immersed in the language of interior design, it's too easy to equate 'modern' or 'contemporary' with 'new'. And easy to think 'new' is better.
How to choose a fireplace style that suits your home.
Instead of asking the very important question, does this style of fireplace relate to the architectural style of our home?
'Contemporary' does not just refer to 'new', it's a distinct design style. So I want to clear this up, because I see this mistake all the time.
Burn this into your brain (and your significant other's brain too, because for some reason, choices surrounding the fireplace tend to be where the hubby chimes in):
Your fireplace needs to relate as perfectly as possible to the style of your kitchen. 
And the style of your kitchen should make sense, of course, with the overall architectural style of your house.
A Classic White Shaker Kitchen Belongs with a Transitional Millwork Fireplace
The classic fireplace above belongs in a home with a kitchen that looks like this (below).
Related post: Should Your Great Room Relate to the Kitchen?
So please, before you install a modern linear gas fireplace right across from your shaker or raised panel kitchen STOP! It will only look like a mishmash of styles and not in a good way.
>> Looking for the best stone colour for your fireplace? Click here.
It's Not at Good Idea to Mix Styles in Your Home.
Am I saying you should never mix styles?
Of course not, it's very tricky to pull off well, but it can be done. HOWEVER, a creative mix is better done with moveable soft furnishings, not hard finishes that can't be easily replaced.
Architectural elements that are stuck down should look like they belong together.
Can this rule ever be broken? Sure, if you're a professional and you know the rules well enough to break them for good reason. However, if you are a non-professional, you'll be much happier with the result if you don't try to break the rules just to be 'different'.
Why Transitional Style is Timeless and Versatile?
Anyone who's read my blog for any amount of time knows that I champion a simple, timeless look when it comes to structure and finishes.
In other words, anything that is glued down somewhat permanently should be as simple and classic as possible. Boring even. And that's because all the fun can be had in decorating which is much easier to change up when the time comes.
And here's the thing, I think the goldilocks style tends to be Transitional Style. Here's why.
Related post: The DIY Guide to Getting Your Dream Kitchen
Transitional Living Room and Fireplace Maria Killam
My Promontory project (above) was done in Transitional Style. The kitchen, fireplace and millwork are all simple and classic and I added interest and had fun with decorating. Here's the kitchen across the room from this fireplace (below). See how they look like they belong together?
Transitional Style embraces the comfort and layering of Traditional Style (timeless and liveable), but pulls in the best features of Contemporary and Modern Styles (by the way, there is a distinction between Contemporary and Modern, they are similar but not the same, but that is for another post). Those features are clean lines and a fresh, uncluttered look.
And once you get a feel for the differences between these design styles, it becomes much easier to make the right choices for your new build or renovation.
What is Contemporary Style?
Contemporary Style has a lot of appeal because it looks edgy and current, clean and uncluttered.
However, it tends to be an expensive look to pull off. This is because, it is so highly edited that contemporary rooms are best designed all in one fell swoop by a very good designer.
The less elements you are working with, the more perfect each needs to be. Also, because it's so pared down, interest comes from quality. Shape, colour and texture are hugely important. It's generally expensive to do it well.
Contemporary living room with linear fireplace Woodland Direct
It's also highly limiting. It's much more difficult to inject whimsy, colour and personality into such a pared down look. For example, you will rarely find a pattern that is much more than  texture in a good contemporary room.
Traditional Style Home
While there are many new interpretations of Traditional Style that are fresher, Textbook Traditional Style, trades, by contrast, on decadence and fussy details. Which is also an expensive look to pull off well.
And while there is a big trend towards Traditional Style these days to recapture some of those charming details (driven mostly by high end designers who can pull it off), it generally does not have broad appeal, and is not the most budget friendly or liveable style.
Interior design by Leta Austin Foster
Enter Transitional Style. Taking the best of both worlds and makes a liveable hybrid, it features cleaner lines and less fussiness, but retains some layering and comfort. It also allows for some whimsical colour and pattern. Transitional Style's versatility gives it broad appeal.
OK, so Interior Design 101 out of the way, let's get back to fireplaces.
What Does a Classic Transitional Fireplace Look Like?
This is the style of fireplace that I consider to be the most versatile and timeless. A classic transitional white millwork fireplace like this below.
Transitional Interior by Sarah St. Amand
Here's another pretty one with a black fireproof surround below.
Sloan Mauran via Style at Home
The millwork has interest, but the lines are simple and clean, not too curvy or ornate.
Where a Linear Fireplace Belongs
And here's what a contemporary fireplace with a linear insert should look like (below).
A contemporary linear fireplace looks best surrounded by slick materials like stone, marble or concrete and belongs in a home with an equally pared down modern kitchen with slab front cabinets like this below.
I much prefer sleeker materials over stacked or rough hewn stone on a contemporary style fireplace. Stone tends to make them look dated and less elegant just like it does on a more traditional fireplace.
And a kitchen like this (above) belongs in contemporary or modern home like this (below).
Related post: Which Stone Colour is Best for Your Fireplace Surround?
Sarah Bullock McIntyre Architect
Since contemporary style does have broad appeal as being edgy and new, builders are embracing some elements of contemporary style and mashing them up with transitional styles with varying degrees of success.
To be honest, they're mostly bad, and I prefer homes that are designed to more clearly follow established architectural styles. Coherence of style in architectural and fixed elements.
There are too many bad hybrids being built unfortunately. And once you recognize the hallmarks of the different styles, you can recognize when a builder has taken some liberties with mixing them up.
A linear fireplace in no way belongs inside a traditional fireplace (above). It's modern and the fireplace design needs to be modern as well (below).
However, I think the confusion happens when you walk into a show room and see a cool "new and modern" linear insert, fall in love with it, and never ask yourself whether it belongs in your house, married to your kitchen.
Those are the kinds of questions designers ask all the time, but if you're not a designer this is such an easy mistake to make.
And please don't worry if you've already installed a fireplace that doesn't relate.
All is absolutely not lost.
All you need to do is inject some love with decorating and styling and you can create a lovely, cozy room.
Related posts:
Learn to be Bossy Yet Charming
Warning: Rant Alert on the Tackiest Advice Ever
Why Stone and Accent Tile are Not as Important as You Think
Rules are for Amateurs, Exceptions are for the Professional