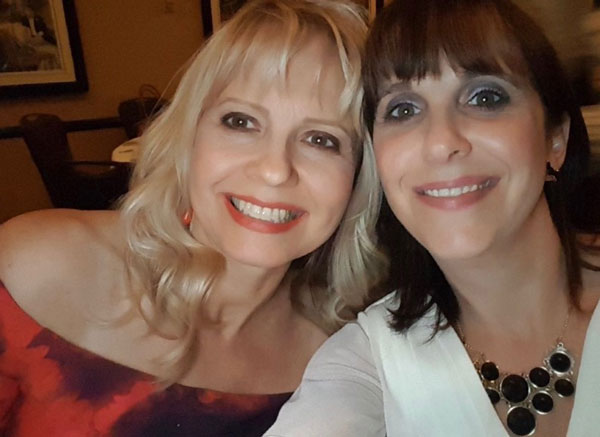 Maria Killam and Claire Jefford
Claire Jefford is a designer, design coach, vlogger and True Colour Expert who attended my Specify Colour with Confidence workshop 7 years ago.
It transformed her business and helped her identify her niche which is specializing in colour and creating 3D Designs & Custom Decorating Packages as well as coaching designers to succeed in their design business.
I'm excited to introduce Claire Jefford's work which is packaged into a bundle to give you the best value around!
What she is offering is very different from what my course offers. It's the perfect compliment or next step.
Our combined content is the ULTIMATE recipe for success in your interior design business.
We are each delivering decades of experience, condensed and delivered, to fast track you to expertise. But we specialize in different essential skill sets.
My Specify Colour with CONFIDENCE Workshop: Creating True Colour Experts
Every design decision is a colour decision first. As a designer, you MUST master colour to succeed.
I deliver the benefit of my 20 years experience with colour and my powerful System for Understanding Neutral Undertones. I've streamlined my knowledge into a 3 day course to teach you the ultimate System for Specifying Colour with Confidence.
At the end of three days, you can wrap your arms around this huge, mysterious world of colour AND leave the course with a new language for being able to explain WHY the colours YOU are specifying that you KNOW are right, actually will work.
You'll also leave a better decorator because it takes more than the right colour to give a room a look and a feel.
And you will have instant professional credibility armed with my curated Core Collection of 50 colour boards.
CONFIDENCE is what sells design. It's what it takes for your clients to trust you.
On Day 2 of my Specify Colour with Confidence workshop, I walk you through how my 10-Step CONFIDENCE method on conducting a colour consultation. How to look at your house like a designer would.
As a design professional, there are consultations where you will simply be paid for your colour expertise.  And since every design choice is a colour choice, it's an important niche in the world of interior design. That's usually a two hour consultation and the client is left with a DIY plan, they know what their colours are. That's what I teach.
Interior Design by Claire Jefford
Claire Jefford Teaches CONFIDENCE in Selling your Design and Renovation projects!
Claire has created a brilliant series of videos and content to help you with the nuts, bolts and finesse of running a design business.
I'm sure many of you have had the experience of a project careening out of control because you failed to set up boundaries with the all important Letter of Agreement at the outset.
How many of you can relate to this? And then it's awkward to reel things in and set those boundaries mid project. Misunderstandings abound.
It's such a common scene for new designers. And it's 100% avoidable.
Claire offers her wisdom and tools for how to expertly handle a consultation selling your designs and your services as a designer/project manager.
She's offering the fast track to running your business and managing clients like a seasoned professional.
What Claire Jefford has developed is a SYSTEM for how to Rock the Consultation when you are SELLING a design project or renovation. It's an entirely different process.
In that type of consultation, you are selling your services as the professional project manager of the decorating or renovation project your client is about to undertake.
And Claire has done something so brilliant, her customers are thrilled and she's been receiving all kinds of amazing testimonials.  Even from designers who have been in the business for 30 years!
When I was a new designer, there were so many times when I wished I could just be a fly on the wall so that I could listen and learn from an expert who was doing what I so desperately needed to learn.
Are you ready?
With Claire's Rock the Consultation (NEVER DONE BEFORE) package you can!
Because it's a package that starts with a video of Claire walking you through her processes, including exactly how she handles a phone inquiry from a potential client.
You also see her meeting her client at the door & how she confidently takes control of the appointment from the offset, sitting in her client's kitchen explaining how she works and the benefits of working with her on a project.
And, I'm so excited to share this with you!
There are so many different ways to package services. Everyone does it differently. And if you already have a system, that's great, but there are so many pieces and parts to selling design services that it's so much easier to follow someone else's expert system that is already DONE FOR YOU.
Inside this package, you will receive:  
1.Not one, but two! Letters of Agreement that you can customize for your business.
2. An Interior Design starter pack that addresses branding your business; establishing relationships with trades and suppliers; must have tools for your business and more. These are such important pieces for a successful design business.
3. And Claire's Rock the Consultation package with her step-by-step process.
ROCK the 3D Design Presentation Processes Package Reg $297  Get it here.
Video For Profits $327
All of Claire's products come with a NO RISK, 30 day Money Back Happiness Guarantee! 
So how many years will you squander learning these skills the hard way?
How much money are you willing to leave on the table?
What are you waiting for?